*This post may contain affiliate links. Please see my disclosure to learn more.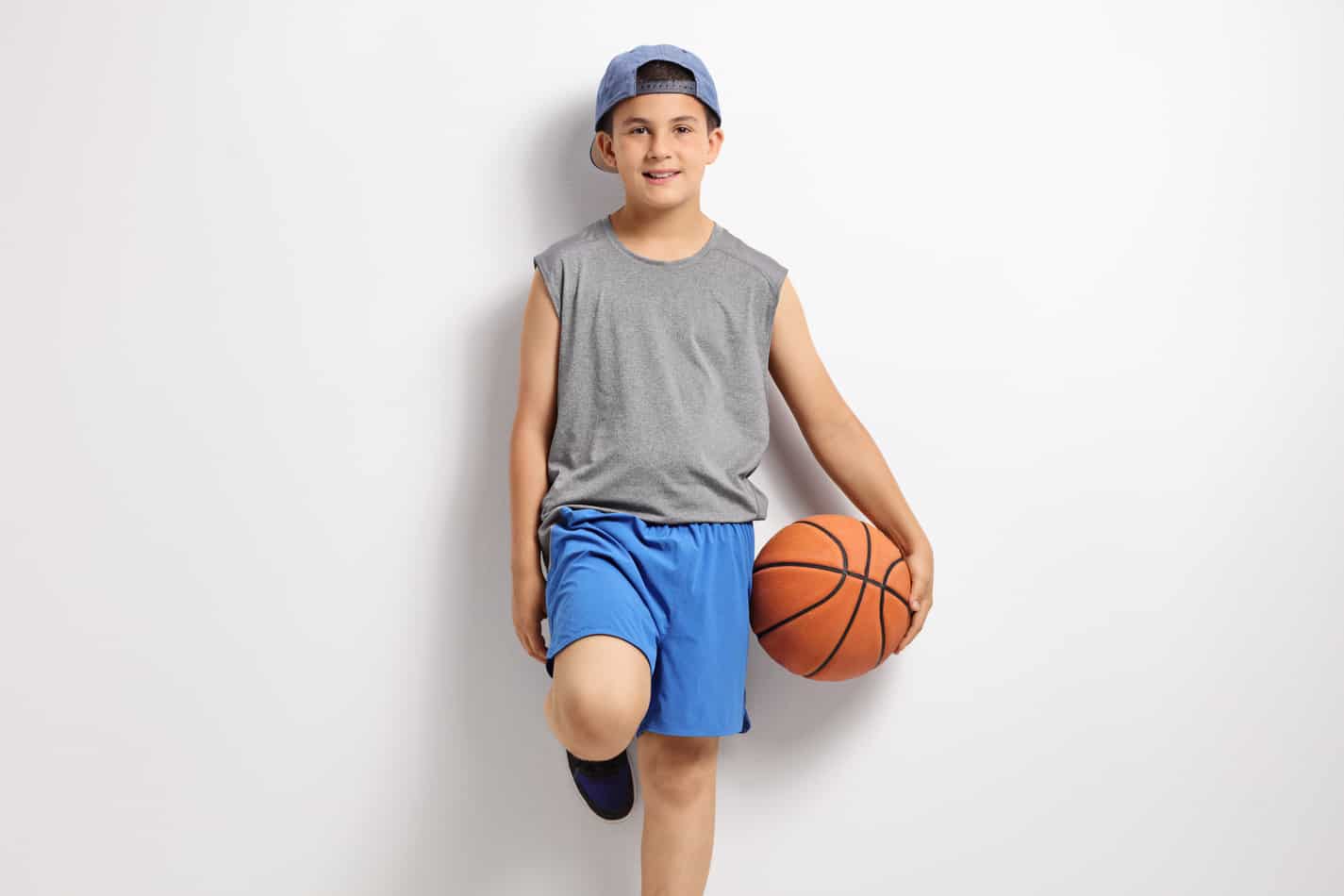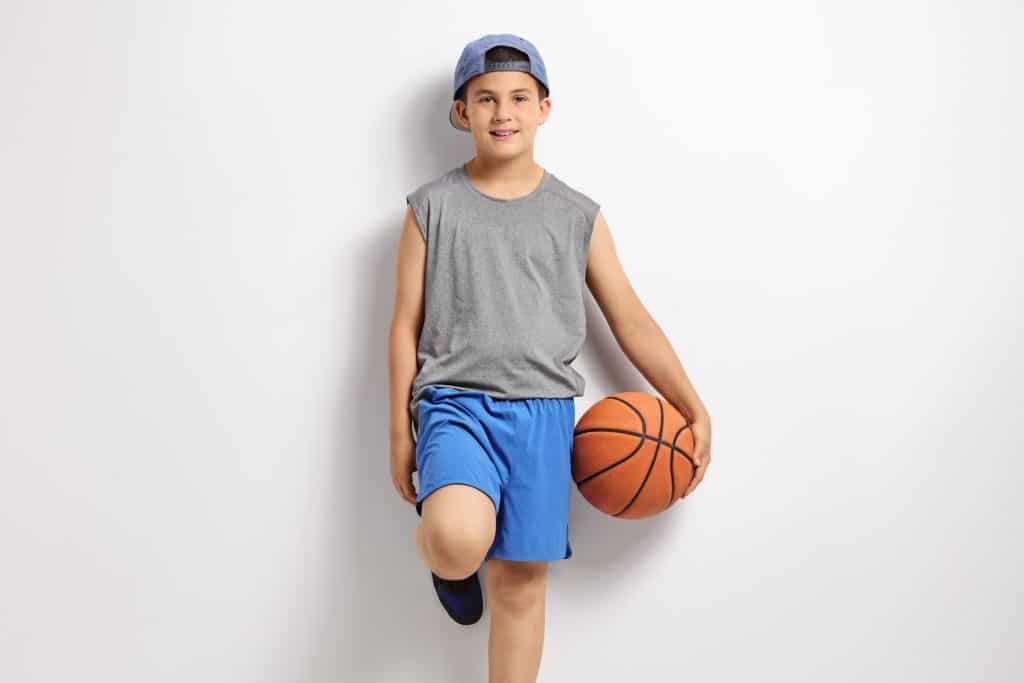 There are different sizes of basketballs out there for kids. Each has a recommended age. Find one that works for your kid so they can enjoy the sport to its fullest.
What basketball size is best for a 7-year-old? The size you are looking for is the Junior ball. The Junior ball is 25.5 inches and 14 ounces so that it is easier to grasp with their small hands. This size is recommended for boys and girls ages 5-8. You can find this size in most stores that carry toys and active equipment.
I remember playing basketball a ton as a kid. I never played competitively, though. I remember that all the basketballs we had were way too big for me but I got used to it. Regardless, I would not recommend having an official size for your kid.
What is the Best Basketball Size for Your 7-Year-Old?
Like I previously stated, the best basketball size for a 5 to 8-year-old is the Junior ball. It 25.5 inches in circumference and it weighs in at 14 ounces. This is what others recommend.
There is a size smaller called Mini that is only 22 inches and 10 ounces. This is for about ages 4 to 8. If your child is a little bit smaller and maybe needs time to grow into a bigger ball, then this might be the right fit.
When your child is playing basketball, they need the right one that fits into their hands. The size differences are very minute when it comes to inches. Most of them have an inch difference. Even though it seems insignificant, it makes a world of difference to have the correct size.
One of the main reasons why I recommend getting the correct size is because if the ball is too big it can really affect their technique and you don't want that in your young athlete. I will talk about this later.
There are 7 sizes. I made up a chart to make it easier and so you can see the sizes and what is recommended:
| | | | |
| --- | --- | --- | --- |
| Name | Size | Weight | Recommended For |
| Official Size | 29.5 in | 22 oz. | This is the size used by professionals. This is the standard starting from high school and all the way to the NBA. The age range is 15 and older for boys. |
| Intermediate Size | 28.5 in | 20 oz. | This size is usually used by boys from 12-14 and girls 12 and up. This is the official size basketball for the WNBA. This is generally used in many youth programs as well. |
| Youth Size | 27.5 in | 17 oz. | The Youth size is for boys and girls aging from 9 to 11. This widely considered as the youth standard for basketball. It's not official so things can change. |
| Junior Ball | 25.5 in | 14 oz. | This size is recommended for children ages 5 to 8. Most kids use the mini but if your child is a little bit bigger, then this is the size for them. |
| Mini | 22 in | 10 oz. | This is the mini size. It is tiny and adorable. This size is recommended for children ages 4 to 8. It is generally the more used size for this age group over the Junior ball. |
| Micro-Mini | 16 in | 8 oz. | This basketball is absolutely tiny. This is for the tiny athletes in your home that are about 2 to 4 years old. I imagine this is about what you use for the Fisher-Price or Little Tikes plastic basketball hoops. |
Now there are other basketballs like the ones you find at the dollar store or the Nerf basketballs. I wouldn't worry about these because they aren't actually used in official basketball. If you happen to have one, it can make some good recreational fun at the house.
I would not recommend a really high-quality ball for your child either unless playing basketball becomes a serious thing for them. Until then, use lower quality basketballs.
Does Basketball Size Matter?
Let's think about it this way, if you wear a shirt that is too big, it won't look appealing on you. Wearing a shirt that fits well but not too tight will look much better on you. You want to get the right size so it looks more flattering.
Another example is shoes. If your shoes are too big, your feet will shift around a lot. You might get blisters from your feet rubbing with the shoes too much. You are more likely to trip because of the size difference between your feet and the shoes. You can't even put shoes on if your feet are too big.
What I am trying to get at is size plays an important role in choosing a basketball. Having a basketball that is the wrong size for your child will affect their performance and technique.
What is the Difference Between an Outdoor and an Indoor Basketball?
Besides the obvious difference between one being for indoors and the other being for outdoors, they are made of different material.
Indoor basketballs are actually made of a nicer material. It is made of full-grain leather. It is more fragile than the outdoor which is made of a tougher and more durable rubber material.
The full-grip leather is softer to the touch. It becomes broken in faster and easy to grip. Using these outside is a good way to have a ruined ball fast. The Concrete will tear up the nice leather really fast and the ball will lose its grip. Do NOT ever, under any circumstance, use an indoor ball outside. It is a waste of good money.
There are other kinds of material for indoor basketballs like synthetic leather which is not as nice and the quality will suffer a little. You get what you pay for and you will notice a difference in quality.
The street rubber basketball is genius because it can take the heat of the concrete (hey that rhymes). Because of its elasticity, it can absorb the damage from the concrete and still be functioning well. It has a really easy grip because it is rubber. This is a great ball for beginners who struggle with grip.
Since the indoor basketballs are made of really nice material, they cost a good chunk. I am talking about over $100 for basketball! That is like really high end basketballs. I will stick to my outdoor rubber basketballs, thanks. You can spend around a minimum of $20 on an indoor basketball but you get what you pay for.
Outdoor basketballs really do not cost a whole lot. They are usually around $20. It's pretty cheap compared to high-quality indoor ones. They make it out of a less costly material so it makes sense why it is cheap.
Make sure you decide what kind of ball will work best for your kid. If they are playing on an actual team and you want to get them an indoor ball, then teach them about keeping it in good condition and not using it outside.
Related Questions
What size is a size 7 basketball? This is the largest size you can get of a basketball. This is regulation size for the NBA. This is used in professional, college and high school level basketball games for men. The ball is about 29.5 inches and weighs about 22 ounces. This is the size that most adults buy as well. This is the size you should get for yourself but I would recommend either the Junior size or the min size for your 7-year-old kid.
What basketball has the best grip? The Wilson Evolution Indoor ball is considered one of the best on the market for grip. Along with that is a hefty price. Well only about $50 on Amazon. The Molten Indoor/Outdoor ball is closer to $90. Just find whatever works for you. Just know that what you pay for is the quality you get. If you don't want to pay a lot of money, then you will notice the difference in quality. That is just a given.
Is it bad to use an indoor basketball outside? You should never use an indoor basketball outside. The indoor basketballs are made of a nice material of full-grip leather and it will get trashed real fast if you use it outside. I would not recommend an indoor basketball for recreational use. I would only get one if I was actually playing basketball on a real team. Otherwise just buy a nice rubber ball. Those will last you longer indoors and outdoors.