*This post may contain affiliate links. Please see my disclosure to learn more.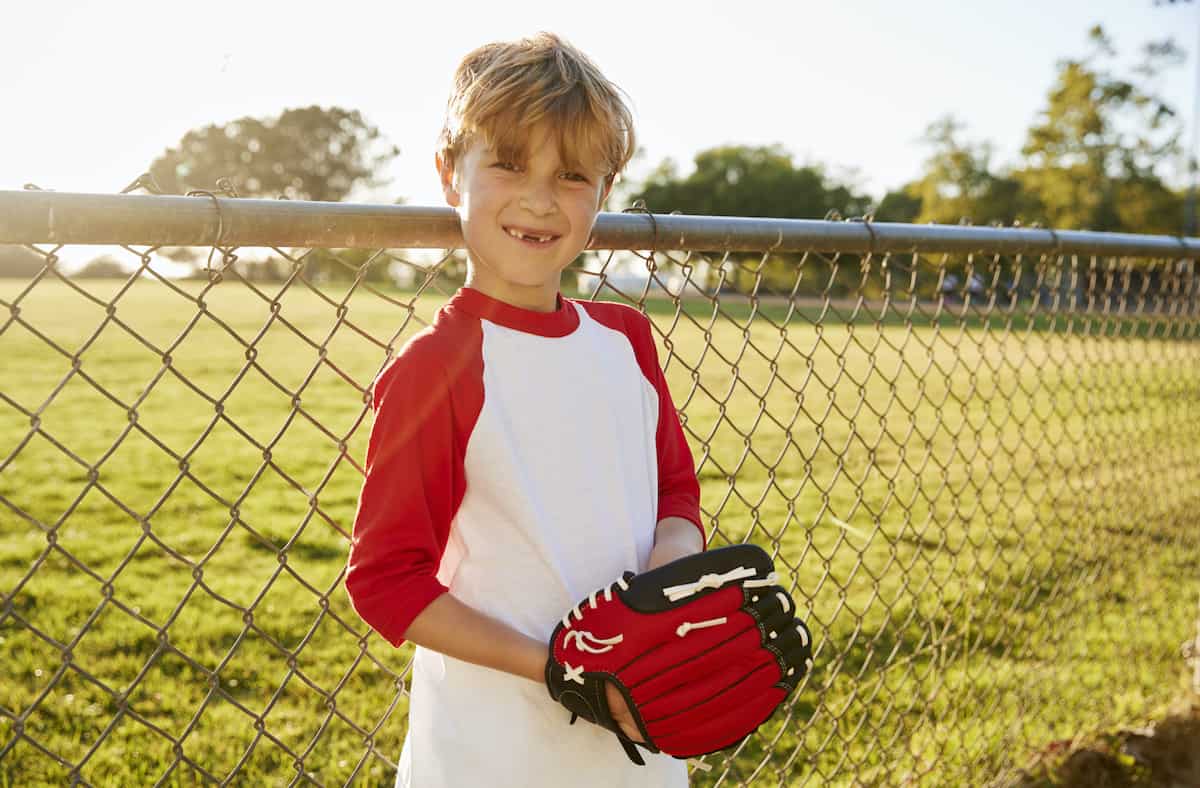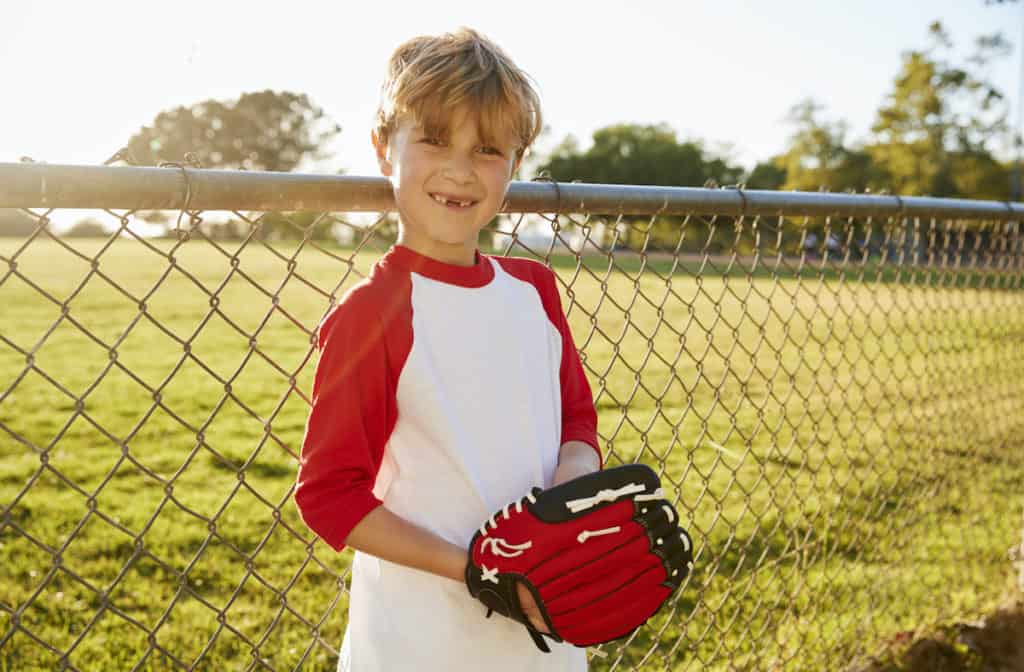 Choosing the right baseball glove for your 7-year-old does not need to be a stressful process! There are quite a few options on the market, but there are only a few which are worth having a look at. 
Not having the right glove will make the game difficult for your child, and it prevents them from playing their best, and from having as much fun as possible.
To ensure your child has the best game possible, which is the best baseball glove for a 7-year-old? One of the best baseball gloves for a 7-year-old is the Rawlings Players Series Youth Baseball Glove. The glove is designed for any position and is durable and lightweight, perfect for younger players. It is a good quality all-round glove that will last many years.
It is so important that you choose the best baseball glove for your kid, to help them enjoy the game, and to be able to play it as best as they can!
Choosing The Best Baseball Glove For Your 7-Year-Old
Baseball is such a great game for kids, it teaches them teamwork, discipline, and how to be a good sportsman. It is also just great fun. However, you need to make sure you give your 7-year-old the right baseball glove to play the game.
What Size Baseball Glove Does A 7-Year-Old Need?
There are various size gloves suited for a 7-year-old. It also depends on what position the child is playing.
Shortstop – 9 inches to 11.25 inches
First base – 9 inches
Second base – 9 inches to 11.25 inches
Pitcher – 9 inches to 11 inches
Outfield – 9 inches to 12 inches
Third base – 9 inches to 11.5 inches
Catcher's mitt – 29.5 to 30 inches
You will obviously need to consider your child's size when purchasing a baseball glove, but at this age, it usually is safe enough to follow the above guidelines.
Should I Buy A Glove That Needs Breaking In?
Many of the 7-year-old baseball gloves, or youth gloves, now do not require breaking in. For kids this age, it is a good idea to purchase a glove that does not require breaking in. Kids aren't as strong as adults, and this could make the breaking in process tiring and difficult for kids.
Most of the baseball gloves available for kids are now built with comfortable materials that require little to no break-in and can be used to play straight away. It is better to stay away from stiff leather gloves for your 7-year-old, especially if it is their first glove.
The 5 Best Baseball Gloves For 7-Year-Olds
The below 5 baseball gloves are all great choices and are perfect to use to learn how to play the game.
They are all brands that have been trusted by baseball players for years and give the best performance during a game. Their designs make catching and picking up easy, and they are all lightweight, soft, and -comfortable for a 7-year-old to use to learn how to play the game.
1. Rawlings Players Series Youth Baseball Glove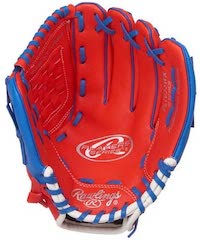 The Rawlings Players Series Youth Baseball Glove was designed as a utility glove to be used in any position. It is suited for first-time players and is lightweight and reliable, perfect for those who are learning the fundamentals of the game.
The glove is durable and lightweight. It has a textured vinyl design for added quickness, optimal balance, and with an easy-to-close feel.
With a basket-web pattern and a softshell, young players can easily scoop up grounders and stretch to catch fly balls with ease.
The basket-web creates a deep pocket to easily catch and hold onto a ball, helping them become comfortable with the game with a great glove.
Rawlings has many different color options available to choose from, allowing your child to stand out in the field while they play. The glove is a perfect blend of style and function and is an ideal glove to kick off their baseball journey.
It offers them ease-of-use and confidence which is so important when learning a new game and being able to have as much fun as possible while doing it.
2. Mizuno Prospect PowerClose Youth Baseball Glove Series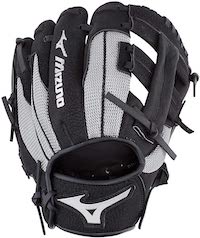 This all-black glove with white accents looks as good as it feels. It is made from full-grain pigskin leather and is incredibly durable. With an active 7-year-old, durability is an absolute must!
A butter-soft palm liner, made from PU palm lining, allows for increased durability, a better feel, and more comfort.
The Mzo lining is also designed to disperse perspiration away from the skin, keeping the hand drier, and catches more accurate.
The back of the glove has an air-mesh design, which increases flexibility and further promotes breathability, which helps to improve comfort even further.
A comfortable ortholite palm pad helps to reduce sting and works to deaden the ball on impact, which is an essential feature to help young players get used to the feeling.
PowerClose Technology also helps players learn how to catch the right way, deep in the pocket, and does help to make the game significantly easier, and much more fun, for younger players. Your 7-year-old will definitely notice a difference when using a PowerClose glove.
The Mizuno Prospect PowerClose Youth Baseball Glove is really a great glove for 7-year-olds, helping them comfortably learn the game the right way.
3. Franklin Sports Baseball Glove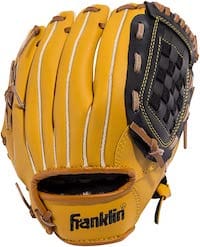 The soft synthetic material of the glove allows it to be lightweight and responsive. This means it is quick and easy to break in, ensuring that it is game-ready in a short amount of time for your 7-year-old to play.
It is complete with an adjustable wrist strap and a contour fit system, with a customizable thumb adjustment.
The glove is designed to fit all different types of players from 7-years-old, being comfortable according to their preferences.
Crafted from a premium thick synthetic leather, the glove is durable and is designed to mimic the performance and durability of a true leather glove, without having to go through the long-winded break-in process.
The hand-formed pocket provides maximum comfort and allows for a responsive feel when making scoops and air catches, with a reduced chance of drops.
With an adjustable fit and a web-design for easy pick-ups and catches, the glove is a great choice for budding baseball players who are keen to learn the game, whether it be baseball or starting out with T-ball.
4. Ortiz34 9'' Graffiti T-Ball Glove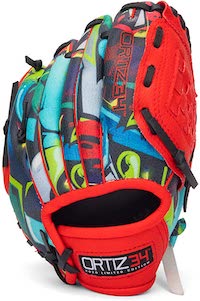 The Ortiz34 9'' Graffiti T-Ball Glove is designed to be used in any position on the field and is great for kids who are trying out different positions to see which one they enjoy best.
It is lightweight, comfortable, and durable, all the boxes which need to be ticked when looking for the perfect glove for a 7-year-old.
It is suited to be used by both beginner and youth baseball players, and smaller players can use the glove for a good few years before upgrading.
There is no break-in required with the glove, as it comes broken in already. Lightweight and soft, it provides the perfect conditions for kids to learn the core fundamentals of defensive play, with ease that other gloves do not offer.
Other than the great design and features, the glove has a beautiful pop of color with graffiti patterns that any kid will love, and which will help them stand out in the field no matter what position they play.
If you have a 7-year-old with smaller hands, they will absolutely love this glove, and it really is such a good option to get them playing without any break-in, and for them to use the soft and lightweight glove to get comfortable on the field, and to play baseball or T-ball easily at first.
5. Franklin Sports Teeball Glove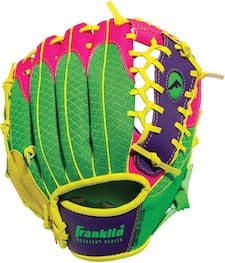 The Franklin Sports Teeball Glove was made to be the first glove for kids and will be an ideal glove for your 7-year-old to use.
It is soft and lightweight, with a mesh construction which makes the glove much easier to use for younger players. The soft-palm construction of the glove means it does not have to be broken in, so the glove comes ready to wear and play.
The glove has a hand-formed pocket that was designed to fit the contours of a kid's hand, making an easy and comfortable fit that literally fits like a glove.
Made from synthetic leather and with a mesh shell, the glove is very light, and your 7-year-old might even forget that they are wearing it during the game. This helps them learn that the glove is just an extension of their arm, and teaches them to use it instinctively when in defensive play.
The glove comes included with a small foam ball, so you and your 7-year-old can get throwing and catching the moment the glove arrives. With the easy-to-squeeze mesh design, your kid will have the technique of picking up and catching in next to no time.
Up Next: The Best Outdoor Toys For 7-Year-Olds