*This post may contain affiliate links. Please see my disclosure to learn more.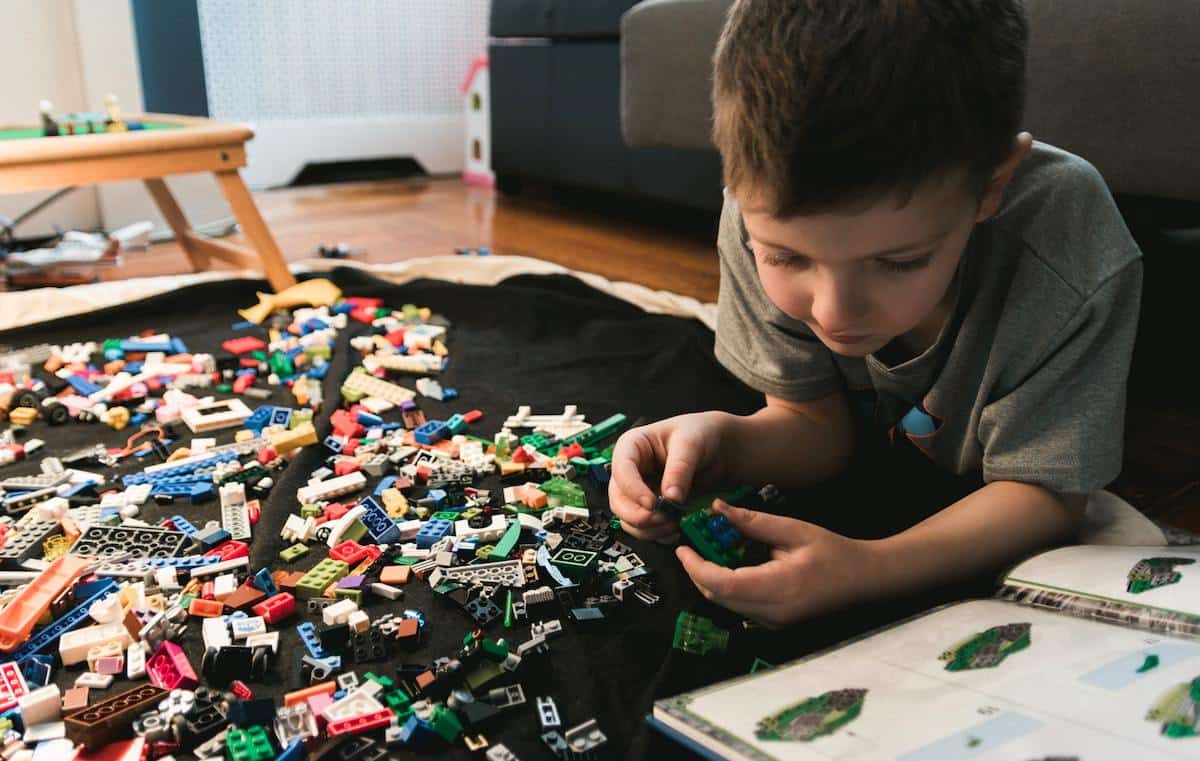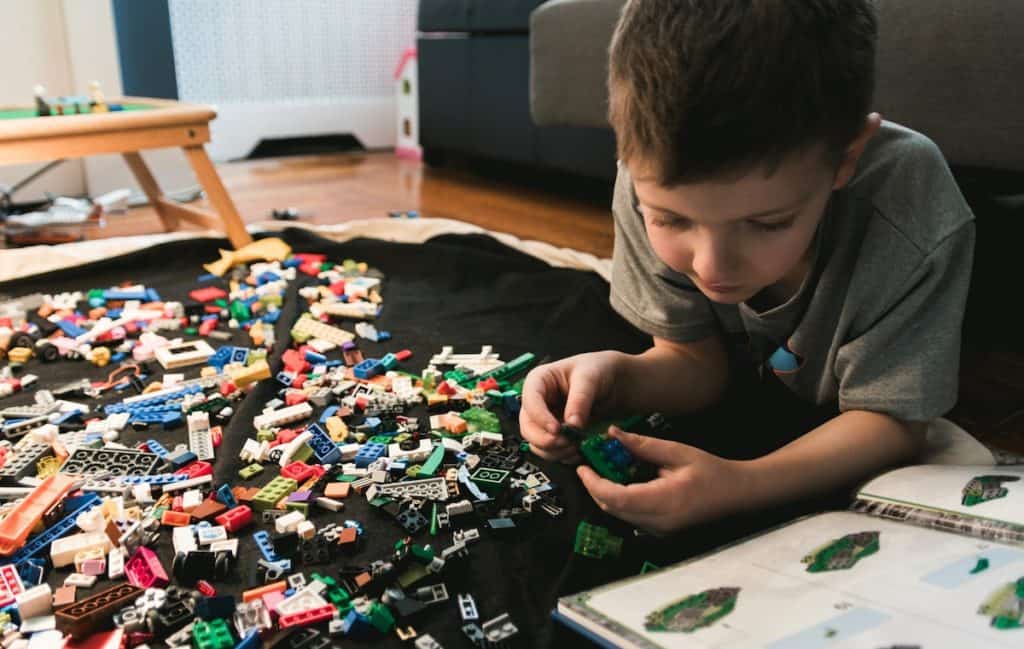 Lego is undoubtedly one of the greatest and most iconic toys ever created. Lego opens up a world of possibility, imagination, and creativity for kids, and it offers such a good, healthy playtime for them.
You can never really have enough Lego, and there are some amazing sets released each year that any child will absolutely adore.
So which is the best Lego set for a 7-year-old boy? There are many great Lego sets available for 7-year-old boys, and you know that if it has the official Lego name and is suited for their age, it will be of great quality. It all depends on the child's interests, and once you find a Lego set to suit that, it will be a hit.
Choosing the right Lego set will encourage the child to play with the Lego more, and hopefully, be encouraged to spend more time building and creating, rather than sitting in front of a screen!
7 Best Lego Sets For 7-Year-Old Boys
To help you choose the best Lego set for a 7-year-old boy, we have listed the best options that will be adored by any young boy!
1. Lego Marvel Spiderman Far From Home: Molten Man Battle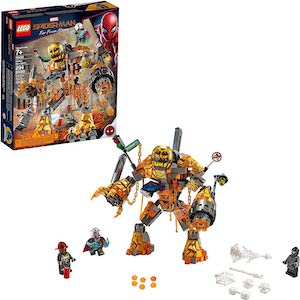 Check the Current Price on Amazon
It really does not get more epic than this! Kids can build the Molten Man, which features a gripping claw, 6 different stud shooters, and buildable melting objects which include half a car and a traffic light.
The whole scene of the battle can be recreated by adding in Spiderman and Mysterio.
The set includes 3 Disney Marvel mini figurines, a Spiderman superhero figure which has a web pack, a Mysterio with energy power elements, and a firefighter with a buildable fire extinguisher.
When built, the Molten Man measures 7-inches tall. The set has 294 pieces in total and is perfect for ages 7 and up. All the pieces in the set are compatible with other Lego sets and Lego bricks.
Your 7-year-old build can recreate all the exciting action from the scene in the movie and have fun expanding it with their other Lego pieces as well! Any Marvel lover and Spiderman fan will absolutely fall in love with this set as they play out their battle in their own home.
2. Lego City Police Station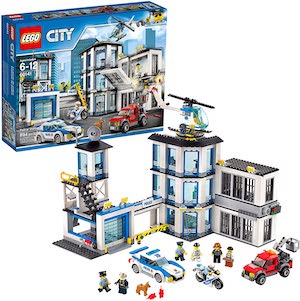 Check the Current Price on Amazon
This playset is every cops and robber lover's dream! It features a 3-level police station, including mini-figures, a cop car, a jail cell, a helicopter, a watchtower, toy motorcycles and so much more.
It is suited for ages 6-12, so it perfect for a 7-year-old.
In total, the set contains 894 Lego pieces, and kids can let their imagination run wild with the different stories, scenarios, and jailbreaks they can come up with.
The 4 police offers, 3 crooks, a police cruiser, and a police dog will help to bring the action to life.
The set allows for ages of endless role-play, and the police pursuit car, the motorbike, and helicopter allow for the action to be taken anywhere around the house.
All the pieces are compatible with other Lego sets and bricks, so there is no end to all the possibilities that could be built.
Once constructed, the police station measures over 9-inches high, 14-inches wide, and 14-inches deep. It is a great size to build and to use with the mini-figures and vehicles which are all included in the kit. It is a classic Lego set that is timeless!
3. Lego DC Batman Batmobile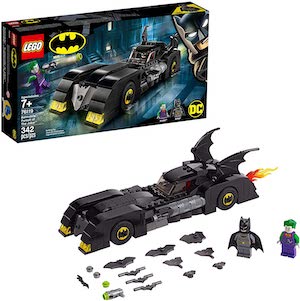 Check the Current Price on Amazon
Every little boy loves Batman, and what better Lego set to get than a Batmobile, from the scene in pursuit of the Joker!
Kids can build the classic Batmobile, which features an opening cockpit for Batman to climb inside, foldout stud shooters, and a spinning flame exhaust.
Batman enthusiasts will love the role-play battles they can enjoy with this Lego set.
The Lego set has 2 mini-figures, including the iconic Batman and The Joker. There are also 10 different Bat elements to customize the Batmobile and other builds, figures, and weapons.
The Batmobile measures 2-inches high and 9-inches long when built, and while it is not too easy, it is a manageable build for a 7-year-old. With 342 pieces, it is a fairly large set that will be a great addition to any collection.
4. Lego Harry Potter: Hagrid's Hut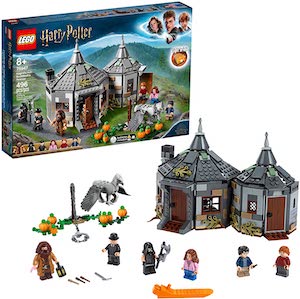 Check the Current Price on Amazon
Harry Potter is an absolute favorite with kids and can bring such magic to a child's life. Mix this magic in with some Lego and you have a winning combination.
Hagrid is everyone's favorite character, and with the Lego Harry Potter – Hagrid's Hut set, kids can recreate his homely hut.
Once built, Hagrid's hut features 2 rooms and comes included with 6 mini-figures.
These are Harry Potter, Ron Weasley, Hermoine Granger, Hagrid, the Executioner, the Minister of Magic, and Buckbeak, the Hippogriff. 
There is a fire brick inside the hut which lights up with the push of a button, which needs batteries to work, which lights up like the fireplace.
Other pieces included in the kit help to recreate the scene where Buckbeak is about to be put to death, and Harry and friends rush to save his life, it even comes with Lego pumpkins which are found in the original scene!
It is a great set for Harry Potter lovers, and there are other Harry Potter sets in the series which can all be put together to create a whole Harry Potter world.
5. Lego Minecraft The Zombie Cave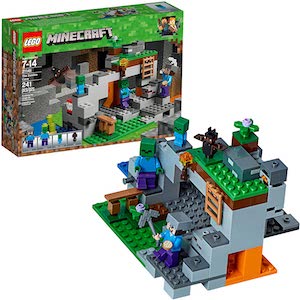 Check the Current Price on Amazon
Minecraft has swept the world by storm, and it would be difficult to find a 7-year-old boy who doesn't love spending time exploring the Minecraft world.
This Lego set builds up to create a Minecraft cave, complete with toy coal, redstone, diamond ore, and gold elements. There is also a furnace and ladder to mimic different features found in the game.
A Steve Minecraft mini-figure is included with the set, as well as a bat, a baby zombie, and zombie figures.
Kids can create their own mini-Minecraft world right in front of them for hours of creative play.
With 241 pieces, the set is compatible with other Lego sets and bricks, and the finished cave measures over 4-inches high and 7-inches long.
6. Lego City Space Deep Space Rocket And Launch Control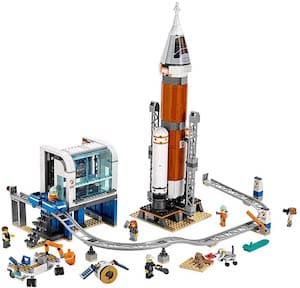 Check the Current Price on Amazon
Your 7-year-old boy can set up to explore outer space in their room with this incredible set.
They can build a large multi-stage rocket and opening launch control tower with all the pieces included.
There is also a buildable monorail system that transports astronauts from the tower to the training ground and the rocket.
The set has 6 mini-figures, 2 astronauts, 2 scientists, a launch director, a ground crew technician, and a robot figure, as well as an awesome space telescope that has an articulated arm and Launchpad!
Standing, the rocket measures over 16-inches tall, and really is the ultimate Lego set for the boys who one day want to explore beyond our world!
7. Lego Creator 3-in-1 Fire Dragon Building Kit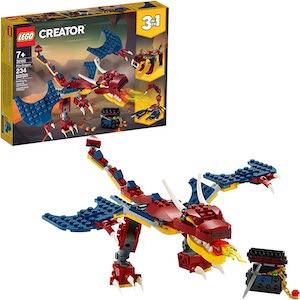 Check the Current Price on Amazon
With this kit, kids can build 3 different mythical figurines, including a moving fire dragon, a saber-toothed tiger, and a scorpion.
The set includes all the pieces needed to build one of the three creatures at a time, or kids can come up with their own creatures to create.
They can transform from one creature to the next using the included instruction manual.
The 234 pieces in the set are all compatible with other Lego pieces, so the opportunities for creation are endless, and there is no limit to the different creatures and worlds that can be made!
Related Questions
What is an appropriate age for Lego?
The beauty of Lego is that is suited for all different ages. For younger children, there is Duplo, which are larger Lego blocks. Children can start playing with Duplo at around 3 years of age, but this is down to their abilities, fine motor skills, and whether or not they still place toys in their mouths.
Does Lego make kids smarter?
When playing with Lego, kids are using spatial reasoning skills, which can help with many aspects and situations in life. They are spending time thinking, creating, and using their imagination, which is not always achievable when watching TV or playing online games.
Lego sets are great for the imagination, and all children should be encouraged to play with Lego sets when they can, starting young with some Duplo blocks.
The Best Lego Sets for 7-Year-Old Boys
For 7-year-old boys, Lego is such an amazing toy. They can explore endless opportunities of creation, and with some great Lego sets being released, they can recreate some of their favorite game or movie scenes or role play with police or astronaut sets.
The above Lego sets are all suited for 7-year-old boys, and are great gifts to keep them entertained indoors on rainy days, or to build up a collection of different Lego sets and bricks to create any scene imaginable! All the above sets are compatible with other Lego sets and bricks.
Up Next: What Gaming System Is Best For A 7 Year Old?