*This post may contain affiliate links. Please see my disclosure to learn more.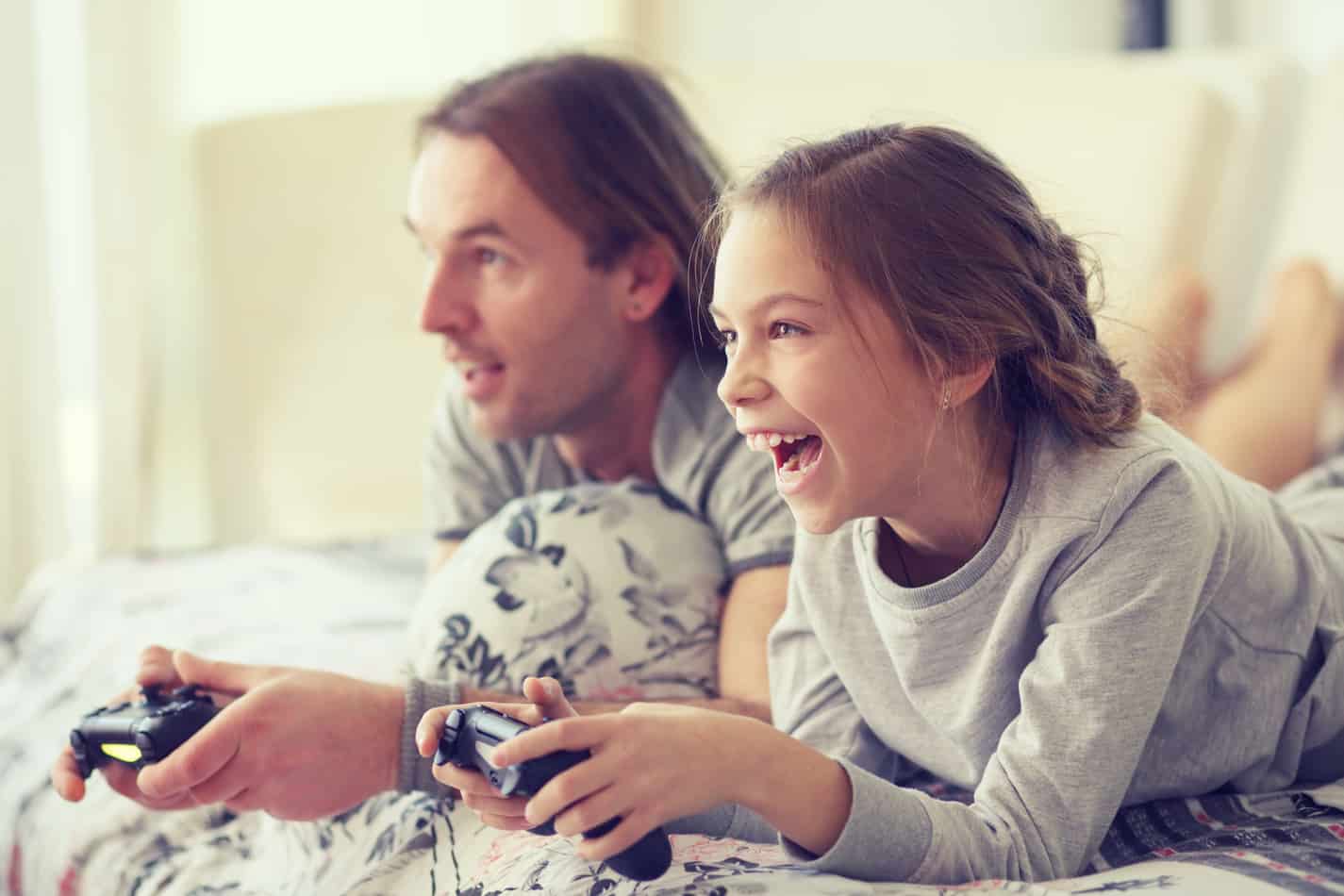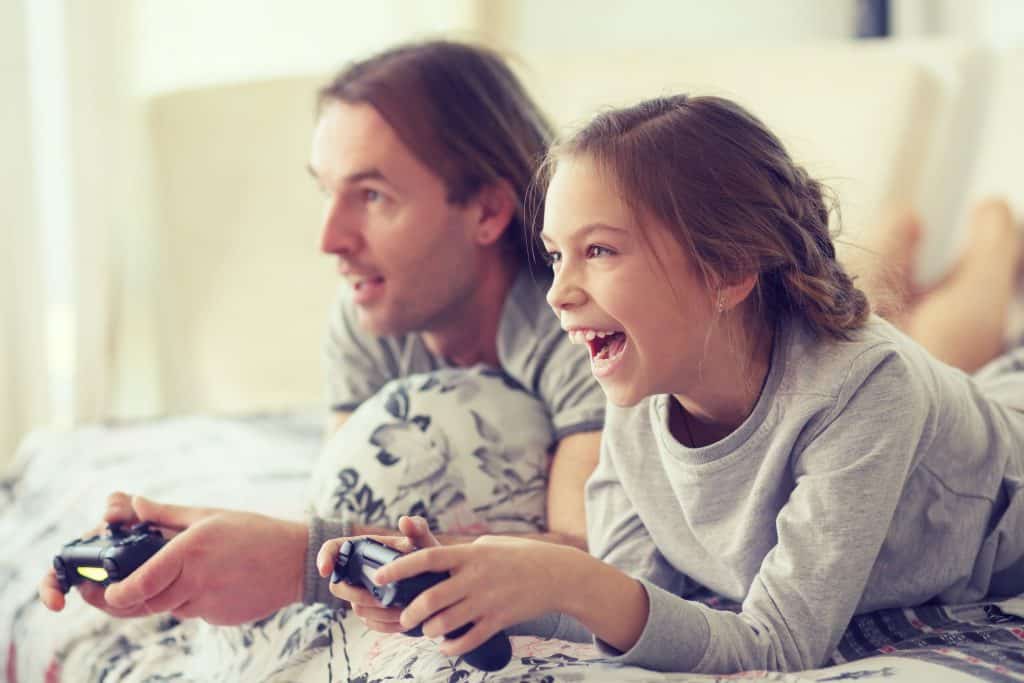 Keeping a child entertained and occupied is essential in the world of parenting. In today's modern society our children enjoy the fun escape of video gaming.
So what are the best gaming systems to invest in for your seven-year-olds?The best gaming systems (or consoles) for seven-year-olds include Nintendo, Wii, PlayStation, and Xbox.
My childhood consisted of me competitively gaming with my brother on many different gaming consoles. I have learned that each gaming console is different and has its own perks and advantages. Read on to find out what each of these four gaming consoles have to offer for your seven-year-old.
Nintendo
Nintendo is a great gaming console to consider for your seven-year-old, it's a good choice for everyone at all ages, especially children. Nintendo has many offerings on different gaming consoles including the Nintendo NES, Nintendo Switch, Nintendo 3DS, and Nintendo 2DS.
Nintendo NES
The Nintendo NES, which stands for, Nintendo Entertainment System, is a console originally made in the eighties where you could play the games of the time such as Donkey Kong, Super Mario, Legend of Zelda, and more! Due to the popular demand of "retro" style and the pure enjoyment of these games and the console, Nintendo continues to make the NES for gamers all around the world.
The NES is a great preference because it comes with thirty pre-loaded games on the console ready to play for its user. These games are mostly from the eighties and are lighthearted and innocent but equally fun and entertaining. You won't need to worry about your child being exposed to the "mature" media and graphics found in most modern games today.
Having personally played on the NES on my own and with a group, I find it thrilling to take a leap into the past and return to the stomping grounds of where modern gaming as we know it today was born. You can purchase a Nintendo NES at stores such as Target, Walmart, Best Buy, and Game Stop. You can also buy it here on Amazon.
Nintendo Switch
Nintendo Switch is the top contester on this list. The Switch is forecasted this year to pass PlayStation and Xbox (Two of the largest contenders in console branding) in sales!
The Nintendo Switch is such a draw in families today because it has the ability to turn from a home console to a portable personal system whenever one wishes! This high tech electronic can be for a family or an individual. The details in the technology such as sensors for motion and presence as well as 3D rumble features make it extremely immersive and fun for whoever is using it!
Other features that you may think of is color preference of the device and also the ability to have parental controls on the console/system. This lets you keep and eye on and set rules for your child's interactivity with the console. You can buy the Nintendo Switch at the above mentioned stores and also here on Amazon.
Nintendo 3DS and 2DS
The Nintendo 3DS and 2DS are very similar but are also very different. To start with the similarities, these systems can use and play games from either systems (the 2DS or 3DS). You can also play games from older systems such as the Nintendo DS or DSi. Both of these systems with the exception of Nintendo 2DS XL can take pictures.
All of these devices can download music, web browser, and watch Netflix. The systems also have parental guidance settings on them so you can monitor your child with what they play and the amount of time spent playing.

Each are very different and are very in depth with different sizes and features. There are many different considerations, for a quick look at a table of comparison, click here.
As stated before you can purchase each of these systems of your choice at the stores listed above. For convenience, if desired, I will list the amazon links for you.
Nintendo 2DS XL Nintendo 2DS Nintendo 3DS XL
Other Ideas and/or Preferences
The consoles listed above are not the only consoles made by Nintendo, they are just the only ones that are still being made. There are hundreds if not thousands of older discontinued consoles that can still be used today!
I personally grew up playing Nintendo's Game Boy Advance SP, until I got my own I would sneak into my brother's room and play his. I would stay occupied for hours as I played many different fun games and sought to beat the seemingly endless levels in them. Along with the Game Boy Advance SP, there are the following that have been discontinued but can still be found.
Game Boy
Game Boy Advance
Game Boy Advance SP
Nintendo DS
If your child doesn't have a desired preference or likes "vintage" and "retro" items, then these systems will work great! While the systems and the games are not made, you will be able to find both if you search. Many are selling these at pawn shops, stores like goodwill and Game Stop, and online at sites like ebay and amazon!
Wii
I put Wii into its own category, but not many know that Wii is in direct connection with and owned by the Nintendo company! Wii has many options for entertainment and has two main consoles: The Wii and The Wii U.
The Wii (Original)
The Wii debuted in November 2006 with the goal of a new interactive game for the world. The Wii competed with consoles such as the Xbox 360 and the PlayStation 3. It was hugely successful and is still used today by millions. The Wii was one of the very first of its kinds and a milestone in modern-day interactive technology.
The Wii has many bits and pieces to make interactivity fun such as the remote and nunchuck. There is even pieces to use a fitness coach and health tracking system. Some of the best games to play on the wii is wii sports and Wii sports resort. The notorious games Just Dance also made their debut on Wii.
The Wii U
Similar to the Wii original, the wii U comes with the pre-loaded games of Super Mario 3D World and Nintendo Land. It is a more modern version of the Wii original and has the same capabilities and more. The Wii U's primary draw is the offer of more than one perspective using the Wii U game pad.
It should be noted tha with the debut and success of the Nintendo Switch the production of the Wii (original) and Wii U have been ceased. But they are still recent and a great source of fun and entertainment.
The Wii Mini is also an option you may consider, here is a table of comparison between the three.
PlayStation
PlayStation is one of the most well-known console and company names in the world. Run by the company Sony, PlayStation is increasingly offering the best technologies to create a constant evolution of gaming consoles. PlayStation currently offers on its shelves the PS4 (PlayStation 4) and the PlayStation VR (Virtual Reality).
It should be noted the PlayStation is generally used by tweens and teens due to the game options. Your child can use the PlayStation just as well and play games made for the console based on their age group. Also, the PlayStation 4 does have access to parental restrictions.
PS4
The PS4 or PlayStation 4 is one of the most used consoles today in the gaming world. The PS4 has many great offerings to the gaming world such as highly realistic graphics, a one terabyte hard drive, and the ability to web browse and watch from different media sources such as YouTube and Netflix. The PS4 also can play blue ray DVDs!
Also in the PS4 category is the PS4 pro. The pro offers itself as a 4k TV, HD power, HDR technology, and more.
Some great games for your seven-year-old to play using the PS4 console include but are not limited to:
Spyro
Crash Bandicoot
Minecraft
Lego
Nickelodeon games
PlayStation VR
Virtual Reality has taken the world by storm. It is the newest thrill to hit the shelves and everyone is craving a glimpse at what this new form of entertainment has to offer. Virtual Reality is great for both children and adults and is fun to interact as a group. Rather than sitting on your couch in front of the television with a controller in your hands, Virtual Reality will make you genuinely feel as if you are in the game you are playing, hence the name.
There are many games which can be played using virtual reality depending on where you want to go and what you want to see. Virtual Reality can be as simple as walking the streets of a city in a different country or can be an in-depth experience of thrill and horror as you escape monsters and killers. Anyone can find enjoyment from Virtual Reality.
Games your seven-year-old may like playing using virtual reality can include but is not limited to:
Carnival Games
Roller Coaster Tycoon
Astro Bot
Moss
Just Dance
Other Ideas and/or Preferences
With the name PS4, you may assume that there are previous consoles made by PlayStation. You assume correctly. As stated previously the company of PlayStation is a constant evolution of gaming consoles. PlayStation has also produced the PlayStation 1, 2, and 3.
PlayStation constantly creates improvements on its technology produces new consoles. When this happens the previous version is discontinued from production. This doesn't mean that the previous consoles are not fun. While the consoles and games for each console are no longer produced, you are still able to find and purchase the console you desire. I have been able to play on each of the consoles and can say with a surety that each console has something unique and fun to offer.
I remember my Father unboxing the PS1 for my brother and I, we would play now vintage games such as , Spyro, and Looney Toons. When my brother received the PS2 as a Christmas gift, we played Star Wars Battlefront Two for the first time, a game that is now acclaimed by many sources. A few years later we gained the PS3 where we began to see an evolution continue with graphics in gaming, this has all led up to the PS4 that I play myself with my peers at college.
Each PlayStation console has something unique and fun to offer and should be considered with much interest!
Xbox
Xbox is another great option for a console for your child. While Xbox is PlayStation's lifelong competition, both are equal in entertainment, technology, and ingenuity. Just as stated for PlayStation, Xbox is generally used by tweens and teens due to the game options. Your child can use the Xbox just as well and play games made for the console based on their age group. Also, the Xbox does have access to parental restrictions.
The consoles that are currently produced by Xbox are the Xbox One X and the Xbox One S. Both offer great advancements and their own twist on the gaming world.
The offered Xbox consoles are sleek consoles that offer 4K graphics and media outlets such as twitch streaming, YouTube, Netflix, ESPN, and more. It also has a faster load time than previous models and states the title of "the world's most powerful console". The consoles on their shelves now are both similar and different. To choose the best one for your child and family, click this link to go to Xbox's site where they have an individualized section to help you choose.
Other Ideas and/or Preferences
Much like Nintendo, PlayStation, and the Wii, Xbox also has discontinued consoles that are just as fun and entertaining.
The Xbox 360, Xbox Kinect, and Xbox One have been discontinued but can still be found if searched for.
The Previous Xbox Consoles
The Xbox 360 debuted in May 2005 and offered Xbox live, the ability to play with other Xbox users across the globe. It was the successor to the original Xbox and was discontinued in 2016 after the release of the Xbox One in 2013.
The Xbox One was released in 2013 with a new design and new features along with the same from the previous Xbox 360.
The Xbox Kinect offered a whole new world to interactive gaming. It was between the Wii and our society's new technology "Virtual Reality". The Xbox Kinect's goal was the broaden the audience of users beyond the typical gamer into the lives of everyday people with an interest in progrewssion and new technology.
The Kinect had a new motion sensor monitor that would track the movements of gamers in front of it and register them without the use of remotes, or controllers. This made games such as Just dance and other motion and active games easier and more fun to play.
The discontinuation of the Kinect is rather recent, the Xbox Kinect was discontinued in the fall of 2017. As technology has expanded to different companys, others have produced the same likeness to the kinect. Other issues that may have contributed to the kinect's discontinument was possible privacy issues due to the new camera on the device.
PC
You may find that a gaming console may not be the best fit for your child. A PC, which stands for "personal computer", is a great way to play games as well. Personal Computers are laptops which can include any of the companies you know and love such as Windows, Lenovo, etc. On these computers you can play games such as Minecraft and Fortnite. While not a gaming console you may want to inquire of your child's interest in this.
Related Questions
Is PlayStation or Xbox the better console? The debate over the top console of PlayStation and Xbox has been a decade feud. Both consoles have their own adamant following that would vouch for their preferred console. Some say that the PlayStation console is better because of the new Virtual Reality feature, others say that the Xbox is the better console due to the superior media options. This debate however, tends to be an individual one. Only you can decide the best console for yourself, if you would like to venture to decide what console you prefer you can venture to your local game store or Walmart and try each of the consoles for yourself.