*This post may contain affiliate links. Please see my disclosure to learn more.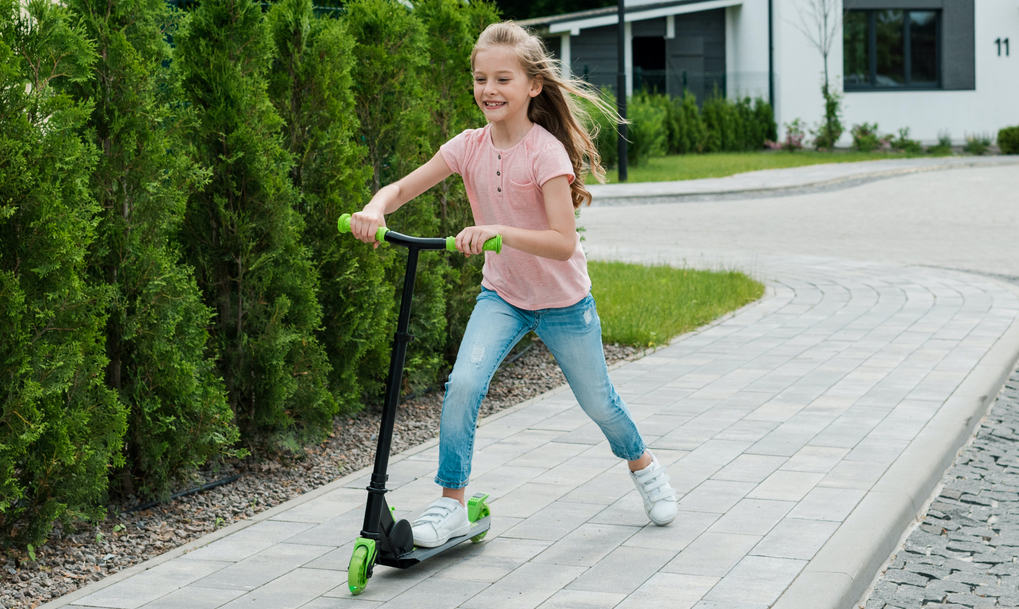 Scooters are perfect for allowing kids to have good, wholesome fun. It gets them away from screens, into the outdoors, moving and keeping fit.
The scooters we knew as kids are long gone, and there are now some incredibly designed scooters, in all different shapes and forms, which offer different types of riding styles for kids. There are the traditional 2-wheel scooters, electric scooters, off-road scooters, and even 3-wheeled scooters.
With all the options available, which is the best scooter for a 7-year-old? The best scooter for a 7-year-old will depend on the style of scooter they want, but if you aren't sure, you cannot go wrong with the Razor A3 Kick Scooter. It is a modern take on the classic scooter, and Razor is one of the most popular scooter brands, and for good reason. It offers a comfortable ride and a durable frame, which is exactly what you want for a 7-year-old!
To help you choose the best scooter for a 7-year-old, we have rounded up the best 9. There are different styles included in the best 9 scooters listed below, but they are all great options that will keep kids outdoors and having healthy fun for ages on end!
The 9 Best Scooters For 7-Year-Olds – Reviewed
There are some great options out there on which scooter to buy for a 7-year-old, whether it be as a birthday gift or a way to get them to enjoy being outside more.
The below 9 scooters are all great choices, and each is a little different from the rest, so try to gauge what type of scooter would suit the 7-year-old best, whether it be a classic scooter, an electric scooter, or a 3-wheeled scooter, and use this to help you pick out one!
1. Razor A3 Kick Scooter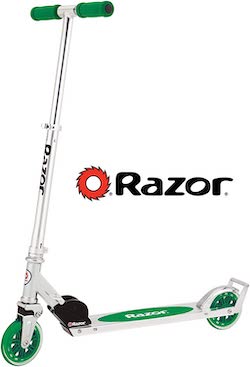 This is a classic kick-scooter and offers up the most versatility with riding and tricks. It is made from sturdy aircraft-grade aluminum, so you know it will be durable up against even the most daring of 7-year-olds.
Offering a comfortable ride, the scooter features 125mm inline-style urethane wheels, which are fit with a springless shock-absorbing system, helping take rough roads and bumps a little easier.
One of the best features of the Razor A3 Kick Scooter is the patented rear fender brake which allows for quick stops, and which is designed with a wheelie-bar to allow for easier wheelies and other tricks!
A patented folding mechanism makes carrying and traveling with the scooter so easy, and the lightweight of the scooter means your 7-year-old can carry it around on their own.
The Razor A3 Kick Scooter has the main color of silver-metal, but there are different accents to choose from including blue, red, green, or clear.
The simple and classic design of the scooter, with modern twists and improved performance, makes this a great choice for kids. It is best suited for children 5 years and up, so it is perfectly suited for 7-year-olds.
2. Jetson Jupiter Kick Scooter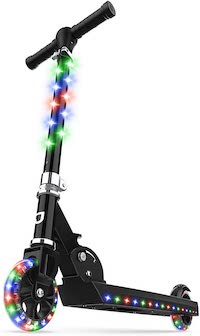 Combining safety and fun – the Jetson Jupiter Kick Scooter will be an absolute favorite of any 7-year-old. It has over 100 LED lights that are integrated into the stem and deck, as well as bright LED light-up wheels. 
Not only do these different color LED lights make the scooter look awesome, but it increases visibility, helping to keep kids safe when riding outside.
The lightweight design of the scooter, as well as the easy folding mechanism, makes it incredibly easy to pack up, pick up and carry, and it is light enough to be carried by kids.
The sturdy wide deck and the durable frame have been built to last, and the scooter will last for years. As your child grows, you can adjust the handlebars to suit their height. 
A rear access foot brake allows for safe fun, and for the scooter to come to a complete and full stop safely.
The jet black scooter frame really helps the lights shine and stand out, and gives the scooter the most awesome look possible! It is all a 7-year-old could want, an amazing looking scooter that is durable and easy to ride!
3. 6KU 3 Wheel Kick Scooter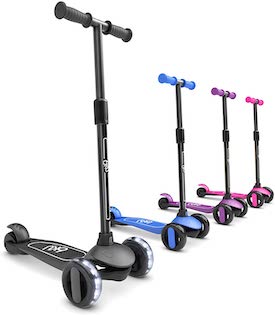 For something a little less traditional, the 6KU 3 Wheel Kick Scooter is a great choice.
The two big front wheels and the one small back wheel feature bright LED PU flashing lights, which shine bright enough to be seen during the day, but light up even more for advanced safety at night.
The adjustable handlebars allow the scooter to grow with your child, and the T-bar with secure lifting and twisting lock mechanism makes the adjustment super simple.
A lean-to-steer technology was used to design the scooter, and with the lightweight design, it is easy to control and keep balance when moving.
ABEC-7 bearings and the aluminum reinforced back wheel foot brake makes the ride smooth and safe. With the deck being low to the ground, it is easy for kids to hop on and off.
For easy storage and handling, the handlebars can be easily detached with one hand and tied under the deck plate. The deck plate is also changeable, so the scooter can feature a different color each week!
With three wheels and a really cool design, this scooter will be absolutely adored by any 7-year-old!
4. Mongoose Expo Youth Scooter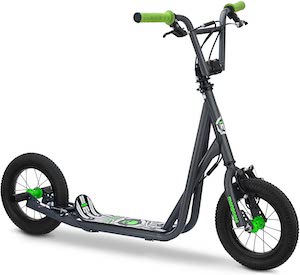 This really is the ultimate scooter for a 7-year-old. It is big, it is mean and it offers up hours and hours of ridiculous fun!
The Mongoose Expo Youth Scooter easily rides over bumps and can tackle paved and non-paved surfaces, thanks to the 12-inch air-filled bike-style tires. The scooter can be used to ride around the neighborhood, or for a bit of back yard fun.
With BMX bike-style handlebars and hand brakes, the scooter is easy to stop smoothly and helps to build confidence when riding.
The wide foot deck makes it easy to balance and remain stable when riding around, and it is best suited for ages between 6 and 9 years old.
The Mongoose Expo Youth Scooter looks very similar to a Mongoose bike, but is modeled after a scooter, and manages to tackle terrain that inline skate scooters usually can't. Including 2 axle pegs, you can grind a sidewalk on a whim if you wanted to as well!
A steel traction coated deck is durable and has an awesome printed design, and the handlebars reach up to 33 inches high and can be adjusted if needed.
It doesn't get cooler than the Mongoose Expo Youth Scooter, and it will be one of the best gifts your kids have ever been given! They will be the envy of the park, and can confidently cruise around in style, tackling all types of terrain in the neighborhood! You can be confident that the scooter is safe and durable for them to enjoy as well!
5. Razor Power Core E90 Electric Scooter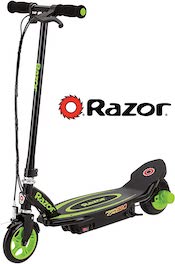 Sometimes, it is better to have the scooter do all the hard work for you, and the Razor Power Core E90 Electric Scooter does exactly that!
The electric scooter has a hand-operated front brake for safe riding. The entire frame is made from only steel, with the front wheel made from urethane. The back wheel is airless, allowing for a more sturdy, safer ride.
To make stopping and parking a little easier, there is a retractable kickstand that is easy to use, even for a 7-year-old.
The breakthrough hub motor technology makes this one of the best electric scooters on the market, and it is built to be more efficient, and ultimately maintenance free.
Your 7-year-old can spend all their time riding and enjoying their scooter, instead of waiting around for it to be fixed constantly!
With the extended battery life, there is a 75% longer ride time with the Razor Power Core compared to similar electric scooters, so kids can just enjoy being outside, exploring, and learning new tricks, without worrying about the scooter running out of battery life any time soon.
Sturdy, durable, and just so much fun, this is definitely one of the best gifts to get a 7-year-old!
6. Swagtron Kick Scooter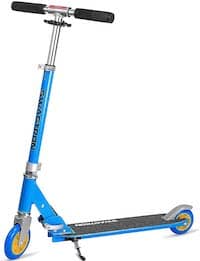 Taking it back to basics, the Swagtron Kick Scooter is the ultimate throwback to the classic scooter but built with the best materials and a sturdy design to make it comfortable and long-lasting.
The sturdy 4×20 inch deck and adjustable handlebars allow this scooter to cater for all ages.
A 120mm front wheel and 100mm back wheel gives the scooter a smooth, comfortable ride, and this is helped further with ABEC-9 chrome steel bearings.
The height of the stem can be adjusted to sit at 28'' or 40'', so kids can learn and grow with the scooter.
A fold-and lock aluminum alloy frame compacts in seconds, with two levers that lock it securely in place to make for easy transport. It is lightweight to carry around wherever, and can accompany the family on all the family holidays!
7. Kids Scooter With Light Up Wheels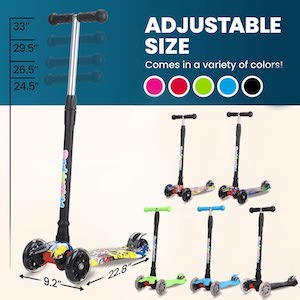 This three-wheel, self-balancing scooter gives a quiet and smooth ride, while giving he right stability and support to the rider.
PU flashing wheels light up when the scooter is in motion, giving some fun and extra visibility to the scooter. The front wheels are large, making the scooter run smoothly on uneven and bumpy surfaces.
Being durable and sturdy, the scooter will last for years with your child. The adjustable design allows the scooter to grow with your child, and a simple fold design means the scooter can be taken all over easily.
The handlebars feature a lean-to-steer technology, which makes steering and moving so much easier, and helping to make even the slickest of turns. The stainless steel ABS braking system gives powerful and stable braking.
All parts of the kick scooter are made with the highest quality materials, to give kids the best ride possible, and to be as durable as it needs to!
8. High Bounce Y Slicker 3 Wheel Scooter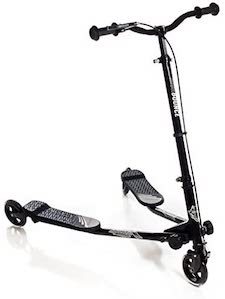 The Y scooter measures 39 inches tall and features a three-wheel design, with a split base plate, that allows for ultimate speed by shifting weight from side to side, without ever having to touch the floor.
The double leg scooter is driven by twisting your hips and pushing down with both legs, and while this sounds a bit complicated, it is actually a super-easy way to gain motion, and is very doable for a 7-year-old.
If done under the right conditions, the scooter can reach speeds of up to 15 miles an hour!
Able to ride on any surface, the Y scooter can be taken on any surface, from bumpy roads to smooth floors. When not in use, it can be folded up and taken with you anywhere.
The foot bars are flexible, which helps to achieve sharp turns and insane stunts, and the built-in quick response hand brake helps to keep control and safety at all times.
With a reinforced and lightweight steel frame, the Y Slicker scooter is durable and safe to use and will last for years.
9. Gotrax GKS Electric Scooter For Kids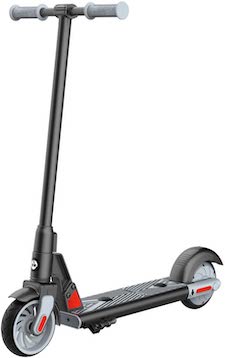 If your 7-year-old can't decide what type of scooter they want, then this is the perfect option. The GKS scooter can be used as both an electric scoot and a kick scooter.
To make the scooter electric, one foot needs to be placed on the front button to get the scooter to 1.8mph, and then the back gravity sensor needs to be covered with the other foot to reach 7.5mph.
This system makes it safe for kids to learn how to ride an electric scooter and gives them complete control of how fast they want to go.
Equipped with a 50.4Wh lithium battery, the scooter can run for a good amount of time.
The 150 Watt 6 inch motor helps to reach a top speed of 7.5mph, and the whole scooter is made from aircraft-grade metal, with a V0 fire retardant deck. It is as safe and durable as you would want for your 7-year-old.
With no external cables, being incredibly lightweight, and with a beautiful design, it is such a great option and will certainly be a favorite of any kid! There are some great color options to choose between to personalize the scooter even more.
Related Questions
What age can a child use a scooter?
There is no exact age, as all children develop differently. However, the rule of thumb is that if your child can walk with a steady gait, then they should be able to ride a kick scooter.
This usually happens around two to three years old, but you should be able to tell whether or not your child will be ready to safely and confidently learn how to ride a kick scooter. Three-wheeled scooters offer more stability for younger kids and might be a better option for them to learn how to ride a scooter.
Are bigger wheels better on a scooter?
Bigger wheels on a scooter helps to better performance, to help the scooter go faster, and to improve comfort by having fewer vibrations. However, larger wheels could make the scooter more difficult to carry around.
If you will be traveling a lot with the scooter and want something more convenient, smaller wheels might be better, but remember then that you will be sacrificing performance and comfort.
Smaller wheels go slower on the road and are less comfortable to ride as they give more vibrations. There are however some great scooters with smaller wheels that are worth a try!
Up Next: What Razor Scooter Is Best For A 7 Year Old?