*This post may contain affiliate links. Please see my disclosure to learn more.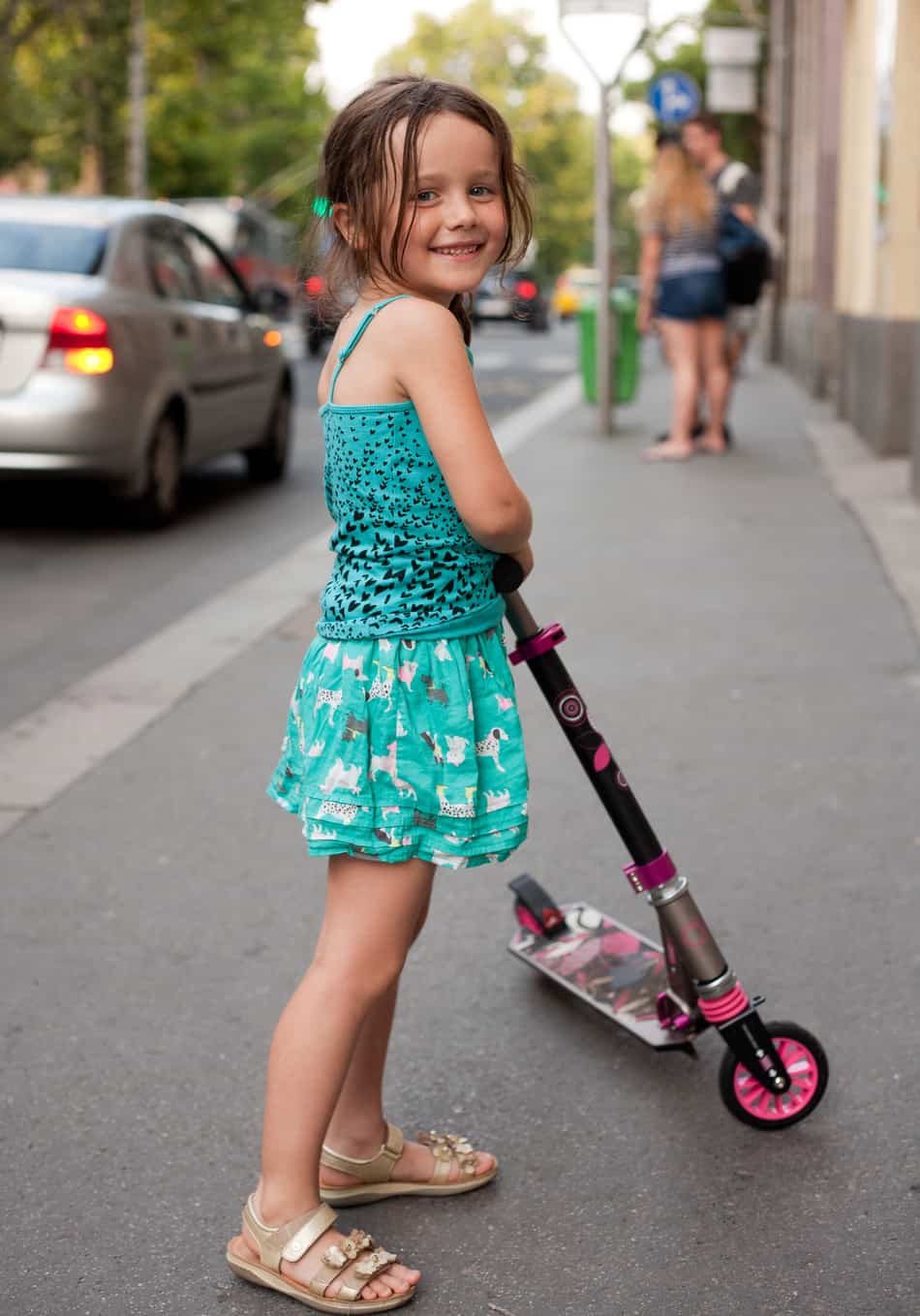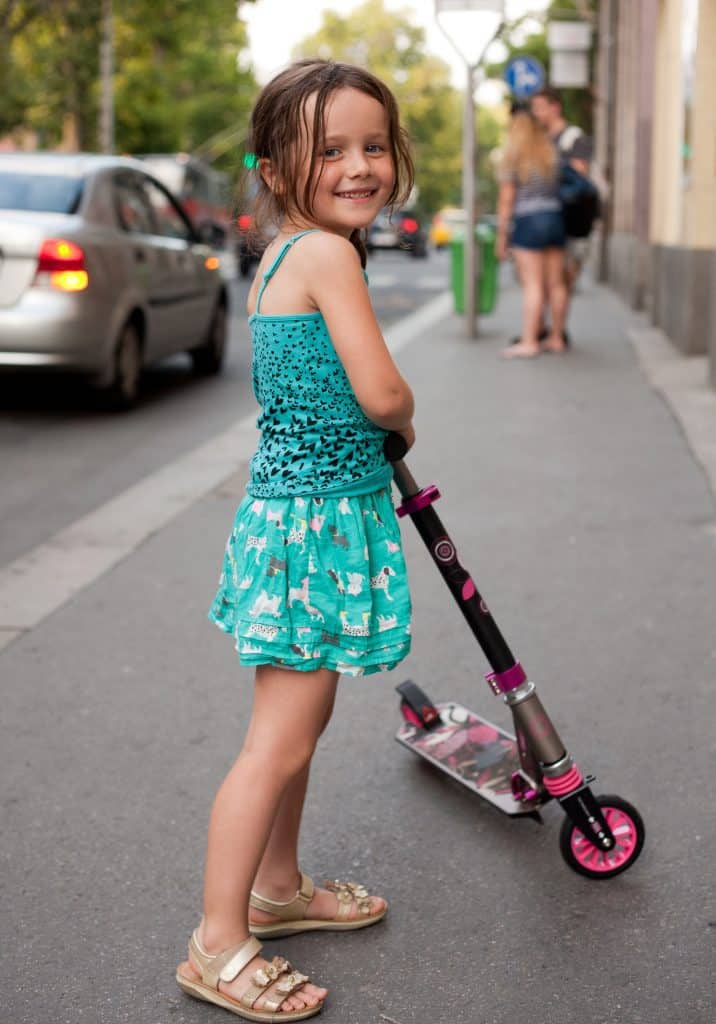 I have a nephew who is 7, and he just loves being outdoors and exploring the neighborhood. Being the "cool aunt" I wanted to find a scooter for him that he would love, so I researched to find out which one is the best.
So, what is the best Razor scooter for 7-year-old? The best Razor scooter out there is the Razor E100 Glow scooter, which is battery powered and moves up to 10 mph. This scooter is easy to ride, has great reviews, and is a blast for kids to ride on.
An electric powered scooter is great fun for young kids and it helps them explore. Scooters that power themselves aren't the only good option for 7-year-olds, though.
The Best Scooter
The best option for a scooter for a 7-year-old is the Razor E100 Glow scooter. Let me tell you why.
It is electric – this baby can travel at speeds of 10 mph and the battery is rechargeable.
It has glowing blue lights wants the throttle is pulled – blue lights add some pizzazz and safety to this ride.
The battery lasts – this battery, with proper upkeep, can go for 40 minutes of continual riding!
It's not noisy – even though it has a chain, this scooter is quiet and non-disruptive to neighbors.
Great reviews! – 4 out of 5 stars and Amazon's choice for electric scooters.
It just looks cool – the design is very cool and with the glowing, children really love it. The reviews rave about how much their child loved it.
Getting an electric scooter for your 7-year-old is so much fun because, at this age, kids have a hang of balancing and are eager to get out and race.
This scooter is currently on sale for $119.90 and is regularly $169.99 so now is a great time to buy it.
An electric scooter will have some occasional maintenance though, perhaps more than a regular one. Electric scooters have more components that make it operate properly so if something goes wrong, there will be more to look at when diagnosing the problem.
This battery is rechargeable, but there is a warning to not leave it plugged in for more than 24 hours. This could be a problem if you have an occasional forgetful moment. Leaving it plugged in for too long can reduce the battery life.
Maybe these problems seem a little bit too much for you, or maybe you want to start your 7-year-old one something more simple.
List of Electric Scooters
This, of course, is not the only great electric scooters. Razor produces quite a few without some of the light-up features. Here are some other options that are great!
There are some other electric scooters are on the market. If you are just starting out your search, look at other brands too!
Great Kick Scooters
Kick scooters are going to be the original, powered-by-you scooters. These are probably the ones you learned on when you were younger.
Kids don't really need anything fancy to start out with, and sometimes using kick scooters can be more fun, especially with friends.
However, some of these might not have batteries but they have a modern edge. Check out some of these sick scooters!
These are seriously some of the best scooters on the market for kids. They are durable, easy to transport, safe, highly reviewed, and eye-catching. The scooters above will last a long time, and if you are searching for quality kick scooters, those are the best bet.
However, they can be a bit expensive. If you are looking for a thriftier scooter, there are still some on the market that will perform well.
Inexpensive Options
Sometimes, dropping over $50 on a scooter really isn't feasible. Maybe you don't even know if you're 7-year-old enjoys riding around on a scooter yet. It's perfectly understandable to want to spend around $20 – $40.
Razor has a couple of their scooters at a cheaper price. They may not be as flashy but they are still high quality.
You don't have to go Razor brand name to get a great scooter for your child. There are some less expensive alternatives out there that are reliable.
This Neon Vybe Kick Scooter Vector Blue is only $15. It has a black frame and some light-up wheels. Even though it isn't as high quality as some of the other scooters, it is meant for young kids and should be suitable for the average 7-year-old needs. The same goes for the Hello Kitty Scooter.
This Marvel Avengers themed scooter is under $20 as well. It is great quality for the price and if your 7-year-old loves superheroes, this scooter will surely be loved.
Non-Traditional Scooters
Looking for something more unique for your 7-year-old to be riding around on? Don't worry, there are a ton of slightly out there options that are very trendy and may be even more fun than the original.
These are great, too, if your child is already a pro at a kick scooter and wants to try something new. They may look a little funky but keep an open mind.
Expo Scooter
Expo scooters are like the dirt bike of scooters. In other words, they are more all-terrain and easier to push through the dirt, grass and gravel areas that kids might explore.
These tires are much bigger, and there is a bit of a suspension system. Braking and riding are pretty easy. There are some tricks that can be performed on these scooters as well. So for learners or BMX-type 7-year-olds, take a look at these options.
SpaceScooter
This space scooter is wicked cool. To move this scooter forward, you pump the back part of equipment up and down, sort of with a teeter-totter motion. Doing this propels the scooter forward, the more pumps, the faster your child goes.
Sound interesting? Here are my recommendations!
SpaceScooter Junior Ride On – This is the classic, the original design. When purchasing, make sure that you choose a Junior version, because they are the ones designed for kids from 4 – 8 years old. The other ones might not be safe for the size of your child. Available in pink or blue.
Ped-Run3 Kids Scooter with Advanced Dual Pedal Action – This scooter moves in the same way as the Space Scooter, it's just a different brand. Designed for kids ages 5 – 10, this one may last a little longer for your child. It comes in 3 different colors.
Yvolution Y Flyer Kids Scooter – This scooter has two spots to stand one, one for each foot. This scooter is propelled by a motion similar to an eliptical machine.
This scooter is a little bit harder to operate, just because it is more nontraditional. Once the basics are learned, it gets a lot easier. This might not be the best option to teach a 7-year-old how to ride a scooter.
3-Wheeled Scooters
Starting off with 3 wheels is almost always going to be easier for your little ones. So, if you are teaching your child to ride a scooter for the first time, using a 3-wheeled scooter might be a great choice.
Some of these 3-wheelers are of a different design and are not for beginners, but still are very cool. They are powered by a more side-to-side motion rather than
Great fun and unique, too! Try out one of these instead of the usual scooter. These scooters can help increase coordination and confidence in your 7-year-old.
Combination Scooters
What we are talking about when I say combination scooters, are scooters that have more than one feature or can be converted from one thing to another.
For example, there are some great scooters that can also be used as skateboards.
Multipurpose toys can be cost-effective and great for kids who can't make up their minds.
Here are some products that be transformed to scooters:
Fisherprice Grow to Pro – This product is definitely for the beginners. Meant for children from 4 – 8 years old, this scooter can transform into a skateboard. This board is wide enough to put both feet on, which is helpful to those who are struggling with balancing. As your child develops, he or she can also try skateboarding.
MorfBoard Skate & Scoot Combo Set – Amazon's choice for skateboard and scooter combo and it has great reviews. This product, as a scooter, looks more like the standard model. It is meant for an intermediate skill level.
Street Surfing Torpedo Scooter Artik 2-in-1 Ski Combination – The combination on this product is scooter and skis, which is totally awesome! You can replace the scooter wheels with smooth skis. The frame of this combo is tough yet lightweight.
These options look like so much fun, and some (like the skate and scoot) offer room for growth as your child ages.
Experimenting with these nontraditional products is a great way to go and can help your child make so many fun memories.
Safety Equipment for Your 7-Year-Old
Before setting your 7-year-old into the world, brazen on a new scooter, remember that they need to be padded up. Falling off a scooter may not seem as dangerous as a falling off a bike, but scrapes and skids happen a lot. Also, make sure he or she has a helmet.
If your child doesn't have pads yet, this set is a great option. It includes wrist guards, elbow pads and knee pads.
Need a helmet, too? This combination set has knee pads, elbow pads, wrist guards and a helmet. Get everything your child needs in just one order. Plus it comes in 4 different colors!
Wearing a helmet is important, but it is also necessary to watch your children while they are playing.
Supervising 7-year-olds, especially beginners will ensure that your child is safe. Don't brush this off. A lot of children aren't great at controlling directions on toys like these and risk veering into the streets.
Watching is critical too if your child is trying one of the more advanced and nontraditional scooters that are on this list.
Best Scooter Accessories
Accessorizing bikes have been a trend for a long while, so why not decorate a scooter? There are a lot of really neat products out there.
One of my favorites is this Pink Toy Unicorn Horse Head. This makes the scooter look like a unicorn and has some streamers for the handles. This is great for little girls. It also comes with an option for a blue dinosaur head for a little boy.
These really make the scooter more personalized and more fun.
Adding grip tape to the bottom can add more traction as well as some color to a plain looking scooter.
Related Questions
What age do you have to be to ride a scooter? Riding a kick scooter, a child should be around 4 years old. There are specially designed scooters for younger children who aren't used to balancing. Riding scooters that are like mopeds are for people who are 16 years old or older.
Do you need to wear padding to ride a scooter? While riding a scooter, a helmet should always be worn. Knee pads should be worn for beginners and children. Padding should always be worn when stunts or tricks are attempted.