*This post may contain affiliate links. Please see my disclosure to learn more.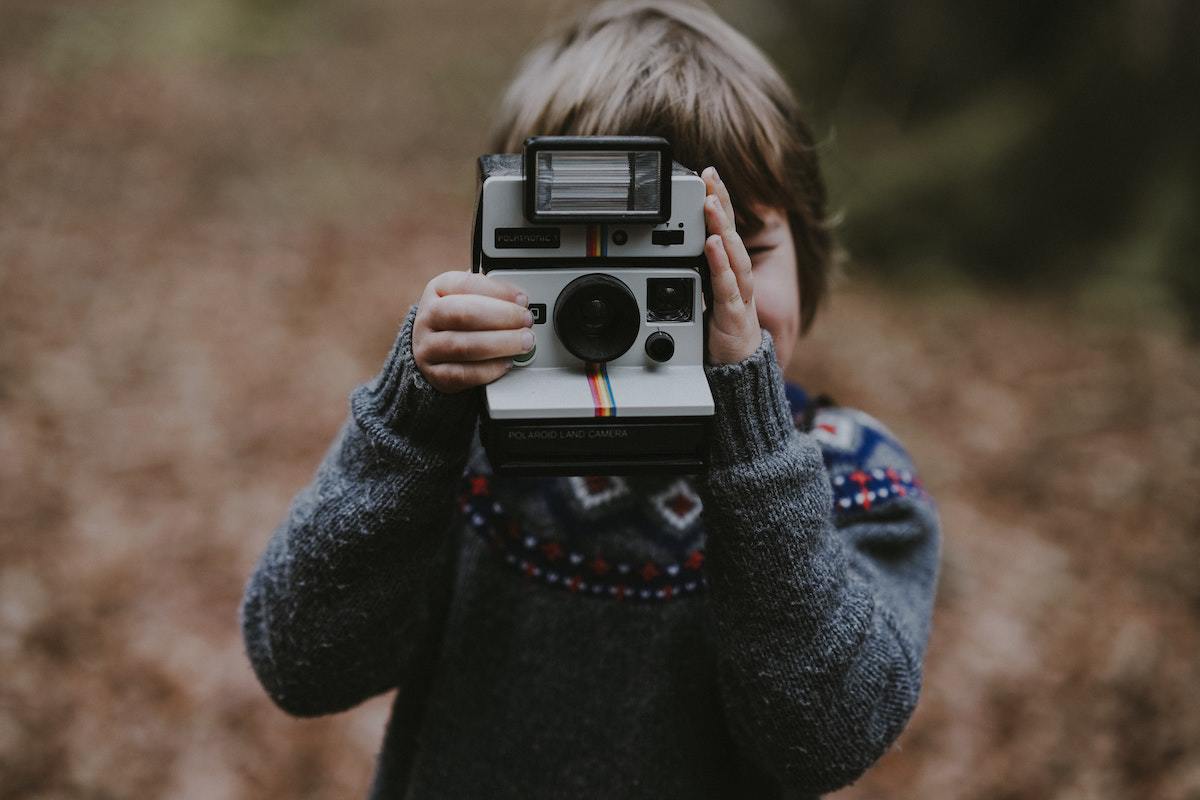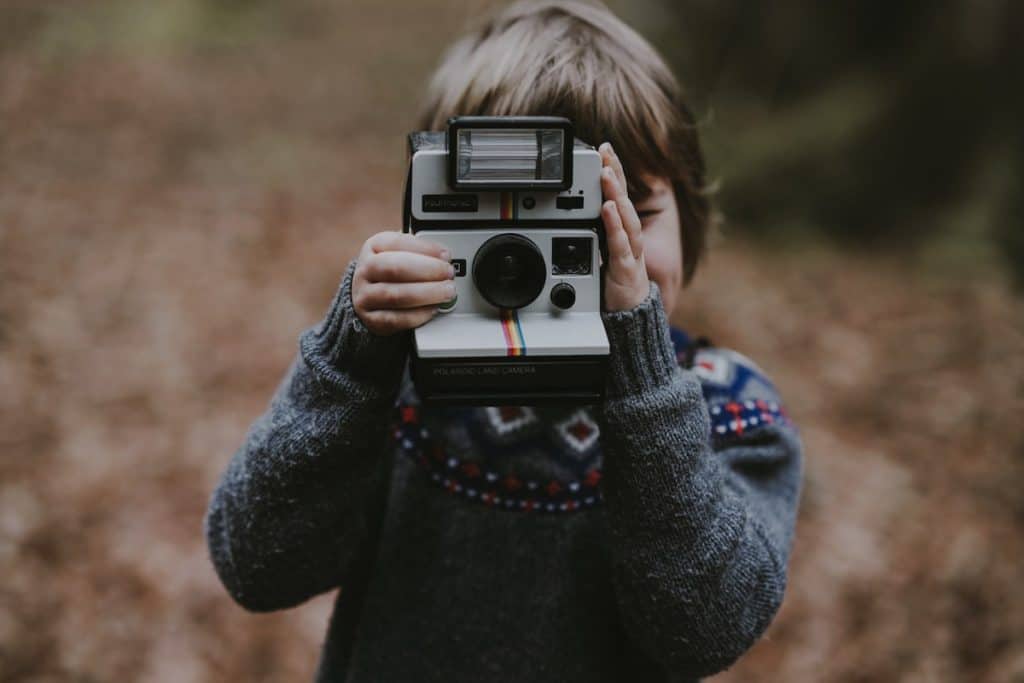 Polaroid cameras are all the rage at the moment, and it makes for the perfect gift for a 7-year-old! While we all have smartphones in our pocket to snap off photos in an instant, the likelihood is that your 7-year-old doesn't. They are at the age where they start appreciating the world around them and giving them a camera to capture their view is a wonderful idea.
With a polaroid camera, they can instantly print their pictures and watch them develop. However, you can't get them any old polaroid camera, you need to get one which is kid-proof!
So what is the best polaroid for a 7-year-old? The right polaroid camera will be durable, long-lasting, and sturdy enough to be kid-proof. Make sure the camera is easy-to-use so that the 7-year-old can snap away as they please, easily capturing the world around them and saving the images to keep for years!
Choosing the right polaroid camera for your 7-year-old will not only help them capture the best pictures possible but will ensure that it is durable and long-lasting, to survive in the hands of a child!
5 Polaroid Cameras Your 7-Year-Old Will Love
A polaroid camera is such a great gift for a 7-year-old. The world around them has become much more interesting, and they can capture scenes from their view and have the images printed straight away.
Our top pick for the best polaroid camera for 7-year-olds is the Fujifilm Instax Mini 9 Camera. Fujifilm has taken over the polaroid market, and your child will love capturing every special moment around them with the Fujifilm Instax Mini, and all the fun filters and accessories it comes with!
Here are the 5 best polaroid cameras for a 7-year-old.
1. Fujifilm Instax Mini 9 Camera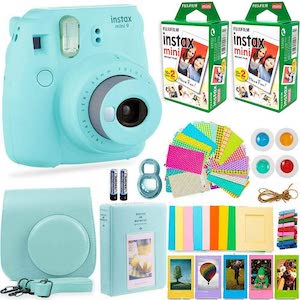 Your child will be able to start snapping in seconds with the Fujifilm Instax Mini 9 Camera.
It is so simple to use, and your child will be able to take crystal clear and vibrant pictures in next to no time.
The accessories bundle includes 2 instant film 20-packs, a camera case with an adjustable strap, a 64-photo album, a selfie lens, 4 colored filters, 10 hanging frames, 10 strings and clips, 5 plastic stand up frames, 60 sticker frames, and a microfiber cleaning cloth.
With all the accessories included, it is the ultimate gift. Fun filters and stickers are great for a 7-year-old, and it makes their polaroid pictures more suited to a kid.
The Fujifilm camera is durable and suited to be handled by kids, and you can choose a range of colors from baby blue, green, bright pink, grey, or deep blue. Being simple to use, your child will learn to use the polaroid camera easily, and will soon be capturing some beautiful pictures!
2. Dragon Touch InstantFun Instant Print Camera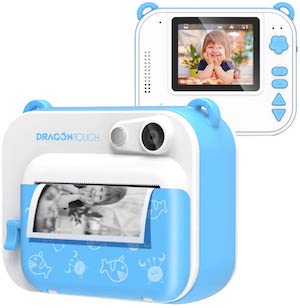 Made for kids, the Dragon Touch Instant Print camera is best suited for kids aged between 4 and 11. It has a vibrant 2-inch color screen, 5 simple buttons, and an anti-drop silicon design.
The anti-drop silicon design is perfect for kids, and the polaroid camera will last for as long as possible, with a durable lanyard that keeps the camera safe.
The instant print feature allows kids to print their photos in seconds, and there is enough paper roll to print over 750 photos.
The camera has built-in effects, filters, frames, cards, and line drawings to let their imaginations run wild. Once the photos are printed, the included stickers and color pencils can be used to decorate the photos even further.
With an 8 megapixel camera, photo timer, FHD video recording, and cycle recording, the Dragon Touch Instant Print Camera is more than just a polaroid camera, and will help your child learn different aspects of photography, and event videography, with a durable and kid-proof camera!
3. Zink Kodak Printomatic Digital Instant Print Camera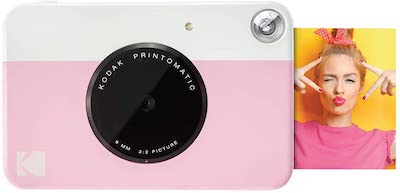 For all-in-one photography for your 7-year-old, the Zink Kodak Printomatic is a wonderful choice. It offers a 10mega-pixel camera, with a wide-angle lens and a powerful 10MP sensor.
The camera prints high-quality color or black and white photos instantaneously, wherever and whenever.
The camera just needs to be pointed and the button pressed to take your picture, and the printer prints it once selected. With the built-in speed, you can choose a new picture to print while the original one is still busy being printed.
A light sensor automatically turns on the flash in low-light settings, which is particularly helpful for a 7-year-old who is still learning to use a camera and all of its functions, and it helps them understand when the flash function should be used.
There is a variety of fun, bold colors to choose from to suit the favorite color of the child! It comes in a compact size that is suited for little hands to use and hold.
Each shot from the Kodak Printomatic is made to last for a lifetime, and each 2×3 inch picture is treated with a protective layer that shields the pictures from tears, smudges, and water damage. How wonderful to keep the photos you print at 7-years-old for a lifetime!
4. Polaroid Originals OneStep 2 VF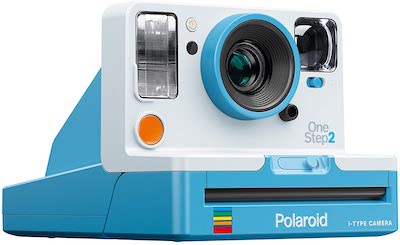 Take it back to basics with the original Polaroid OneStep camera in summer blue. It is so easy to use – you just need to point and shoot, compose your shot, press the red button and the polaroid picture will print!
The Polaroid Originals OneStep camera has many great functions that can be used by 7-year-olds – it has a self-timer function, 60-day battery life, and a high-performance lithium battery that provides hours of photography.
The lithium battery is rechargeable and charges up quickly and easily through a USB port.
The high-quality lens is made from optical grade polycarbonate and acrylic, with a fixed-focus lens giving a field of view of 41 degrees vertical and 40 degrees horizontal.
A powerful built-in flash helps to capture pictures in low-light settings, and the camera comes with a USB charging cable, a neck strap, and a user manual.
Choose between different color combinations to suit the 7-year-old best. The original polaroid design and quality are kept with this camera, and it really is modern technology mixed with old-school class in the best way possible.
5. Sharper Image Instant Camera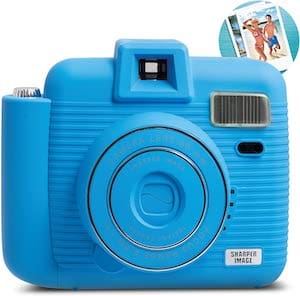 The Shaper Image Instant Camera allows the special 7-year-old to capture images and memories instantly, and to print the photos out on the spot.
It offers up a stylish and modern take on the traditional vintage polaroid and is a great option for kids.
It uses ISO 800 instant mini-films to print the photos, which measure 3.34 x 2.12 inches. With a flash and environmental lighting function, the instant camera offers up 5 different brightness settings to be used in different lighting levels either indoors or outdoors.
A built-in lens cover and wrist strap ensure that the camera stays in good condition, and is kept safe from bumps and damage.
With the latest technology, the camera offers the sharpest, most vibrantly printed photos possible, and it really is such a wonderful gift for a 7-year-old budding photographer!
Buying The Right Film For A Polaroid Camera
If you are purchasing a polaroid camera for your 7-year-old, you need to ensure that you buy them the right film to use. Some polaroid cameras need specific film, while others can use universal polaroid film. There is no point in buying a camera without having the right film!
Check for specials to see if the camera comes with film included, and make sure to check the price of replacement film – if it is too expensive, it might be worth looking at another camera, or you will have to control how many photos are taken with the camera.
Related Questions
Do polaroid photos fade?
Polaroid film does not fade any faster than other photographic mediums, as long as it is properly stored and cared for. It can take more than 100 years for a polaroid photo to fade if it is stored in an archival-quality album.
The higher-quality film used in Polaroid cameras will last longer, but for a 7-year-old, you might want to start out with the cheaper film at first.
Should you keep polaroids in the dark?
Dark storage is recommended for polaroid pictures to prevent them from fading, although yellow spots can occur in lighter areas of the print even if stored in the dark. You should also remember not to cut polaroid pictures, as this could damage them and cause distortion.
Does shaking a polaroid help it develop?
The actual image of a polaroid never actually touches air, so shaking the polaroid picture does not help. Shaking or waving the image can actually cause damage to it, as rapid movement could cause some sections of the film to separate prematurely, causing spots and blobs that do not fit in the picture.
Rather just leave the polaroid to develop flat down, without being touched or moved around too much. For 7-year-olds, it might be tempting to shake the polaroid picture, but help them understand why they shouldn't!
Up Next: Best Camera For A 7 Year Old