*This post may contain affiliate links. Please see my disclosure to learn more.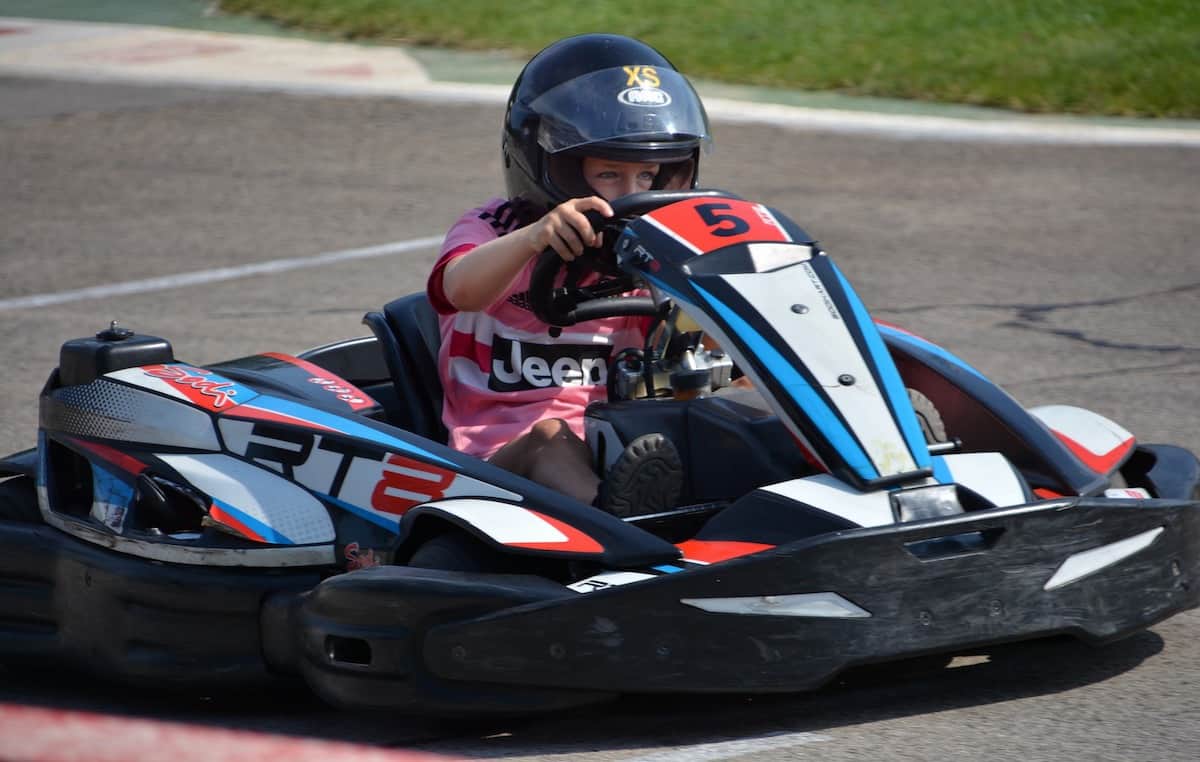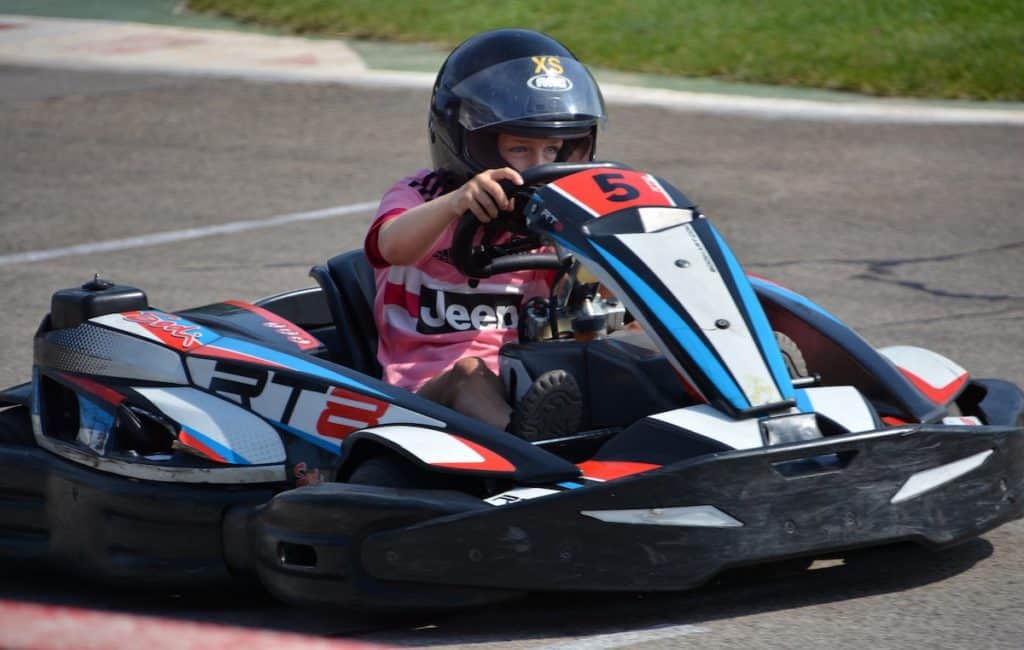 There are very few presents that are as awesome as a brand new go-kart when you are 7-years-old! Choosing the right go-kart for your kid allows them to spend hours outdoors playing just like a kid should. 
The best thing about choosing an age-appropriate go-kart for your 7-year-old is that not only will it be incredibly thrilling and fun to use, but it will be relatively safe as well. You want to ensure that your child will be having as much fun as possible, but with little risk of injury!
Choosing the right go-kart isn't always so easy. There are many on the market, and only a few are durable, safe, and reliable, all factors you need to consider for a 7-year-old. You would also want to choose one that will last for a good few years.
Which is the best go-kart for a 7-year-old? The best go-kart would be the Hauck Lightning Pedal Go Kart. It has all the classic features, but with a modern twist. The elevated seat and pedal power allow for a comfortable, yet speedy experience and the steering is easy for kids to use. It is safe and durable, and comes in different colors!
There are some amazing go-karts suited for a 7-year old, you just need to know which ones to choose!
Choosing A Go Kart For Your 7-Year-Old
To help your go-kart hunting be a little easier, we have listed the 9 best go-karts for a 7-year-old. While each one is unique and has its own features, they are all reliable, durable, and perfectly safe for kids to use.
1. Hauck Lightning – Pedal Go Kart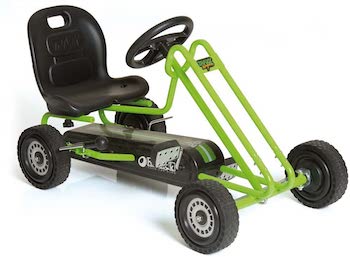 The Hauck Lightning Pedal Go Kart really is the ultimate option for a 7-year-old. It offers a thrilling driving experience and stays true to everything a go-kart should.
It has been designed in such a way to allow the driver to be in complete control, from steering to speed.
The pedal system is incredibly easy to use for smaller kids and can be used to drive the go-kart both indoors and outdoors. It helps to encourage physical activity, endurance, and strength.
You never have to worry about batteries running out, or long charging times. The Hauck Lightning Pedal Go Kart is completely pedal-powered. The pedal-push sprocket makes moving easy, without too much effort needed.
The pedals are race-inspired, and the go-kart is finished with strong rubber wheels, an 8 ball style hand brake, a 3-point sporty steering wheel, and a powder-coated steel tube frame which comes in either green, pink, or orange.
The custom, ergonomic seat is adjustable, and features a high backrest for a safe and comfortable sitting position – meaning your 7-year-old will want to stay and ride for longer!
The go-kart can grow with your kid, thanks to the adjustable seat, and the durable frame will last for many years, and many go-karting adventures!
2. Mobo Cruise Sport Pedal Go Kart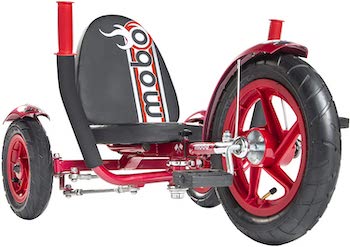 Your 7-year-old will absolutely love cruising around in the Mobo Cruise Sport Pedal Go Kart. It has the coolest look about it, and the red or pink accents really make it a sight to behold!
A low center of gravity allows for it to be incredibly safe. It provides maximum stability, and there is little chance of tipping over.
Being a tricycle, kids are able to make big swooping turns on the go-kart, with an extra-wide front wheel that helps make steering so easy. It is a rear-steering go-kart and offers smooth steering with a dual joystick rear steering. Simple hand movements are all that is needed to steer.
The seat is adjustable, and can fit children from 30 to 47 inches tall, and can accommodate for up to 80 pounds.
Extra-wide inflatable rubber tires make for a cushioned drive and offer increased stability and safety. The rear wheels also turn, making turning and steering much easier, and this is all controlled completely by the dual joystick steering.
With an adjustable seat, easy steering, and good stability, the Mobo Cruise Go-Kart is a great option and will give your child endless fun outdoors.
3. Hauck Batmobile Pedal Go Kart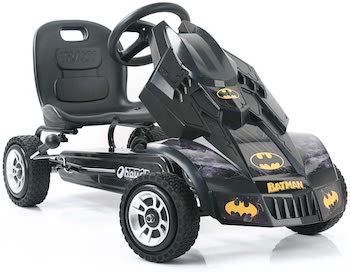 It will be incredibly difficult to find a 7-year-old who would not go wild over the idea of a Batmobile inspired go-kart!
The Batmobile go-kart features a sturdy steel tube frame, all in black, with low-profile rubber wheels, and a forward and reverse sprocket for the best driving experience.
The adjustable seat can be set to suit ages 4-8 years and has a maximum user weight of 120 lbs.
A sporty 3 point steering wheel offers quick and responsive steering and helps to build coordination when driving. The adjustable buckle seat can move to suit your child's height as they grow. Race style pedals are easy to move and propel the go-kart forward easily.
An easy to use handbrake works to stop both the back wheels, ensuring that your 7-year-old has a safe drive no matter where they are. With a low-weight, the go-kart can be brought to a stop safely and easily.
It is the perfect go-kart for budding crime fighters, and parents can be ensured that while their kids travel through Gotham, they will be perfectly safe and protected on this go-kart. It has the sleekest design and truly does look just like the Batmobile!
4. Radio Flyer Ultimate Go Kart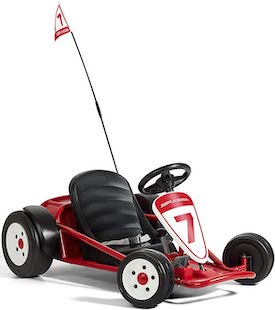 When the kids want something a little faster, and without needing to pedal the Radio Flyer Ultimate Go-Kart is the way to go.
With high-speed fun, the Ultimate Go Kart offers three different forward driving speed settings, from 2.5, 5, and 8 MPH.
It also features a single reverse speed of 2.5 MPH. All of this is powered by a 24-volt battery, which is included, as well as a charger.
A combination of rubber traction on the front tires and extra-wide rear slick tires make this the ultimate drifting go-kart, and kids can really test their drifting and karting limits in this speedy ride.
While the high-speed might seem scary for some parents, the Radio Flyer Ultimate Go Kart has some great safety features. There is a parent-controlled speed lock, a seat belt, and a racing flag for better visibility.
The adjustable seat means the go-kart will grow with your child and is suited to be used for kids aged 3-8 years old.
It is fast, it can drift, and it is battery powered – this is the go-kart for the thrill-seekers, all while being safe to use!
5. Hauck Nerf Striker Go-Kart Ride-On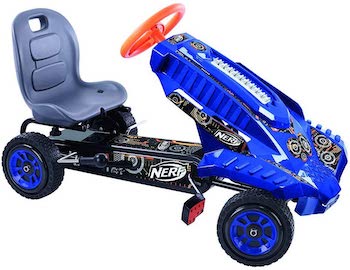 Most kids have a Nerf gun or two ready for battle at home, so why not make their dreams come true with a Nerf Striker Go-Kart to complete their collection?
The Hauck Nerf Striker Go Kart is what 7-year-old dreams are made of.
Not only is it an incredibly cool looking go-kart, but it has placeholders and compartments for Nerf Blasters, brackets, and extra darts.
The go-kart has a sturdy tubular steel frame, complete with race-style pedals and an adjustable bucket seat.
A sporty 3-point steering wheel offers quick, responsive steering, and keeps your kid safe while they are out driving and battling. Speed can also be easily kept in check with an easy to use a handbrake.
Low-profile rubber tires allow for a sturdy and comfortable ride and are able to tackle different types of terrain. The go-kart can be taken indoors and outdoors and offers hours of fun cruising.
The Hauck Nerf Striker Go-Kart will complete Nerf battles, and make them that much more epic. It encourages physical activity and helps to build strength and coordination. It also just looks really cool!
6. Berg Buddy Pedal Go Kart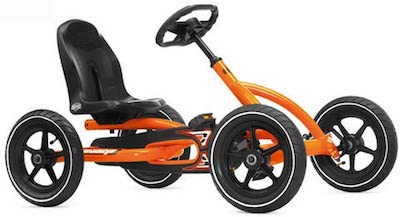 True to a traditional go-kart design, the Berg Buddy Pedal Go Kart will be a favorite of any 7-year-old.
It is simple, with a classic design, but it is such fun to ride and offers a stable and safe drive as well.
The Berg Buddy Pedal Go Kart features a powder-coated tubular steel frame, which gives the go-kart good strength, without any undue weight.
It includes a BFR hub, which allows for brake, forward, and reverse.
With the BFR hub, the driver can pedal forward, pedal backward slightly, and pedal in reverse to brake as well. A swing axle allows the front of the frame to pivot for control on uneven surfaces and puts less stress on the robotic welds.
Fitted with pneumatic tires, the go-kart has a controlled ride, and the tires allow for superior traction and durability while keeping the ride smooth and less bumpy.
The safety features of the go-kart include sealed bearings in each wheel to keep the kart from rolling, and the low center of gravity which works to prevent the same. The steel frame is strong and durable and will hold up against hours of driving.
The Berg Buddy Pedal Go Kart will be a favorite of any 7-year-old, and it will see them through some amazing memories karting through the outdoors!
7. Hauck S.W.A.T Go Kart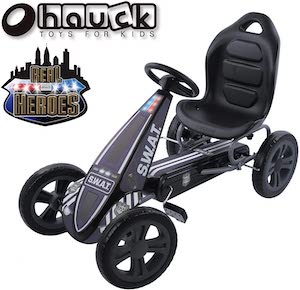 For the kids who are obsessed with all things S.W.A.T and police force, the Hauck S.W.A.T Go Kart will be their best gift yet.
The go-kart provides an authentic driving experience and allows the driver to control how fast they go, and exactly where they go as well.
It is suited for both indoor and outdoor use, and the large front wheels help to tackle all different types of terrain.
An easy to use pedal-push sprocket is ideal for children and requires little effort to get the go-kart moving. It works off of pure physical effort, so you can forget about expensive batteries or extended charging times.
A deluxe plastic front fairing contains S.W.A.T inspired graphics. EVA wheels are controlled by a 3-point sporty steering wheel. Race style pedals with a ball style hand break give the driver complete control. It has everything you would want for a safe and fun ride!
A custom ergonomic molded seat is adjustable and offers a safe sitting position. Once they start riding, it might be difficult to actually get your 7-year-old back indoors!
8. Hiboy HC-01 Hover Board Kart Seat Attachment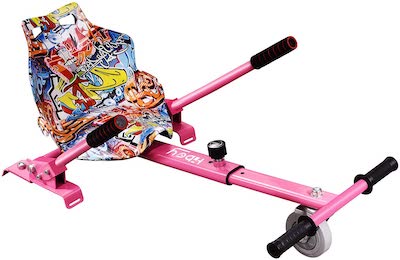 If your 7-year-old has a hoverboard at home, there is no need to go out and buy a full go-kart.
You can purchase the Hiboy HC-01 Hover Board Kart Seat Attachment. The attachment turns the hoverboard into a go-kart that whizzes around all over the place.
The seat attachment is solid and very easy to install. It is reliable and durable and can hold up to a maximum weight of 270lbs.
The actual assembly of the seat can be done in under 15 minutes before it is ready to get on and drive.
It offers smooth and controllable steering and is safe for children to use. The leg pedals are adjustable and can suit any age from 4 years up. The seats have really awesome designs and are super comfortable to use as well.
For hoverboard enthusiasts, this is a great purchase, and will offer hours of safe fun!
9. Ferbedo Cross Runner Bad Boy Go Kart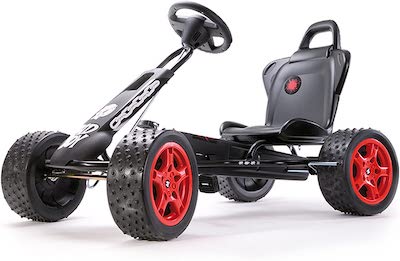 Featuring rugged all-terrain wheels, the Ferbedo Cross Runner Bad Boy Go Kart has the ability to go almost anywhere.
The high-backed seat is adjustable and can suit ages 3-8 years. Crossed whisper tires mean the go-kart is comfortable to drive, and with lug tread, you are able to make extremely small turns.
The go-kart also comes built-in with a free-wheel mechanism.
With a cool design, bad boy wheels, and black steel with red accents, the Ferbedo Cross Runner Bad Boy Go Kart is for the kids who like to play rough, and who want to tackle even the most daring of terrains.
Parents can rest assured that while the go-kart is for the more daring, it does come with some great safety features, and kids can enjoy the drive safely and comfortably!
Related Questions
Is go-karting dangerous?
Go-karting can be dangerous, which is why you need to ensure that you purchase a safe go-kart for your 7-year-old to enjoy. Most kids go-karts, or at least the ones worth looking at, come with good safety features that keep your child safe while they drive.
Look for go-karts which are lower to the ground, as these have less chance of toppling over.
What age can you start to go-karting?
There is no definite age when you can start to go-karting, as there are go-karts built to suit different ages. There is no point in buying an adult go-kart for your 7-year-old and expecting it to be safe. Make sure to purchase a go-kart that is suitable for your child, as this is the best way to ensure it is as safe as possible.
Awesome Go Karts For 7-Year-Olds
Buying a go-kart for your 7-year-old is one of the best ways to get your kid out and about and enjoying the outdoors. There are some really awesome go-karts that are made specifically for 7-year-olds. 
The above 9 go-karts are all great options and will be an absolute hit with your kid. They are durable, fun, sturdy, and most importantly, safe! They will give your kids endless days of fun outside, and help to build coordination, physical strength, and just a love for being outside and moving!
Up Next: The Best Outdoor Toys For 7-Year-Olds