*This post may contain affiliate links. Please see my disclosure to learn more.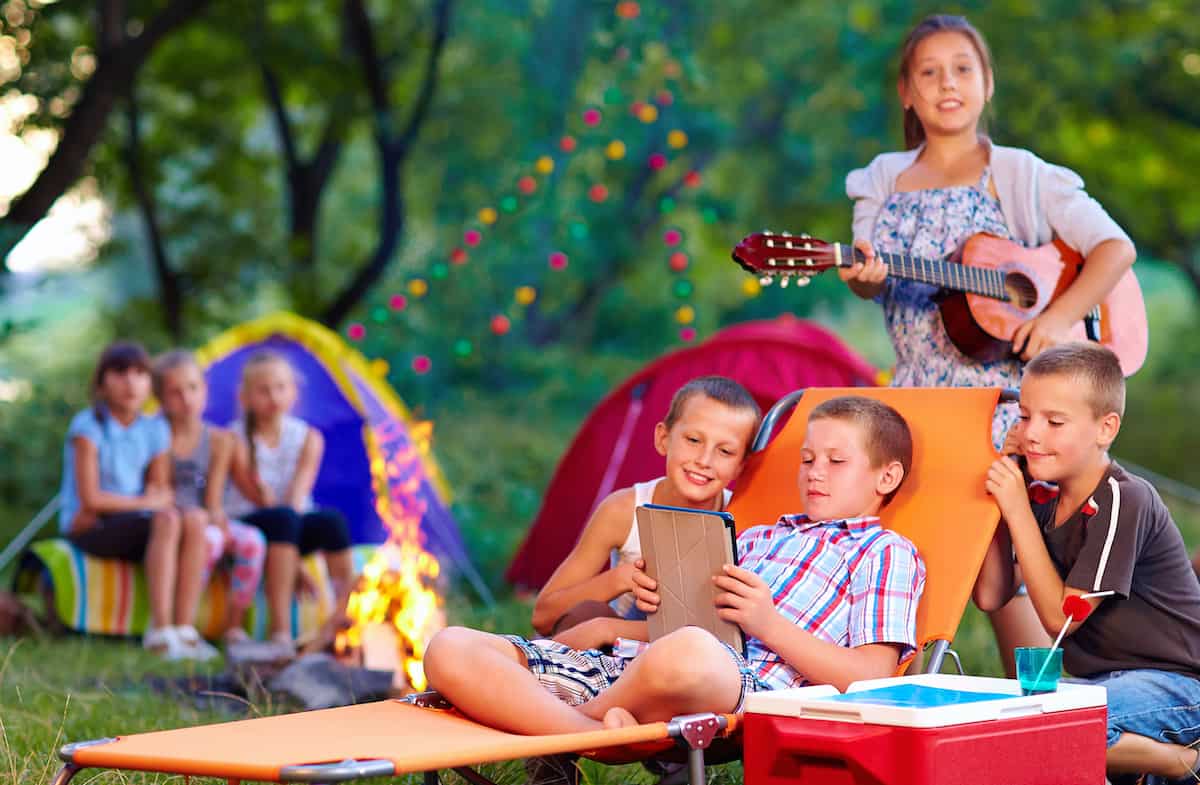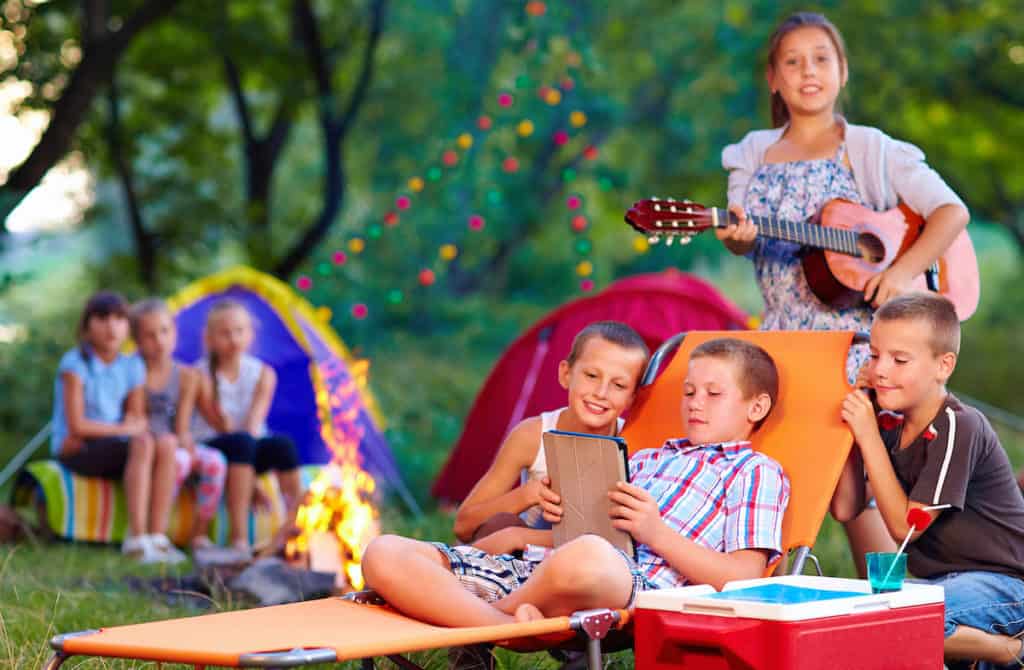 At 7-years-old, there really is nothing better than being outdoors, enjoying the sun, and playing with some of the coolest toys around!
To get your child spending more time outdoors, and less time stuck staring at a screen inside, you should give them some outdoor toys to play with. There are some great outdoor toys, but it has to be really special to capture the attention of a 7-year-old!
Which are the best outdoor toys for 7-year-olds? The best outdoor toy for a 7-year-old is anything that keeps them happy and entertained outside. It could be the Toy Rocket Launcher For Kids or Water Soaker Blaster Guns. It is always great to get them toys that they can play on their own and with other kids, so there is no excuse to not go outside!
Outdoor toys really are so much fun, and you can even stock up on a few to keep your kids outside for ages on end. There are toys for different seasons as well, such as super soakers for summer, and pop up camping tents for winter!
Choosing The 5 Best Outdoor Toys For 7-Year-Olds
Here are the 5 best outdoor toys for your 7-year-old, which will keep them outside and having fun all day long.
1. Toy Rocket Launcher For Kids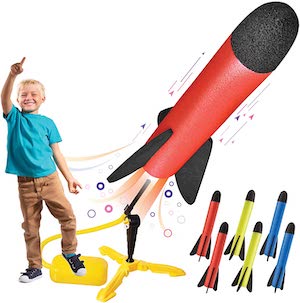 Which 7-year-old will not love shooting their own rockets up into the air in the garden? The fun foam rocket launcher will have your kids loving their time outdoors.
The rockets and the launcher were built to be durable – and will hold up against hours of play!
The rocket launcher offers ages of harmless dynamic entertainment and is the perfect way to let kids burn off extra energy while having as much fun as possible.
The set includes 8 different color full foam rockets and a fun folding yellow stand that allows for liftoff.
The rockets can soar up to 100ft high with the perfect stomp on the pump. They won't shoot far enough that kids lose track of them, but still high enough to be incredibly fun!
Easy to assemble and store, the rockets and the rocket launcher are durable and built to last. The stand folds up easily to be stored in small spaces, and it is easy enough to assemble and doesn't require any batteries or electricity to work.
It is a great way to introduce STEM play to the outdoors, and your little one will be learning while they play!
2. Creativity For Kids Glow In The Dark Rock Painting Kit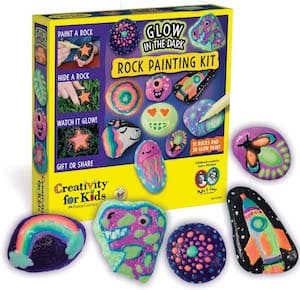 Keep the mess outside with the Glow in The Dark Rock Painting Kit. Your kids can create unique, glow in the dark painted rocks using the kit designed for both boys and girls.
The kit includes fluorescent paint and glow in the dark paints which allow the rocks to really pop and stand out in the garden.
There are 10 rocks included in the kit, but once these have all been painted the kids can go rock-hunting to find more to paint.
When they have finished their custom rock designs, they can hide the rocks in the garden and have glow-in-the-dark hunts at night-time to find each other's hidden rocks.
Your 7-year-old can learn some fun painting techniques with the 3D paint, adding texture and embellishment to their rocks. The paint is waterproof as well, so the rocks will keep their designs when left outdoors.
The kids can spend the day outside painting and decorating the rocks, and then leave them out to glow at night, it will add a gorgeous finish to your garden! The paints are non-toxic and are kid-friendly.
3. Fun Little Toys Kids Play Tent And Camping Gear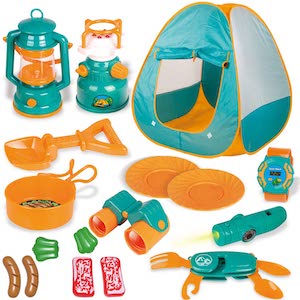 If you can't get away to go camping, let your 7-year-old bring camping to your garden! This set gives them all the pretend camping tools they need to enjoy the outdoors authentically!
The set contains 18 necessities that every camper needs to set up their own campsite. There is also a battery-powered pretend gas stove and an oil lamp to make it more authentic!
Other items in the kit include binoculars, a utility knife (pretend), a multifunctional whistle, a cooking pan, a shovel, plates, pretend food, and a pop-up tent.
The pop-up tent is collapsible and is easy to set up, it is perfectly suited for young kids to play with, and works as a mini-play space as well. Your 7-year-old might even cuddle up for an afternoon nap in the tent!
The 4-in-1 emergency whistle comes with a flashlight, a compass, and a thermometer. Along with the battery-powered gas stove and lantern, it will feel just like the real thing.
For all the outdoor-loving 7-year-olds, this is the perfect toy. It will keep them outside and enjoying nature for the longest time, you might even battle to get them to come back indoors!
4. Banzai Bump N Bounce Body Bumpers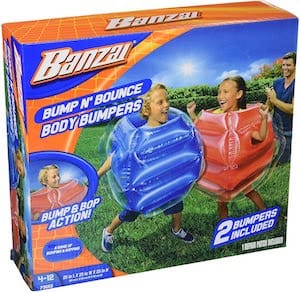 It would be almost impossible to find a 7-year-old who wouldn't want to spend the day playing in the Banzai Bump N Bounce Body Bumpers!
When inflated, the body bouncers measure 25 inches by 25 inches by 23 inches – big enough to fit your 7-year-old! There are 2 body bumpers included in the kit to allow for some good belly-to-belly bumping action!
The fun and safe cushion inflatable surface makes it safe for the kids to run and bump into each other, and it will feel just like landing on a cushion!
Made from durable PVC, the bumpers are durable and can hold up against quite a bit, but there is also a repair patch included for any accidents or scrapes.
It is best suited for kids aged 4-12, so it will last your 7-year-old for quite some time and is perfect for siblings to use to get all their energy out in the garden. The bumpers also make for a great party game!
Kids can choose to be in the red or blue bumpers and have teams bumping against each other in a bumper-battle tournament!
5. Super Water Soaker Blasters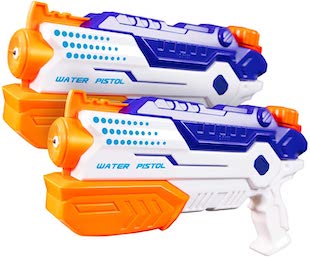 Summer days spent outside in a super soaker battle are some of the best days of childhood, which is why your 7-year-old definitely needs the Super Water Soaker Blasters!
The super cool design and the stable basic water gun barrel ensures that the water is held in tightly and does not leak. It is made from safe and non-toxic ABS plastic and is perfectly safe for extended play.
Kids simply need to remove the stopper from the side of the water gun and fill it up with clean water, finishing off by placing the stopper back in. Then the trigger needs to be pulled for some water blasting!
The more pump pressure is given to the trigger, the further the water soaker will shoot. The tank has a large water capacity, and as long as there is water in the tank, the soaker can shoot for a far distance, without much effort needed.
This is the perfect summer toy, and can be used when swimming, when playing in the garden, and for backyard parties and games! It is a safe and fun way for the kids to keep busy and active outside.
There are two super soakers in the set, so the kids can battle it out outside!
Related Questions
How can I keep my kids entertained outside?
There are a few ways to keep your kids entertained outside. You can purchase them some great outdoor toys to play with, which will keep them busy for ages, or you can get involved and play some games with them.
Some fun games to play outside would be ball sports, a nature hunt, water the grass, use sidewalk chalk on the driveway, or to have an old-fashioned picnic. This is also a great way for you to get some much needed time outside soaking in the sun!
What are some cheap outdoor activities?
You can't spend money on entertainment every day, but luckily there are some great games to play outdoors that cost little to no money.
These can be a picnic, a zoo-day, a historical history tour, a farmers market, camping, hiking, photography challenge, or even geocaching. These are all fun activities that your kids can get involved with, that the whole family will enjoy.
Spending more time together outdoors as a family is so important, and it is a great habit to get your kids into from a young age!
Incredibly Fun Outdoor Toys For 7-Year-Olds
The above toys are all wonderful outdoor entertainment options for your 7-year-old. They will keep them outside and busy for hours on end, and enjoying being outdoors just like kids should.
It is a good idea to stock up on a few outdoor games, so your kids don't get bored of the same game over and over, and then not want to play outside anymore.
You don't have to spend a whole lot of money on some great outdoor toys. Sometimes the simplest options are the best, and the kids will love them!
Up Next: The Best Card Games For 7-Year-Olds