*This post may contain affiliate links. Please see my disclosure to learn more.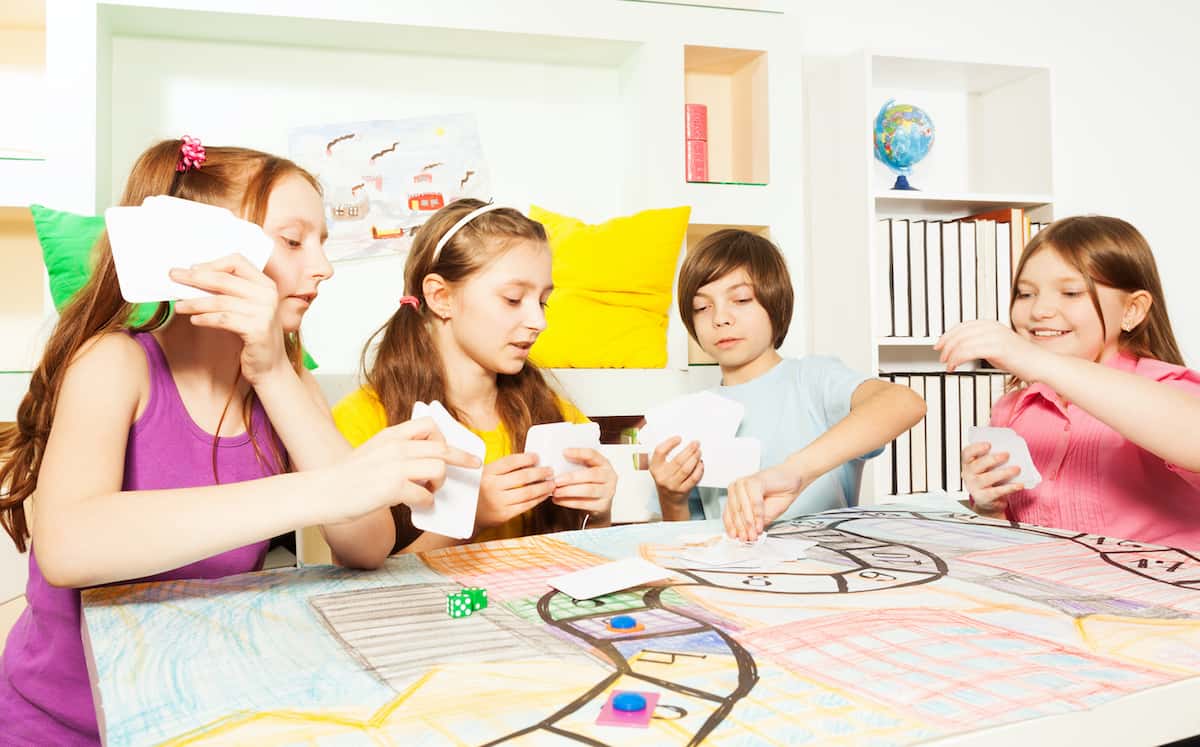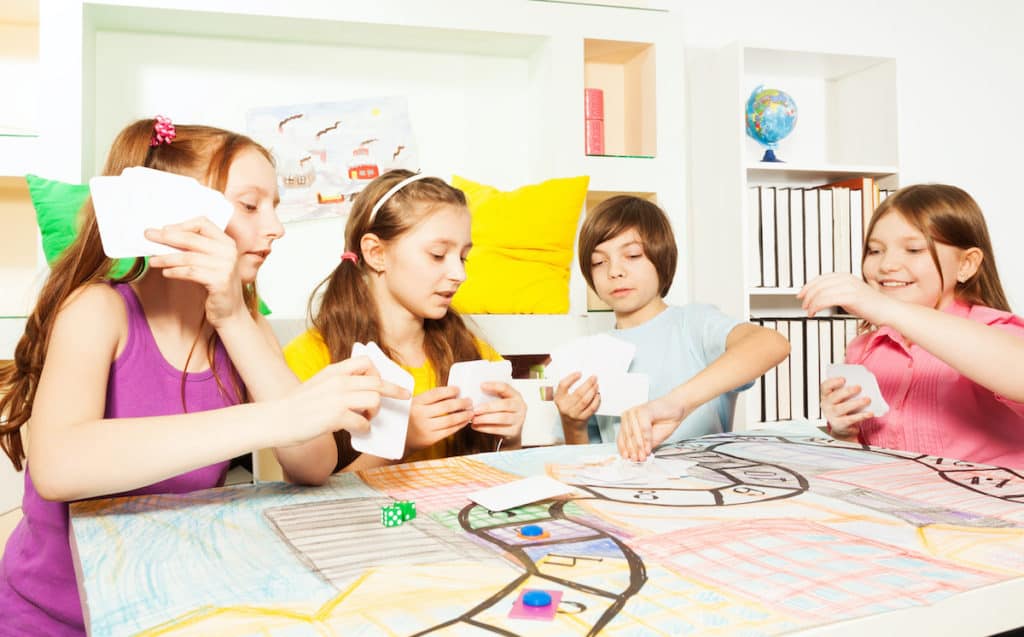 Card games are the best way to pass some time indoors, and they can bring the whole family together for some fun, competition, and laughs!
At 7-years-old, your kid is better able to understand how games work and are better equipped to follow the different rules. To play together as a family, or even just as an after-school exercise, you need to pick the right card games to suit your 7-year-old.
Games which are too hard will be incredibly off-putting for your kid, and card games which are too easy will be plain boring! Which are the best card games for a 7-year-old? Hands down, the best card game for a 7-year-old is Uno. It is a game that is enjoyed by all ages and is just as fun to play when you are a kid. It is easy to learn and brings about some fun competition in the family. Your kid will never outgrow this iconic card game.
It is a good idea to keep some card games at home, to pull out for some afternoon fun, or for a Friday family game night. Choose games which can be played by the whole family, so everyone can get in on the fun.
Choosing The Best Card Games For Your 7-Year-Old
Below are the 5 best card games which your 7-year-old will love. They are fun, stimulating, and create some healthy competition.
1. Mattel Games Uno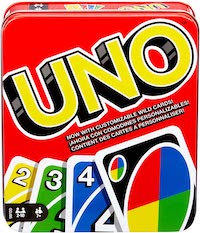 Uno is a classic family card game. It is so easy for the whole family to learn how to play, and your 7-year-old will have so much fun taking you on with the brightly colored cards.
When playing Uno, the person who runs out of cards first wins, and to do this it, you need to match one of your cards with the current card sitting face-up on the deck.
Your 7-year-old can learn to strategize during the game with the special action cards, such as Reverse, Skip, Draw Twos, and Color-Changing cards. When you are down to one card, you need to shout "Uno!" to let everyone know.
To make this set perfect for your kid, the 112 Uno cards and instructions come in a sturdy tin that keeps the cards safe and protected, but which is also so great to travel with.
Pack the cards away in the tin to take the Uno fun with you wherever you go!
2. Kids Against Maturity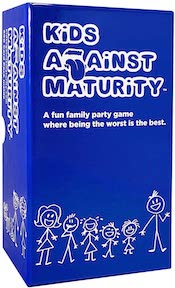 Kids Against Maturity is the perfect game for the modern family and works as a great parental tool to approach both family time and playtime.
The card game was created by parents and has some age-appropriate toilet humor that kids will love, and some funny innuendos for the parents.
For a 7-year-old, the combination of humor and a card game will be a hit. The set includes 500 questions and answer cards, and a box to keep them all stored away in.
It is a tried-and-tested formula of the fill-in-the-blank game and is actually a wonderful way for your 7-year-old to practice their reading skills, in the funniest way possible.
Each player is given 10 answer cards and takes turns asking the question cards. Whoever is the question asker gets to choose the funniest answer, and the player with the most wins will be the winner of the game!
This is the ideal game for the family with a sense of humor, who appreciates a good laugh together. It gets everyone away from their screens, and instead spending some fun time together over a good amount of toilet jokes!
3. Briarpatch Travel Scavenger Hunt Card Game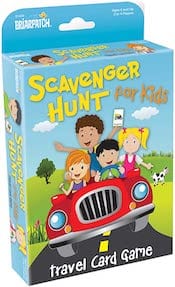 Card games don't have to be only be played at home – and that is why the Briarpatch Travel Scavenger Hunt Card Game was created!
It is the perfect card game to take in the car for a long trip, and it will keep kids busy for ages. There are 54 different scavenger hunt cards, suited for 2 or more players. The game is best suited for kid's 7-years-old and up.
Each scavenger card has a different item on that the kids need to search for and find. This could be a stop sign, a red car, or a cow on the side of the road.
The cards all have bright, clear images of what to search for, as well as printed words. This helps to improve reading skills, and with the kids searching for the items, it helps with concentration as well.
Your kids will not need much adult supervision with the card game, although it might be fun for the whole family to join in to help the miles pass a little quicker! Keep the cards packed away in the car for whenever the kids need some entertainment!
4. Smack It Card Game For Kids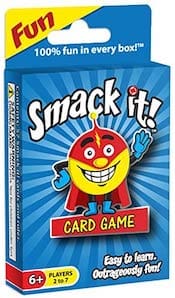 The Smack It Card Game For Kids offers up some fast-paced and rowdy fun. It is a twist on the classic games Slap Jack and War and is an incredibly easy game to learn.
Being easy to learn, Smack It is outrageously fun to play and can be played by up to 7 players, and is suited for kids 6 years and up, so it is perfect for a 7-year-old to play with their family or friends. 
The game is fast-moving, and it will teach your kid some serious concentration skills, as well as help build a quick-reaction time. It takes less than a minute to teach your kids the game before you can get playing and having fun.
Making it even better suited for 7-year-olds, Smack It helps to reinforce beginner math skills and helps with number recognition and comparisons. It teaches math in the most fun way possible, your kids won't even be aware of the fact that they are learning!
This fast-paced game can be used for some fun playtime, or it can be used in homeschooling or for homework to try and teach some basic math principals, in a kid-friendly way!
5. Mattel Games Blink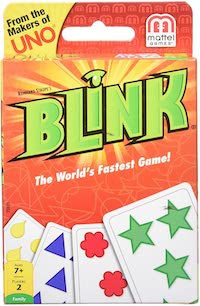 Players face off in this head-to-head competition of Blink, a lightning-fast card game that claims to be the fastest game in the world!
Your 7-year-old will need sharp eyes and fast hands to beat their opponent in the game. Two players up against each other try to match the count, shape, or color on their cards to either of the two discarded piles.
All cards from your draw need to be played to win, and this calls for some seriously fast thinking and even quicker reaction time. It is a great game to improve quick thinking in your kids, and for them to learn to process what is in front of them easier.
The cards are all colorfully designed and have large symbols ranging from moons to stars to triangles, making it super easy for anyone to play.
There are 60 different symbol cards included in the game, as well as some very useful instructions to get you started. You will be able to teach your 7-year-old the rules of the game in next to no time, and you can spend a whole afternoon challenging each other to endless games!
This is the perfect card game to keep stacked away for rainy days and family games night.
Related Questions
Are card games good for kids?
Card games are very good for kids. They offer a great way to teach patience, motor skills, listening skills, and good sportsmanship. They also help to improve concentration and other academic aspects such as math or reading.
Playing card games together as a family is a good way to get some quality time in together, and this is probably the best benefit you could get when making card games a regular thing in your home.
What card games can kids play with a classic set of cards?
A classic set of playing cards offers so many different game possibilities, and your kid can have the option of plenty of games with one single pack.
Some of the best card games for kids to play using a classic set of cards are crazy eights, snap, go fish, rummy and pig!
What is the most common card game?
One of the most popular family card games is Uno. It is just such a fun game that is perfectly suited to all ages, and the whole family can play on a level playing field to determine a fair winner. Starting with 2 players, Uno can be enjoyed by many!
Fun Card Games For 7-Year-Olds
Card games are great to teach your 7-year-old some fun competitiveness, but they are also wonderful at helping you demonstrate good sportsmanship.
Different card games will help your child learn different skills, such as reading, math, or quick thinking, but most importantly it will bring you together to spend some fun time together!
The above 5 card games are all perfectly suited for 7-year-olds, and are great for the whole family to get involved with, and continue playing for a good few years!
Up Next: Knock Knock Jokes For 7-Year-Olds