*This post may contain affiliate links. Please see my disclosure to learn more.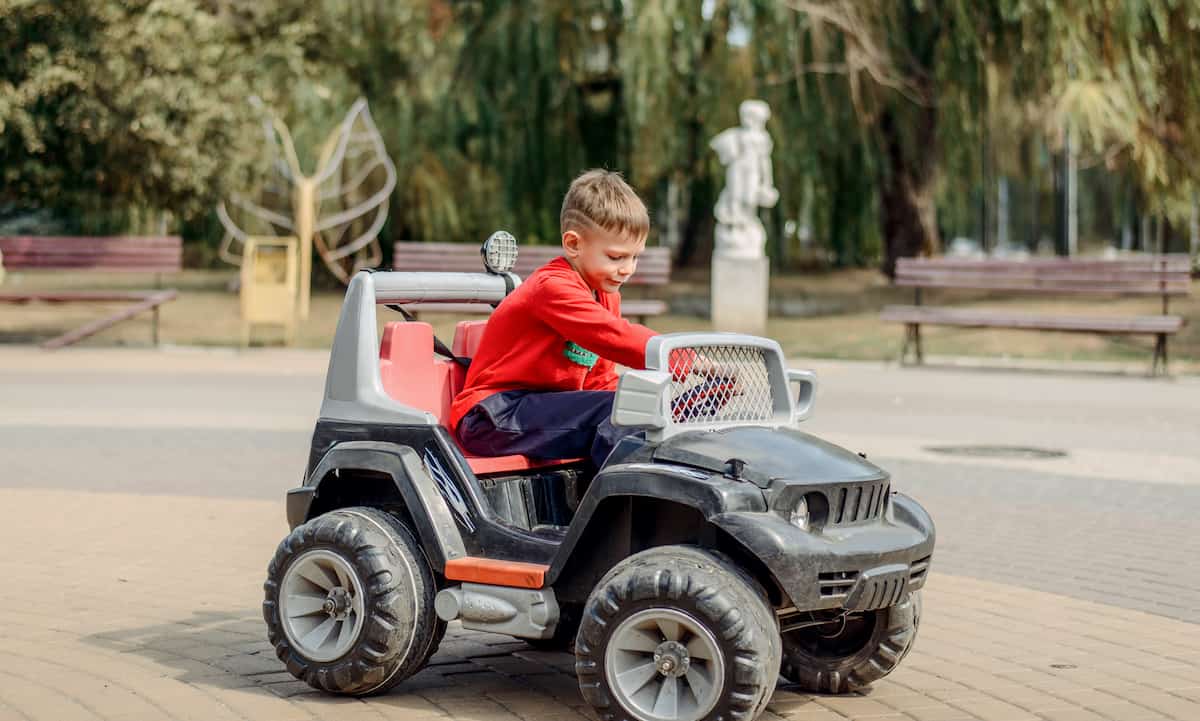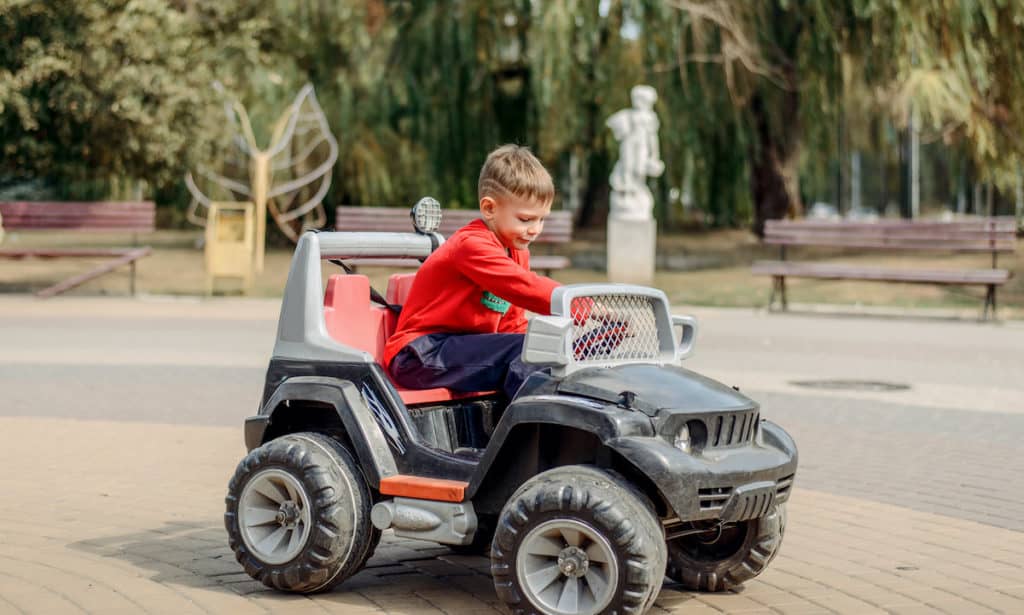 What 7-year-old wouldn't want to cruise around their home or driveway with fancy looking set of power wheels?
There are power wheels for all different ages, and you need to be aware of the age you are buying for, to ensure that the mini-car isn't too big or too small. You want to choose a set of power wheels which is perfect for your child.
Which power wheels are best for a 7-year-old? The best type of power wheels to purchase for a 7-year-old would be one that is big enough for them. Most power wheels are made for younger kids, so it is important to ensure that you buy one which will be big enough, and which will last them a little longer.
7-year-olds also want something a little cooler-looking than what younger kids might have, so the bigger power wheels do tend to be sleeker and more like real vehicles.
Choosing The Best Power Wheels For Your 7-Year-Old
Here are the 5 best power wheels available for your 7-year-old at the moment. They are all big enough to fit a 7-year-old and to last a little while after this as well.
1. Kids 12V Ride On Lamborghini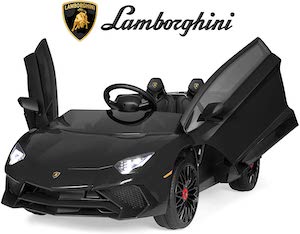 There will be nothing cooler than a 7-year-old driving around in a sleek black Lamborghini. The realistically designed car is modeled after the Lamborghini Aventador sports car.
It features car doors that swing up, very much like the real thing, a built-in horn and some bright LED headlights.
You can even have music connected to the car through an AUX outlet, so they can drive and enjoy their favorite songs.
The car can either be set to a manual or remote control. You can let your child drive around on their own, or you can use the remote control to guide them around while they sit back and relax in their comfortable power wheels!
There is a rechargeable 12V battery included in the car which allows for hours of playtime and adventure. Simply leave the car to charge overnight and your little one can enjoy it the next day.
To ensure the power wheels are safe, it only reaches a maximum speed of 3.7 MPH. This is a decent speed for your child to drive at, without posing any dangers.
Your 7-year-old will absolutely adore the Lamborghini Aventador power wheels, and they will definitely be the coolest kids on the block!
2. Peg Perego Polaris RZR 900 Red Ride On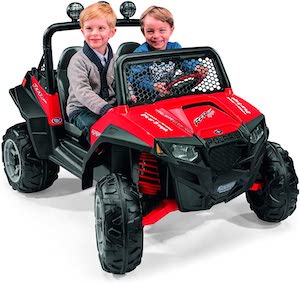 The Peg Perego Polaris RZR 900 Red Ride-On will be great for outdoor adventures, and perfect for your 7-year-old to take their sibling or friends along for a ride as well.
The rugged power wheels have a sports bed with tie-down anchors and has the ability to haul around different objects in the yard.
A 2-speed shifter features reverse and allows the mini car to drive at 2.5 or 5 MPH on different terrains, from grass to dirt and smooth, hard surfaces.
Parents will appreciate that the ride-on has a lockout speed at 5 MPH, which prevents kids from traveling too fast and going dangerous speeds. The kids can still have fun but in the safest way possible.
Adjustable bucket seats help the power wheels grow with your kids and allows them to use it for a good few years.
Included with the power wheels is a 12V rechargeable battery, with the charger included as well. The mini-car features an off-road windshield, protecting eyes from debris, and a roll bar, which is more for aesthetics, but which will add some protection if there are any turns and crashes!
3. Rollplay 6V Chevy Tahoe Police SUV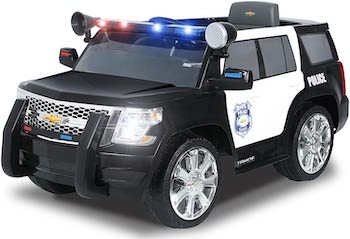 This fun kids' car allows your kid to drive around with imitation police sirens, taking their fantasy role play to the next level!
The kid's car can reach up to a maximum of 2.5 MPH and has both forward and reverse capabilities. It cannot reach higher levels, and this keeps kids safe from driving around too fast and losing control.
There are some fun functional features included in the power wheels, such as an integrated battery life indicator, cup holders, a detailed dashboard, an opening storage compartment, 2 opening doors, rubber traction strips, and awesome chrome rims making the car super realistic.
Authentic details take the car to the next level, with features such as a working horn, engine sounds, LED headlights and emergency sounds, lights, and a loudspeaker. 2AA batteries are required for this but are not included with the car.
An AUX cord is included and can be used for your kid to listen to their favorite songs while cruising around playing police. The speakers built into the power wheels give an authentic sound and complete the whole experience overall. For aspiring policeman – this is the ideal car!
4. 12V Kids Ride On Truck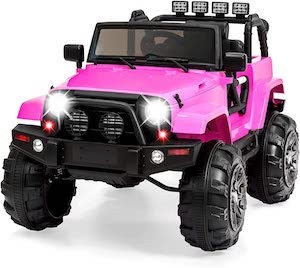 The realistic design of this outback vehicle makes it super cool for any kid who loves roughing it out.
With the option of manual or remote control, kids can either take the wheel and cruise around on their own, or you can use a remote to drive the car for them, keeping it all a little safer.
Both the manual and the remote control options have forward and reverse functions.
It is a stylish, yet durable, car that is crafted with durable and non-toxic plastic. There are 14-inch traction wheels with a spring suspension system that allows the power wheels to be taken out in the grass and the dirt outdoors.
A built-in AUX outlet lets your kids jam along to their favorite songs while they enjoy they drive outside, really making it an enjoyable experience for them!
The rechargeable battery, along with the charger, is included with the power wheels and allows the power wheels to be driven for hours on end.
The pink body is finished off with black seats and black roll bars, fitted with bright LED lights, which light up the way when driven at night. A seatbelt is included for extra safety!
5. Rollplay GMC Sierra Denali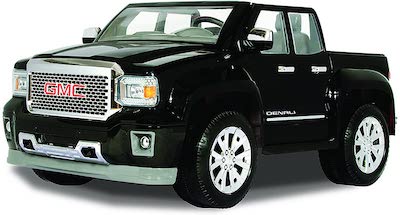 For the kid who really understands their own style, this is the ultimate set of power wheels.
A replica of the GMC Sierra Denali, the car includes luxury details such as two opening doors which are fitted with realistic windows, a dashboard, a clear windshield, a tailgate, and working side-view mirrors.
There is also a built-in MP3 connector with speakers, allowing your kid to play some music as they enjoy the comfortable drive around.
Some of the functional features include working LED headlights, a working horn, and realistic engine sounds. You will need to purchase 2 AA batteries for these to work.
A powerful battery, which is 12V, is included with the power wheels. It is rechargeable and comes with a charger. There is a battery life indicator and an external side charging point. The car reaches full-battery after being charged for 8-12 hours.
The power wheels are suited for kids for up to 9 years of age, so your 7-year-old can enjoy it for quite a few years before they outgrow it.
Rubber traction tires allow the power wheels to be taken off-road, but it can be driven around indoors as well. Your kids can enjoy the luxury vehicle wherever they choose!
Related Question
Which age is best for power wheels?
Power wheels are best suited for kids aged between 2-8 years old, but this all depends on the size of the power wheels. Some are better suited to younger kids, while the bigger models are better for older kids.
You will need to research the power wheels you are purchasing to make sure it is the right size for your kid, and that it will at least last a little while for them to enjoy it, and for you to have value for your money!
How fast does a 12V ride go?
Power wheels which have a 12V battery usually travel at around 2-3 MPH. Some can go up to 4 MPH, but it is better to keep it at lower speeds for kids.
Should my child wear a helmet on power wheels?
While power wheels do not usually go faster than 5 MPH, if you are concerned, then you should insist that your child wears a helmet. It also depends on where your child drives the power wheels.
If it is on a soft surface such as grass or sand, there is less of a chance of injury, compared to driving on gravel or hard surfaces.
Awesome Power Wheels For 7-Year-Olds
Power wheels are just really awesome toys to get for your 7-year-old, and they will be the coolest kids on the block driving around in mini-replica vehicles.
Make sure that the power wheels you choose for your kid is the right size for their age so that they can get the most out of the ride, while still being able to enjoy it for a good few years as well.
The above 5 power wheels are all great choices, and your 7-year-old will absolutely love them!
Up Next: What Size 4-Wheeler For A 7-Year-Old?