*This post may contain affiliate links. Please see my disclosure to learn more.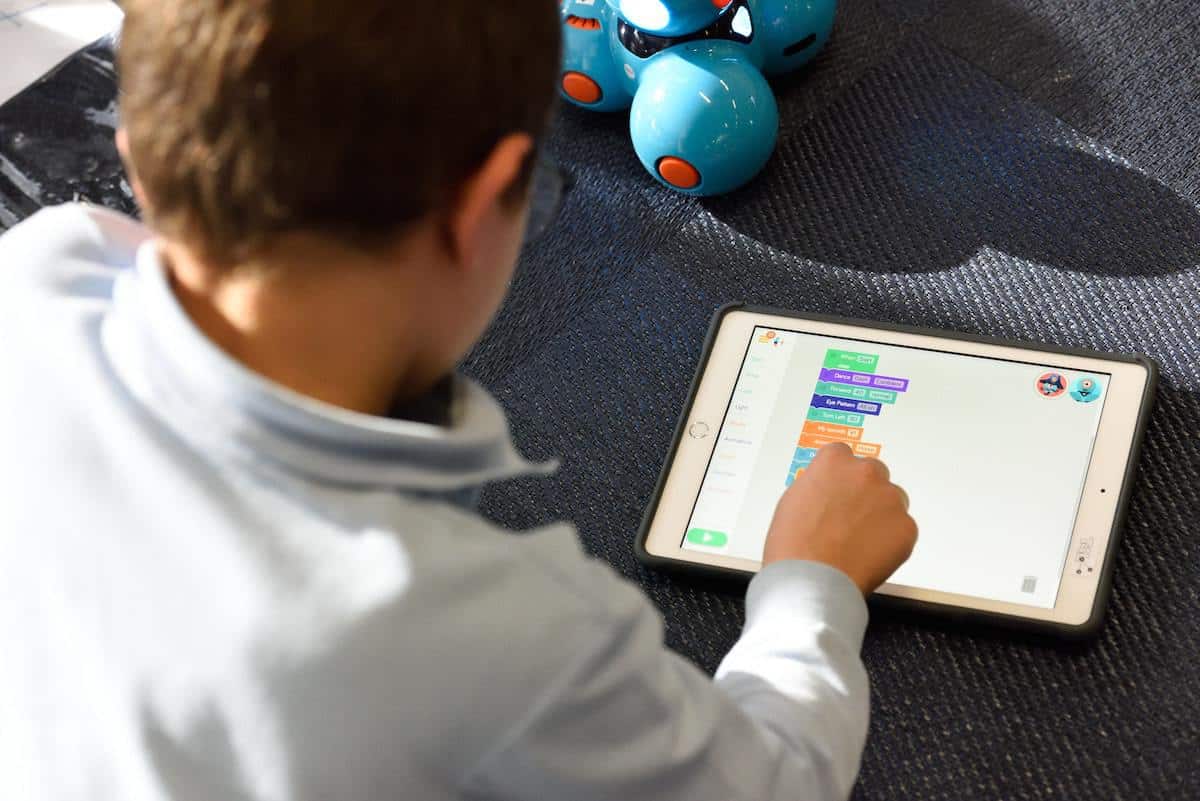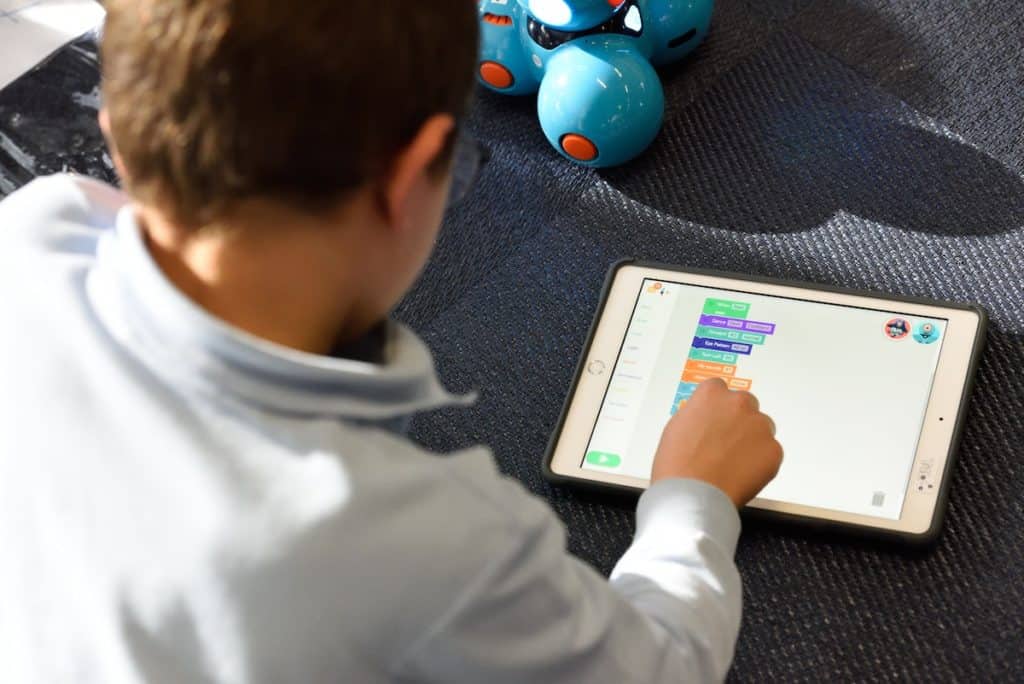 The world is constantly growing and changing, and you need to help your 7-year-old keep up with it. Technology is an ever-present part of our lives now, and your child deserves to learn and explore technology in a safe way.
As a parent, you need to ensure that you give your child a safe way to explore and be entertained, and by giving them a tablet suited to their age, you will be able to better control and monitor their experience, and ensure that the tablet is used for educational games, fun videos, and with parental controls and screen time limits.
Which is the best tablet for a 7-year-old? The best tablet for a 7-year-old would be the Fire HD Kids Edition Tablet. It is a kid-proof tablet that is kept in the best condition possible with the durable case and comes with easy-to-use parental controls to help you limit screen time and manage content. 
It is always best to choose a tablet that has been designed with kids in mind, and which you know will be durable enough to last through bumps and bashes, and which gives access to amazing content that kids will love!
9 Tablets That Are Perfect For 7-Year-Olds
There are some wonderful tablets to be purchased for a 7-year-old, but you do need to be picky about the tablet you choose. You should be able to set parental controls on the tablet to keep your child safe, but they should still be able to enjoy fun, entertaining, and educational games through movies, apps, and games.
Make sure that the tablet can be fitted with a durable case, as 7-year-olds are always on the move, and you would want the tablet protected from bumps and breaks!
To make choosing the right tablet a little easier, here are the 9 best tablets around for a 7-year-old. These are all perfect for kids, and allow you as the parent to be in control of what your child is watching, and how much time they spend watching it!
1. Fire HD 8 Kids Edition Tablet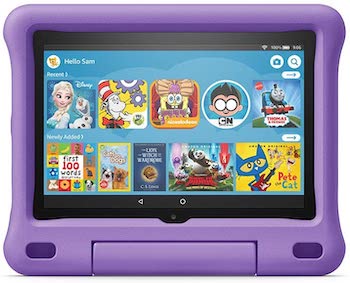 The all-new Fire HD 8 Kids Edition Tablet is as good as it gets when you are looking for a tablet for your 7-year-old.
It has been designed for kids and kids only, from the content it holds to the actual design of the tablet and the case.
Featuring content kids crave, the tablet comes with 1 year of Amazon FreeTime Unlimited, which features over 20,000 Audible books, TV shows, movies, apps and so much more. This is all content aimed at ages 3-12 years old.
What is most important, is the Fire HD 8 Kids Tablet has easy-to-use parental controls. It allows you to limit screen time, set curfews and educational goals, as well as manage content for up to 4 different child profiles.
When playing in FreeTime on the tablet, children do not have access to social media or Alexa, and all in-app purchases require the approval of a parent. It is as safe as can be, helping protect your child from possible dangers online.
The kid-proof case has been designed to protect the tablet against bumps and drops and comes with a built-in stand for hands-free use. It also comes with a 2-year worry-free guarantee, which means that if the tablet breaks, you can return it!
It really is the best option for a 7-year old, and with the content on the tablet, it should last your child for at least another 5 years!
2. Dragon Touch Y88X Pro 7 Inch Kids Tablet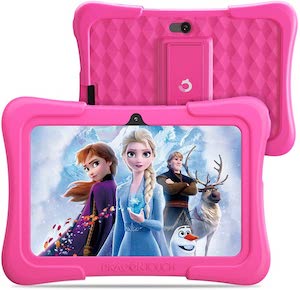 The Dragon Touch Y88X Kids Tablet contains everything needed to allow your child to explore and have fun in the safest environment possible while offering parental control and other features to ensure the tablet is as kid-friendly as possible.
Your 7-year-old will be able to enjoy the tablet comfortably and safely, with a kid-proof case that covers the back, the side frame, and which extends over the screen, for all-round impact-resistance.
The case fits easily into small hands, and parents can rest assured the tablet is always safe!
With pre-installed authorized Disney books and other kid-friendly content, your child will have hours of age-appropriate fun on the tablet. It also comes included with language content, such as games, safe sites, and video clips for learning, exploring, and playing.
One stand-out feature of the Dragon Touch Tablet is the drawing app. PaintBox turns the tablet into a canvas and has different brushes, color selections, photo functions, and multimedia. Your child can take their artwork with them wherever they go!
The parental control feature is all-inclusive and gives you the control of limiting screen time and choosing age-appropriate content and locking the tablet when playtime is over.
The Dragon Touch Y88X Pro 7 Inch Kids Tablet comes in fun colors, and is definitely a great option for your 7-year-old!
3. Vankyo MatrixPad Z1 Kid Tablet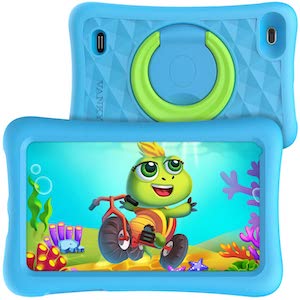 Easy to use and incredibly kid-friendly the Vankyo MatrixPad offers a safe internet environment, but in a way that kids will absolutely love.
The Kidoz system allows you to create an account for your child, and through this, they can access kid-safe software.
There are over 40,000 pre-approved video clips, over 100 channels, and up-to-date content such as online games, safe websites, and educational apps all perfect for kids wanting to explore and play. There is also recommended content offered based on usage history.
With a 2MP front-facing camera and 2MP back-facing camera, it allows your budding photographer to capture the world around them, taking in all their interesting moments with a photo or video. PaintBox can be used to add some great effects to the photos as well!
The tablet has a 1024×600 IPS HD display, which has vivid colors and a bright display from all angles. It also has an Eye Health function, which adjusts and optimizes the backlight automatically for a comfortable nighttime reading experience.
A cute kid-proof case keeps the tablet safe wherever your 7-year-old takes it and features a back 360-degree adjustable ring stand for hands-free watching and easy carrying. It is a tablet that will fit into your kid's life beautifully!
4. Fire 7 Tablet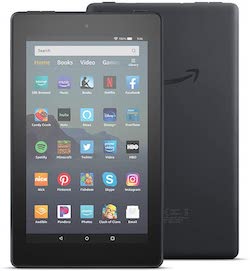 The Fire 7 Tablet is not specifically a kids-tablet, but it comes built-in features that allow you as a parent to control what and how your child plays.
Your child can enjoy access to millions of movies, series, games, eBooks, apps, songs and so much more. You can download Netflix, Disney+, and Showtime to give your little one the best entertainment on the go.
It has 2 times the storage of the older model, and a faster quad-core processor, and is incredibly durable, which is so important to have for kids.
You can easily download a parental-control app to limit the content and time your child has through the tablet, and there are some great covers to purchase that will keep the tablet safe.
The great thing about purchasing the Fire 7 Tablet, with it not being designed specifically for kids, is that they will never grow out of it. The tablet can adapt to them as they grow, and eventually, you can ease on the parental control a little bit.
You could even look to purchase the tablet as a family tablet and enable the parental control for your 7-year-old alone. It has all of what it needs to be an incredible source of information and entertainment for your kid!
5. Pritom 7 Inch Kids Tablet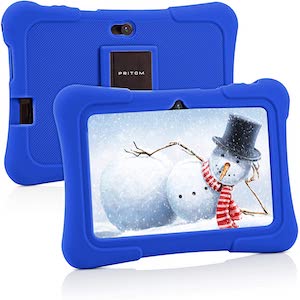 The Pritom Kids Tablet has a built-in quad-core processor and has the latest Android 10.0 operating system.
The 7-inch screen is protected by a shockproof case, and all your 7-year-old has to worry about is having fun and learning!
The tablet is suited for kids aged 2-12 and comes with pre-installed safe and fun apps, which engage kids through learning and fun. You can create multiple accounts to suit a few kids as well.
You are able to download your child's favorite videos, apps, and eBooks for entertainment on-the-go, even when you do not have access to Wi-Fi.
The 3,000mAh Li-ion battery allows for 4-hours of uninterrupted play and is perfect for when you are out traveling.
A dual-camera lets your child take pictures anywhere from either side, and photos and videos can all be edited using the built-in picture editor. The silicone protective case allows the tablet to stay safe when your 7-year-old is out exploring with it!
As the parent, you can filter age limits, set difficulties, and limit browsing channels to ensure that your child is able to learn and play in a safe environment, with clear limits set. It is a suitable choice for both kids and parents!
6. Apple iPad Air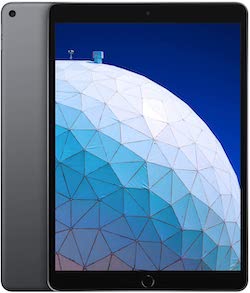 Most of us would prefer to purchase a more kid-friendly tablet, but it is worth taking a look at the Apple iPad Air.
It might be on the pricier side, but it is a tablet that will last your child for so long, and can be used by them throughout childhood and then beyond.
The brand speaks for itself, with the Apple iPad Air featuring a 10.5-inch Retina Display. It has a touch ID fingerprint sensor. A powerful 8MP back camera and 7MP FaceTime HD front camera allows your child to take amazing photos of the world around them.
Stereo speakers give a full sound experience when watching videos, movies, and playing games, and your child can enjoy up to 10 hours of battery life.
If you are worried about limiting access, there are some great parental control apps to download, which give you different levels of management over what your child can do on the laptop.
While on the pricier side of the kid's tablet spectrum, the Apple iPad Air will last for ages, and be such a good investment for your child.
7. Simbans TangoTab 10 Inch Kids Tablet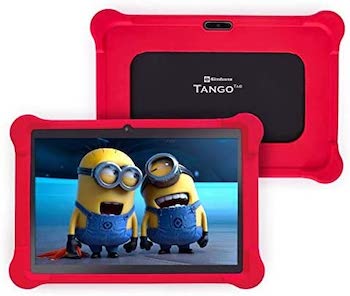 The premium 10-inch tablet with a powerful CPU, has quad-core processors which boost the capability of the tablet.
With 64GB of storage and 8 hours of battery life, the Simbans TangoTab Tablet is more than capable of keeping up with your 7-year-old.
A high-resolution screen offers crystal clear pictures, and with the 64GB memory, your child can download so many movies, shows, apps, and games.
The tablet can also be connected to the TV via the HDMI mini-port so your child can cast their movies onto the big screen.
The silicone case keeps the tablet safe and protected while your child plays, and the child lock allows you to keep the content safe as well.
It ticks all the boxes of what a good kids-tablet needs, and will offer ages of entertainment and fun, whether for learning at home or for some fun when out and traveling.
8. Vankyo Matrixpad S8 Tablet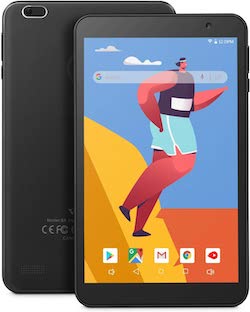 The Vankyo Matrixpad S8 Tablet brings media to life in vivid details and rich colors. Your 7-year old will be able to watch their favorite shows and movies and play fun, educational games with the tablet which is light and comfortable to hold.
A 2GB RAM 64 bit speedy quad-core processor is powerful and fast, delivering an amazing experience and performance, quickly launching apps.
A 5MP rear camera and 2MP front camera gives your child the tools to capture fun and special moments.
The S8 tablet features Eye Care technology, which ensures a flicker-free screen and adopts a low blue light to ensure comfortable viewing. Under the Eye Comfort mode, the screen will turn yellowish and protect your child's eyes against strain.
With the right parental control app, this tablet will be ideal for your 7-year-old. It is fast, powerful, easy to use, and can grow with your child, lasting them for many years.
9. Samsung Galaxy Tab A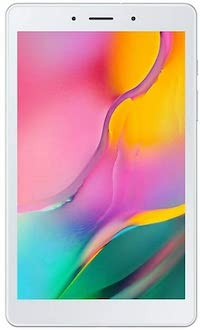 You can never go wrong with Samsung, and the Samsung Galaxy Tab A is an ideal tablet to purchase for your child if you are looking for longevity.
It is a tablet that excels at the basics and then some, with a design that is easy to carry and travel with. A good cover will protect the tablet and still keep it a comfortable size for small hands.
Your child will be able to enjoy so many different movies, games, shows, apps, and sites on the Samsung Galaxy Tab A, and they can enjoy them for long periods thanks to the powerful battery.
With 32GB of storage, there is more than enough space for everything your child needs. Samsung also offers various parental control apps to be downloaded from the play store, and you will easily be able to find one which suits your needs best.
Whether it is a tablet for the family, or for your 7-year-old alone, the Samsung Galaxy Tab A will always be a good option and will stay in the family for many years.
Related Questions
When should a child start to use a tablet?
You will know best when your child is ready to start using a tablet. However, a good time to introduce a tablet to your child would be when they are at least 2-years-old.
They will not be able to use a tablet too much at this age, but it does expose them to the idea of one and gives them access to fun education games suited to their age.
Can you make an iPad child-friendly?
You can go to settings and tap Screen Time. There are Content and Privacy Restrictions for you to choose from, and you can enter your passcode that allows for restricted access to certain features.
Up Next: The Best Polaroid Cameras For A 7-Year-Old