*This post may contain affiliate links. Please see my disclosure to learn more.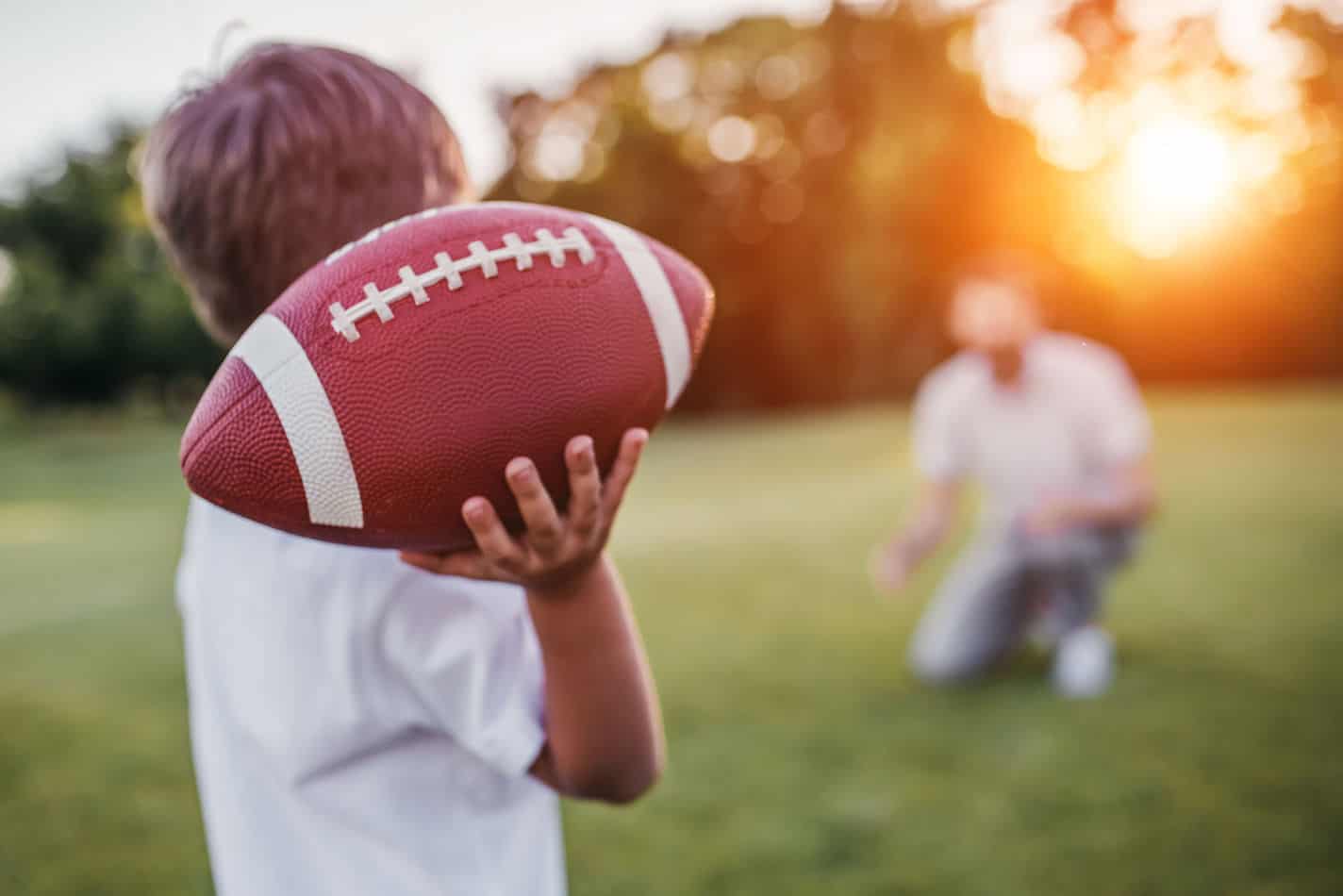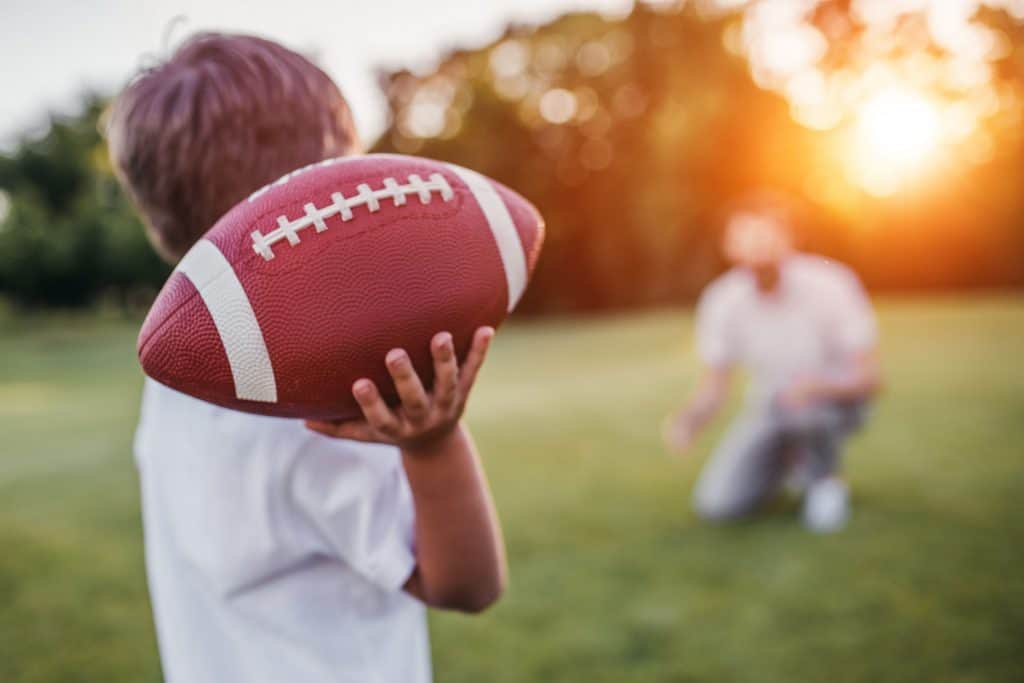 Football is a great sport for 7-year-olds with lots of energy. But, what if you aren't sure what football size your child needs to play? Or what if you are just looking to buy a football for your child and are overwhelmed by the options? Don't worry. I've done some research to find out what size football is best for a 7-year-old.
So, what size football is best for a 7-year-old? Children ages 7, 8, and 9 will typically use a peewee or youth football to play and practice with. These footballs weigh around 10 ounces and have a long circumference of 24 inches and a short circumference of 17.5 inches.
However, there is a lot more to football than just the football size. If you have never had your 7-year-old play football before, you might be curious to know what kind of equipment they need, if it's safe for them to play football, and what the rules of youth football are.
This article goes into all those nitty-gritty little details that will help you know if football is a sport you want your 7-year-old to try!
Is it Safe for My 7-Year-Old to Play Football?
The overall safety of football has been a debate since practically the beginning of football in the United States. Football is a contact heavy sport, and players often suffer from injuries to the brain and spinal cord over the years along with other sprained and broken body parts.
A lot of this has to do with the nature of the game, but is it safe for your 7-year-old to play football?
Children can start playing football between the ages of 3 to 5-years-old. Often, football for younger children is not as contact heavy in order to prevent injury to young children.
Instead, children will typically play flag football, a type of football where a player is "tackled" when a flag belt is pulled off. 
What if you've found a football league for your 7-year-old that doesn't play flag football? Is it still safe to let them play?
There is lots of research on brain damage caused by football done by neurologists across the U.S. Often, neurologists agree that heavy contact sports for young children can lead to permanent brain damage. Many NFL players such as Drew Brees also advocate for no contact football for children under 14-years-old.
This is due to the fact that younger children don't have the body build to withstand multiple tackles over time. Heavy tackling can lead to concussions, and concussions can lead to brain damage.
In an article on Brain and Spinal Chord , it states:
Safety professionals say that when tackling, a player should lead with their shoulder pad, not their helmet, and never target another player's head. Some doctors go so far as saying the only way to completely avoid the risk of brain trauma is to eliminate tackling all together by playing flag football as an alternative.

It has been estimated that a 9 to 12-year-old playing tackle football in an organized league can take on between 240 and 585 hits to the head each season.

https://www.brainandspinalcord.org/should-children-play-youth-tackle-football/
The risk of injury has decreased over the last several years as various football leagues and equipment designers have worked to improve football gear, but the fact that the sport is so contact-heavy continues to create brain damage problems in players.
Ultimately, it is up to you and your child to decide if you want to do contact football at the age of 7, or if you would feel more comfortable participating in a flag football league instead.
How Do I Find a Football Team for My 7-Year-Old?
Finding a football team for your 7-year-old can be a bit tricky. There are a few websites online where you can search for teams in your area (like this one) but if you live in a rural area, odds are these big sites don't have a location there. So, what do you do?
First, start with your local school. Do they have sports for your child to participate in? Next, look around for facebook groups that advertise kids sports in your local area. This is also a good way to get a little more information from community members who know about leagues or teams.
Another good way to find a team around you is to google "Youth Football" and the name of your city and state. This will more than likely lead you to a few different websites with teams and leagues in your local area.
I've Found a Team, Now What?
Once you've found a team for your 7-year-old, sign your child up and become familiar with the coach and team. Another great thing you can do to help your child is to learn the rules that your child's team will be playing by. 
Learning the rules will help you practice with your child and encourage them throughout the sport. Now, each team may go by slightly different rules, so you will need to ask your coach what rules your child will be playing by, but on Planitcoach.org there is an article that lists 12 basic rules of youth football.
Some of those rules include:
The retreat line rule
The passback rule
The equal number rule
Now, if you have no idea what those rules mean, it's okay. You can brush up on some youth football rules using that article that way you can understand the rules of the game your 7-year-old will be playing.
Football Equipment for a 7-Year-Old
Now, equipment will vary depending on the type of football your child is playing. For example, if your child is playing flag football, they will have less equipment because there is no tackling in the sport.
The basic equipment for children playing flag football includes only a few things like a uniform, mouthguard, football to practice with, and occasionally a flag belt. The team will most likely have a uniform that you can purchase when your child joins the team, and flag belts are usually provided for games and practice.
Now, if your 7-year-old and you decide to do contact football, there will be more equipment you will need to purchase. Again, you should find out ahead of time what your local team provides for your child beforehand. This will prevent you from making unnecessary purchases.
On Safety First Sports, there is an article about youth football equiptment that says,
If you're a new football mom or dad, congratulations. You're in for years of excitement. However, we know that you're new to this, and you may have been looking at other players, wondering why all of a sudden these kids look so bulky.

It's because, under their jerseys, they're wearing a lot of protective equipment. The purpose is to protect his or her body as much as possible against the collision that will inevitably occur on the football field.

A lot of this "bulky" equipment will be expensive, but it will help your child stay safe as they play the game. The protective football gear is also manditory to your child's participation.
Some of the equipment you may need to purchase is pads, a helmet, team uniform, cleats, a practice football, mouth guard, and a bag to store equipment in.
There may be other fees for joining a team and participating, but those fees vary by team and league.
Related Questions
What sports are best for a 7-year-old? The best sports for a 7-year-old are often the ones that he or she will be interested in. However, your child may not know what he or she wants to do, so here are a few good sports for 7-year-olds:
Swimming
T-ball, softball, or baseball
Soccer
Gymnastics
Martial Arts
Tennis
How old does my child need to be to play sports? Organized sports are best started around 6 to 7 years of age. At this point, a child's social skills and teamwork ability has developed enough to allow him or her to work together on a team with other children.
Are team sports good for 7-year-olds? Team sports encourage your child to develop social and problem-solving skills and are a great way to help your child burn extra energy that they might have. Your child may not always be good at working together with other children, but team sports encourage children to work on these skills.