*This post may contain affiliate links. Please see my disclosure to learn more.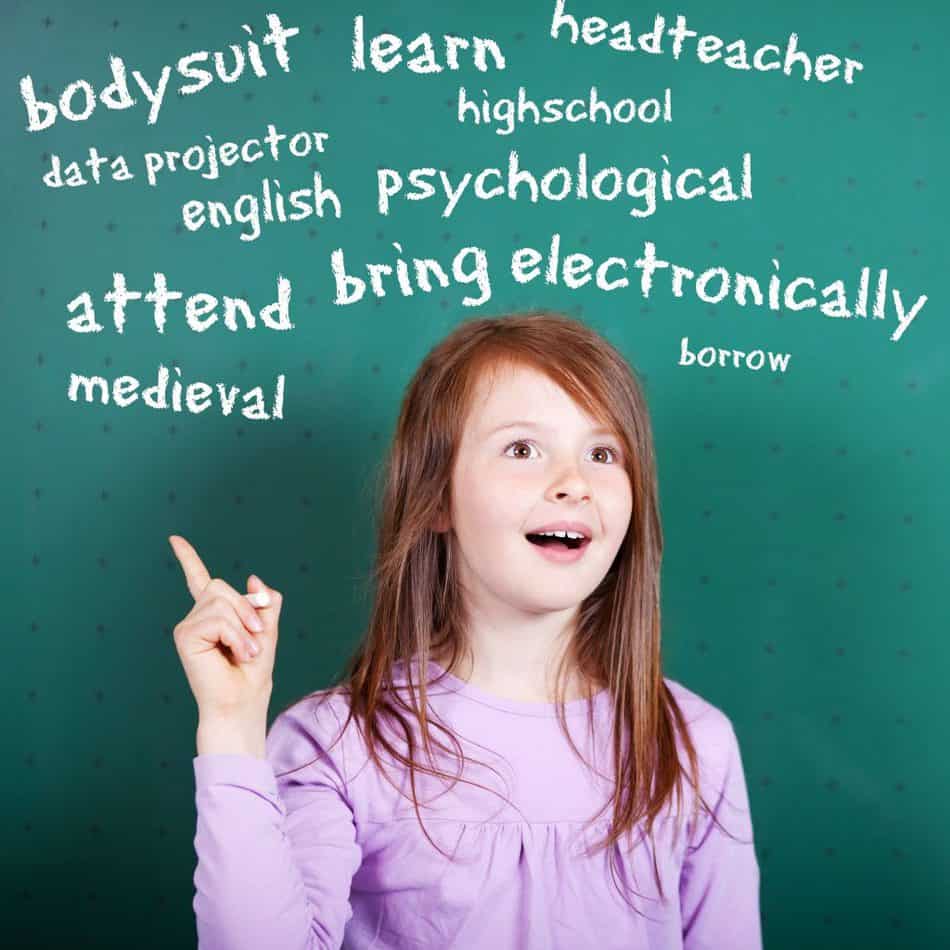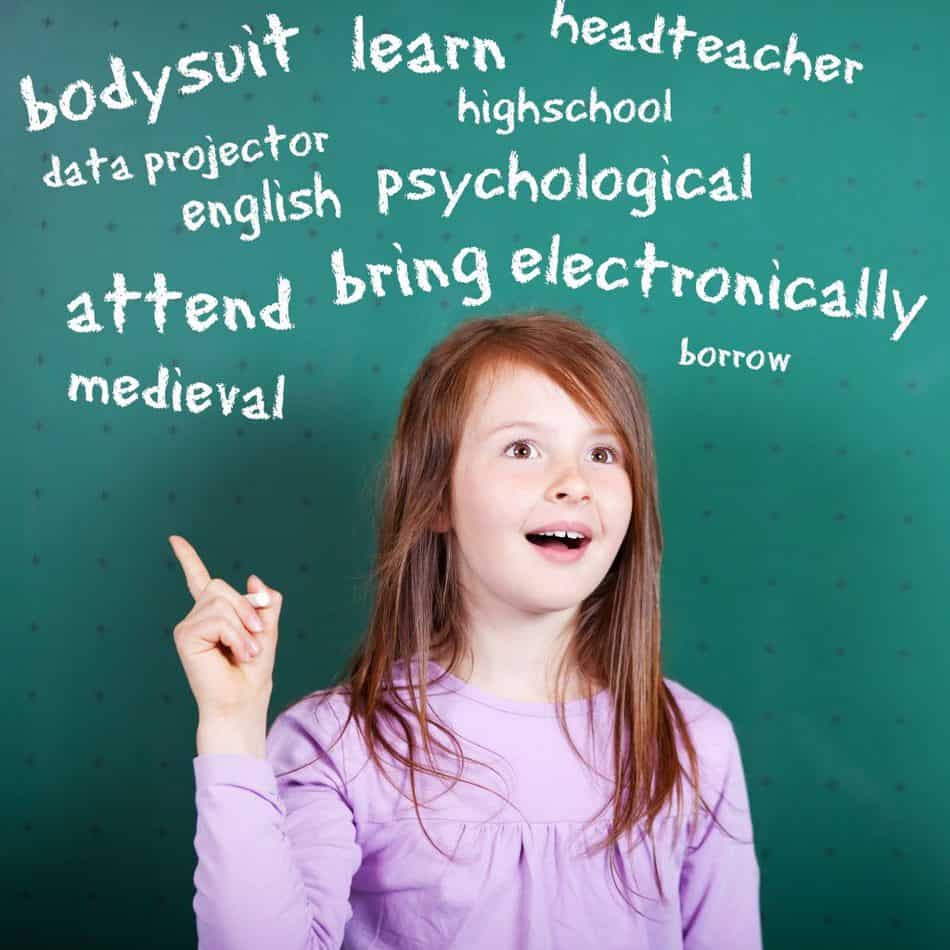 Receptive vs. Expressive Vocabulary
Seven-year-olds are right at the edge of heavy dependence and are moving towards becoming independent. Because of this, it is a valuable time to promote and grow your child's vocabulary.
We will provide you with a list of vocabulary words that are age appropriate for your 7-year-old as well as break down why 7 is such a significant age to develop a child's vocabulary.
When discussing vocabulary, it is important that you understand what vocabulary means.
Vocabulary: the body of words that a person knows. This is the strict definition of the term. The words that you know make up your vocabulary.
However, understanding simply what the word vocabulary means doesn't fully explain the term, especially when talking about children learning new vocabulary.
Vocabulary can be broken up into two broad categories: Receptive and Expressive. Receptive vocabulary is the vocabulary that you can understand when you hear it or read it. Expressive vocabulary is the pool of words that you can use to express yourself.
A seven-year-olds' receptive vocabulary is much larger than their expressive vocabulary. They can understand anywhere between 20,000 to 30,000 words, but can probably only speak 3,000 to 4,000 of them.
Furthermore, just because they can understand a word when hearing it doesn't mean they can read the word. And just because they can say the word doesn't mean they can spell the word.
When using this vocabulary list be aware of all these facets of language. When adding in the concept of verbal and textual words with the concept of receptive and expressive vocabulary, you actually end up with four categories of vocabulary: Reading, Writing, Listening, and Speaking.
By the way, if you really want to improve your child's vocabulary, these flashcards I found on Amazon are incredible. I've been using them with my 7 year old and the difference they have made is absolutely night and day. I absolutely can't recommend them any more highly.
We will split the vocabulary words into these categories. You don't need to feel that your child should be able to spell all the words on all the lists. If you can get them to that point, then even better, but overall they should be able to use the words in each category as that category implies that your child is on pace as fas as their expressive vocabulary goes.
While any of these categories can be extended individually, it is likely that any increase in one category will result in an increase in some of the other categories. The Verbal and Textual categories are often closely connected.
Why is 7 Years Old a Good Age to Teach Vocabulary?
Vocabulary serves as the building blocks to learning a language. There is a strong connection between a child's vocabulary and their reading comprehension. Furthermore, reading comprehension and vocabulary both seem to connect to a child's general intelligence and critical thinking.
Seven is the perfect age to start teaching vocabulary as they have likely just entered school and are going to need to communicate more. The faster that this process begins, the better, as by the third grade, children are already learning through reading.
So, having an advanced vocabulary when they are younger will increase your child's reading and retention skills when they are there and it is a significant part of their learning.
Developmentally, after a child has turned six, they reach a stage of rapid vocabulary expansion–learning 5 to 10 words per day. Because of this rapid learning rate, introducing more words into the vocabulary can greatly strengthen their bank of collected words and give them a leg up in their school classes.
How to Increase a 7-Year-old's Vocabulary
Language stems from social interactions in which the need to communicate drives development.

Lev Vygotsky
In order to increase a child's vocabulary, they are going to need to want to have their vocabulary increased. This can be done in several ways. Reading is one of the most frequently used ways to get a child's vocabulary to increase.
The drive of a story and our natural curiosity to want to know what comes next lead the child to want to learn the words that are on the page.
To induce this desire you will want to read to your children. Often reading a story that is too complicated for the child to read on their own will push the child to want to learn more words.
Additionally, they will pick up some of the words that are being read into their own vocabulary. If a child can see the words that you are reading this can extend to their textual vocabulary as well as their verbal vocabulary.
Music is another strong way to increase a child's vocabulary. Music is a lot easier to remember than a page of words. This is partially due to the multiple parts of the brain that music activates.
As such, a child can often learn the words to a song without knowing what they mean. You will want to teach your kids the meaning of these words.
This concept of learning words from music without learning their meaning can be seen in people that don't understand a language being able to sing songs in those languages they don't know.
This is a disconnect between the receptive and expressive categories of vocabulary.
The below list will be helpful, but if you really want to improve your child's vocabulary, I'd recommend this set of flashcards from Amazon, as well as this book.
Speaking Vocabulary Words
| | | |
| --- | --- | --- |
| the | go | in |
| is | me | to |
| can | it | you |
| see | my | said |
| have | get | not |
| we | and | like |
| did | run | for |
| was | on | at |
| as | of | if |
| are | after | all |
| am | animal | away |
| be | about | best |
| big | white | help |
| well | bring | better |
| area | boy | but |
| can't | car | come |
| day | do | down |
| eat | friend | from |
| fur | grew | give |
| good | had | hole |
| has | before | her |
| here | him | his |
| house | how | little |
| lok | made | make |
| new | now | no |
| off | old | out |
| over | play | ran |
| myself | only | compare |
| before | field | certain |
| saw | thing | school |
| she | some | tell |
| that | them | there |
| they | this | would |
| mother | us | up |
| want | when | why |
| where | what | went |
| who | will | with |
| your | were | where |
| wear | or | one |
| girl | use | each |
| their | which | these |
| two | been | word |
| quiet | right | party |
| island | surface | land |
| please | many | into |
| number | close | could |
| young | family | color |
| early | eight | drink |
| kind | hurt | idea |
| next | start | end |
Reading Vocabulary Words
| | | |
| --- | --- | --- |
| the | or | of |
| one | and | had |
| a | by | to |
| in | is | you |
| that | word | said |
| but | not | what |
| all | were | he |
| was | for | there |
| use | an | each |
| which | she | do |
| how | they | his |
| with | I | at |
| be | their | water |
| time | look | two |
| make | would | then |
| up | no | way |
| people | first | write |
| new | sounds | great |
| where | help | through |
| line | right | mean |
| old | same | farm |
| three | small | set |
| sentence | give | most |
| back | year | live |
| think | small | tell |
Writing Vocabulary Words
| | | |
| --- | --- | --- |
| add | after | again |
| apple | bark | been |
| being | best | bone |
| block | cloud | brown |
| came | cane | chain |
| chalk | chat | clam |
| clap | claw | clean |
| cool | dark | drop |
| end | family | fell |
| flat | flag | fort |
| fresh | glad | golf |
| grit | hang | happy |
| hide | hill | hint |
| horn | how | just |
| joke | keep | king |
| last | line | look |
| meal | must | nice |
| odd | put | quit |
| king | last | made |
| many | meal | new |
| odd | quit | space |
| said | time | yard |
| eight | dream | note |
| yellow | friend | mother |
| twist | rabbit | school |
Listening Vocabulary Words
| | | |
| --- | --- | --- |
| usually | cover | piece |
| heard | become | happen |
| happy | remember | numeral |
| however | money | unit |
| notice | opinion | clean |
| full | government | season |
| material | square | heavy |
| cause | forest | edge |
| third | month | suddenly |
| perhaps | special | center |
| sister | instruct | instrument |
| paragraph | frighten | clothes |
| region | represent | parent |
| produce | cried | measure |
| afternoon | finally | front |
| correct | circle | ocean |
| minute | decide | course |
| built | carefully | appear |
| argue | display | evidence |
| arrange | period | wonder |
| buy | except | wonderful |
| repeat | huge | invisible |
| thought | another | should |
| huge | iron | won't |
| appearance | breakfast | train |
| loud | alien | strong |
| surprise | person | behind |
| interest | thousand | cousin |
| system | uncle | million |
| describe | length | probably |
| written | travel | leave |
| country | body | vision |
| amazing | another | forward |
| birthday | brought | since |
| parade | nothing | yesterday |
| several | tomorrow | company |
| remain | govern | medium |
| general | believe | receive |
| summer | energy | member |
| equipment | raise | simple |
| exercise | develop | everything |
| distance | teacher | record |
| morning | voice | complete |
| guess | catch | caught |
| touch | already | rough |
| minute | afraid | persuade |
| blood | guard | design |
| desert | avoid | detail |
| development | curl | crawl |
| crowd | cruel | clown |