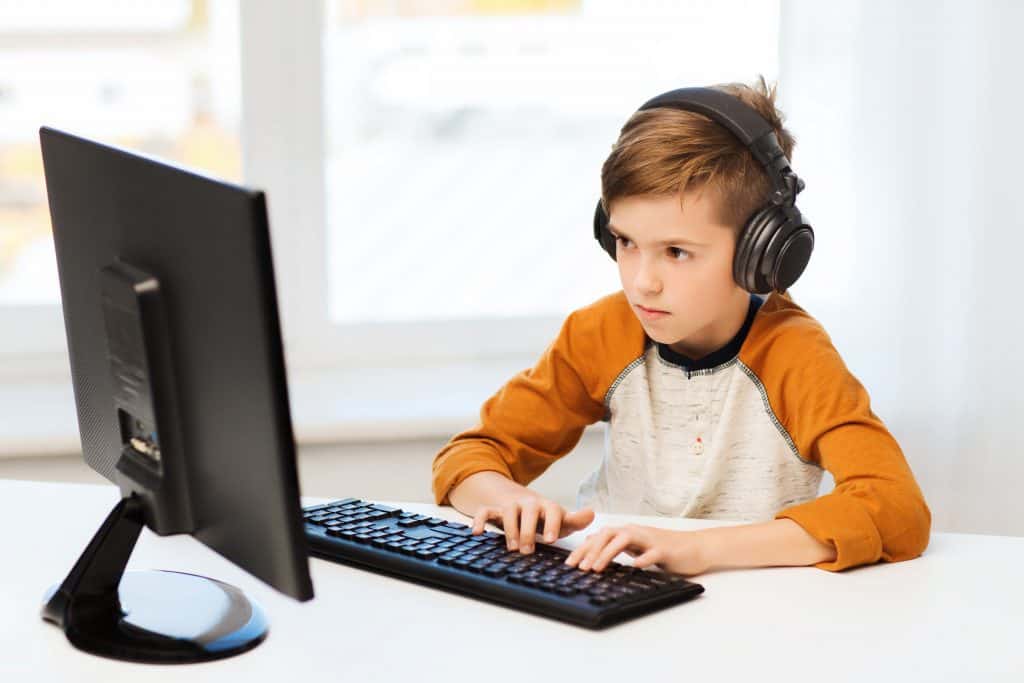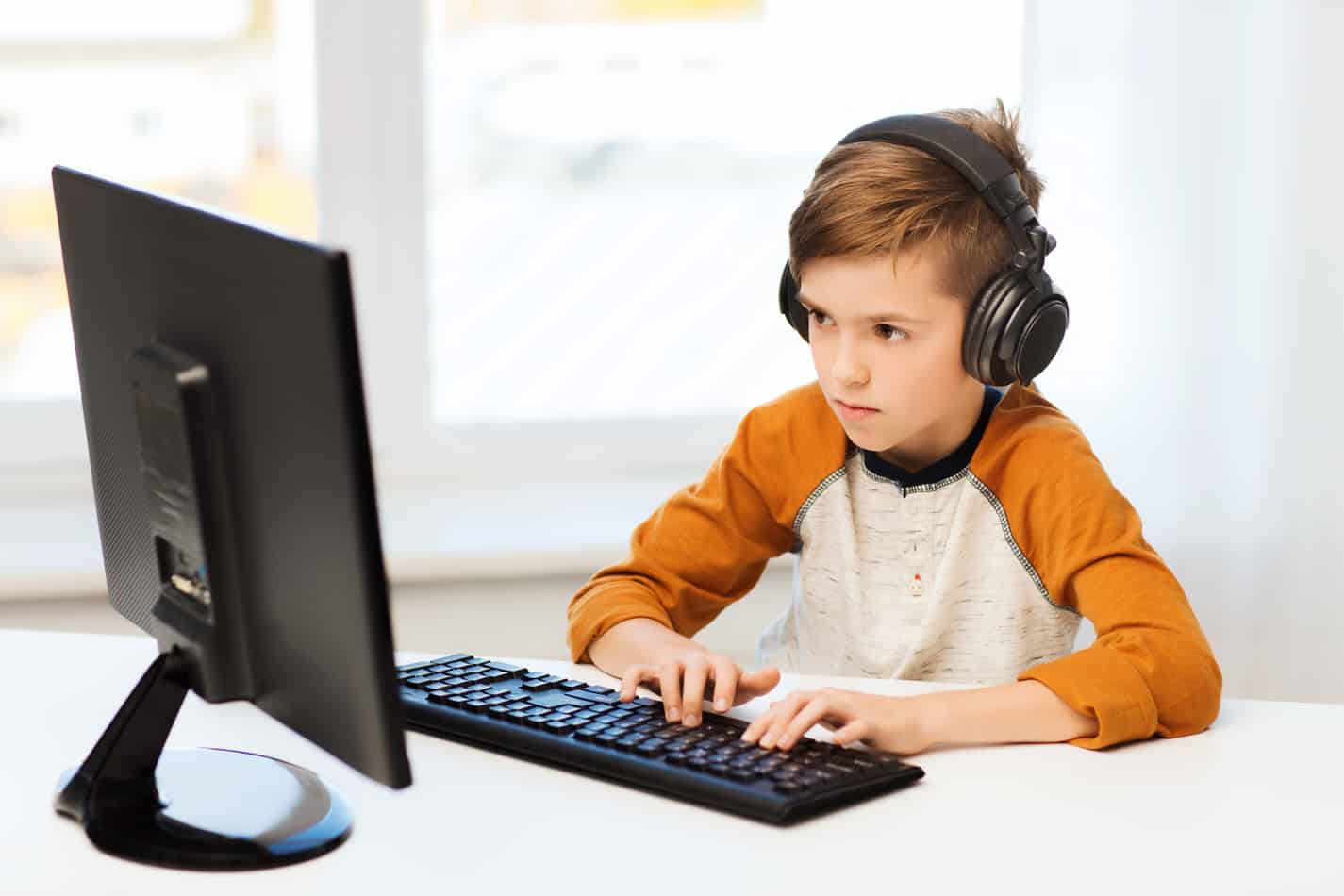 If your child has shown interest in playing on a computer, it can be hard to know which computer is best for them. Computers have become more advanced than ever and include many family-friendly features. You can choose between a laptop or a desktop computer, both systems are safe for a child to use but they do have their differences.
What is the best computer for a 7-year-old? Both laptops and desktops are safe for your 7-year-old to use, but the most child-friendly purchase is a desktop console. A desktop allows you to keep watch of your child and what they are watching or playing online. Desktop computers are a better choice if you want to be more aware of what your child is doing.
Now, this does not mean your child will need a high-functioning computer that will break the bank. They just need a system capable of handling all of the basic tasks a normal computer can complete. Read on to find out what those tasks include.
Desktops
With desktops, their biggest benefit is that it is a larger system that cannot be removed and placed somewhere else. If your child wants to use it, they have to sit down in the designated area that it is in, which makes it easier for you to watch your child as they play on the monitor.
Here are some desktop options:
1: Kano Computer Kit
Price: About $100 (available on Amazon)
This kit is a cool way for your 7-year-old to create their very own, fully functioning computer!
This kit lets your child build and code a real machine that when completed, can be hooked up to a regular desktop screen for use, just like any other computer!
When coding, they can create apps and art, and this lets them personlize their machine. This kit is great for any little one with a huge interest in electronics! Who knows, it may even foster their future profession!
The computer, once it is completely set up, can be connected to the internet, which will then let your child watch YouTube, search on the internet and more!
It is unsure if this system includes parental controls, but you can hook the system onto a desktop which will then let you be able to keep watch and know where your child is at while they are on.
Some things that the kit comes with are:
Case
Light board
Power supply
HDMI cable
Books
Stickers
SD Card
Button
Keyboard
This kit requires no technical knowledge, but assistance may be needed for your 7-year-old.
2: Lenovo 330-20AST
Price: $437
This desktop computer was chosen to be the best for its low price! It has a 21.5-inch screen, which is a great size for its low price! This desktop can be used for most everyday things such as browsing and email.
It can run very well, and even tackle harder jobs like photo editing! Though I cannot imagine your 7-year-old doing any of those things.
This desktop is great for its reasonably-sized screen, which is perfect for any little one that likes to be able to have what they're watching displayed.
This display is anti-reflective, reproduces colors accurately, and has a wide variety of viewing angles! This can be helpful for a constantly moving 7-year-old who doesn't ever seem to know how to sit straight.
Overall, this is a purchase you will not regret!
Price: $850
This desktop is a bit of a heavier purchase for you wallet. Though it's 24-inch display performs as well as some other desktops that go for a much higher price.
The graphics are great for most video games, and this can be a positive if you happen to have a 7-year-old boy with a love for Minecraft.
While the display and the functionality of the desktop are great, its speakers do not impress as well its competing features. The speakers are middle-grade quality
It's best to have your child play their videos, or movies aloud on a speaker rather than a set of headphones.
4: Apple 27-Inch iMac
Price: $1,749
Now, if you thought the computer above was a bank breaker this one proves you wrong. Despite its eye-catching price point, this desktop computer is a popular purchase for some.
It is not necessary to purchase this simply for a 7-year-old to use, but it's high-functioning system and software is perfect for the entire to use.
Even the parents.
It is also one of the heavier options, which ensure your little one won't be picking it up any time soon.
Laptops
Laptops are a seemingly popular choice when purchasing a computer for a child. Which is good, laptops can hold parental controls within them. This makes it easy for parents to ensure that their child is watching content appropriate for their age.
Though with laptops, they can be moved from one place to another. Now that can be a bit of a problem if your 7-year-old likes to move around with it. Your little one can also misplace it easily since it is not connected to a larger system.
1: Asus Chromebook C202
(Known for being the best overall.)
Price: $219
This is top-pick for a kid's laptop because of its ability to withstand any and all bumps and bruises your little one might put it through. A rubber guard is along the entire laptop which protects it from hard falls!
The keyboard is also spill-resistant. Which is more than likely to bring many parents a peace of mind.
Pros
Very portable
Great value
Has impressive battery life
Durable
Cons
Has limited features
Has a smaller screen compared to other options
In addition, to its protection around children, it weighs a light 2 pounds and can run around 10 hours. Which is impressive battery life for a small system.
Many parents worry that with their child's ability to roam on websites to find games to play that viruses might attach itself onto the system.
With this laptop, they will not have to worry. There are parental controls that limit visits or even restrict visit to specific websites.
It can also block harmful extensions that could affect the experience that your child will have with the computer.
2: Acer Chromebook R 11
(Known for having the best parental controls)
Price: $285
This chromebook is at a cheap price, which is bound to make some parents happy.
This chromebook in particular can help parents who want a higher control over the time their kids psend on computers!
This Chromebook offers all-day battery life and a convertible body, which can be easily switched between a laptop to a tablet.
Pros
Created with a stylish design
Has Google integration
Touch-screen is integrated
Cons
Has an inconsistent touchpad
Out of all of the features this Chromebook has, the most important one is its parent-friendly features.
Upon starting up the computer the parent can create an account and label it as an "owner" and then turn on a label called "supervised users." Once they have enabled thi feature, the kids can then login separately and search the web.
But the parents have listed on their account blacklisted website that prevents Google from pulling up those certain searches or websites.
Another feature to this parental tool is that the "supervised user" cannot delete their web activity, or search history.
Which makes it easier for those parents who want to be more aware of what is their child is searching for.
3: Dell Inspiron 11.6-inch 2-in-1
(Known for having the best durability)
Price: $870
This computer is afforadble and useful forcompactness.
This is also similar to most laptops for its parental controls that are included. Parents can block specific sites, set a screen timer, and limit app and game downloads on the computer as well.
This is to create a safer environment for your child while using the computer.
Pros
Cons
4: Lenovo's Ideapad 100S
(Known for it's low price compared to others)
Price: $489
This laptop is great for parents who want something cheap but that can still function like most laptops.
This laptop functions like any other and even has a family portal tha can control what the child does while logged into that portal.
It can provide peace of mind for parents since it can block multiple websites and prevent downloads. There is even a timer that can be enforced to shut the laptop off once it goes off. This makes sure that your kids will go to bed at the time they are supposed to.
5: Apple's MacBook Air 13-Inch
(Known for its lasting battery life)
Price: $934
This computer is the most expensive of its competing choices. This is because of its features that can tend to both parent and child.
Its high-functioning software can allow the parent to use for work or any other task, while its high-functioning yet simpler qualities can tend to the wants of the child.
This laptop also allows for parental control. You can block websites, the built-in camera from being used, and restrict people that can be messaged through e-mails and chat applications.
Another comforting feature is the ability to control apps, music and iBook downloads.
A Buyer's Guide for Parents
There are things to consider before you go to looking for computers to purchase for your child. While this should have been introduced in the beginning, the computers listed above have all shown these qualities in their systems.
Functions
Something you should look for is something that will facilitate learning. Having more than one function can be a bit confusing and distracting.
The goal to purchasing any computer for your child is to ensure that it is not a simple distraction, but something that has multiple learning modules!
Durability
Computers, especially ones for 7-year-olds, will need to be able to handle the same wear and tear that any child's toy is put through.
If you are wanting to use this computer for your family you should make it a point to discuss with your child the fragility of the computer.
Most kids do not initially think to be careful when handling electronics, so a computer with a strength to withstand your little one's rambunctiousness is ideal.
Quality
While a cheaper computer may sound like the perfect fit, these cheap systems are not bound to live very long.
You want something that can last a long time and still be fully functioning after a long amount of time.
Price
There is a set belief that the more expensive the product, the better it is at its functions. Which is not always true. Some brands are known to inflate the price of their products simply for their name.
You can easily find a well-working machine that isn't going to empty out your entire wallet. These reasonably priced machines might even work better than the overpriced ones.
Battery Life
The very best laptop you can get for your 7-year-old is one that has a long-lasting battery life and is structurally strong.
Portability
The computer can be portable if you choose a laptop. If it is a desktop, it will have to stay put where ever you set it up.
Though you if you happen to have a laptop it will need to be easily portable so your child won't get tired when they are lugging it around the house.
Cooling System
Cooling systems are essential to any laptop or desktop. Without a proper cooling system in your computer, it can overheat when your child is using it on their beds.
Make sure to look for a fast and efficient cooling system when purchasing a laptop.
Weight
While weight should not be too big of a factor since your 7-year-old isn't going to be taking this laptop to school, it can still be handy to have a lightweight system.
If you look at the smaller screens on laptops it means they are likely to be lighter in weight. Whereas a medium-sized screen laptop will be a bit heavier.
Related Questions