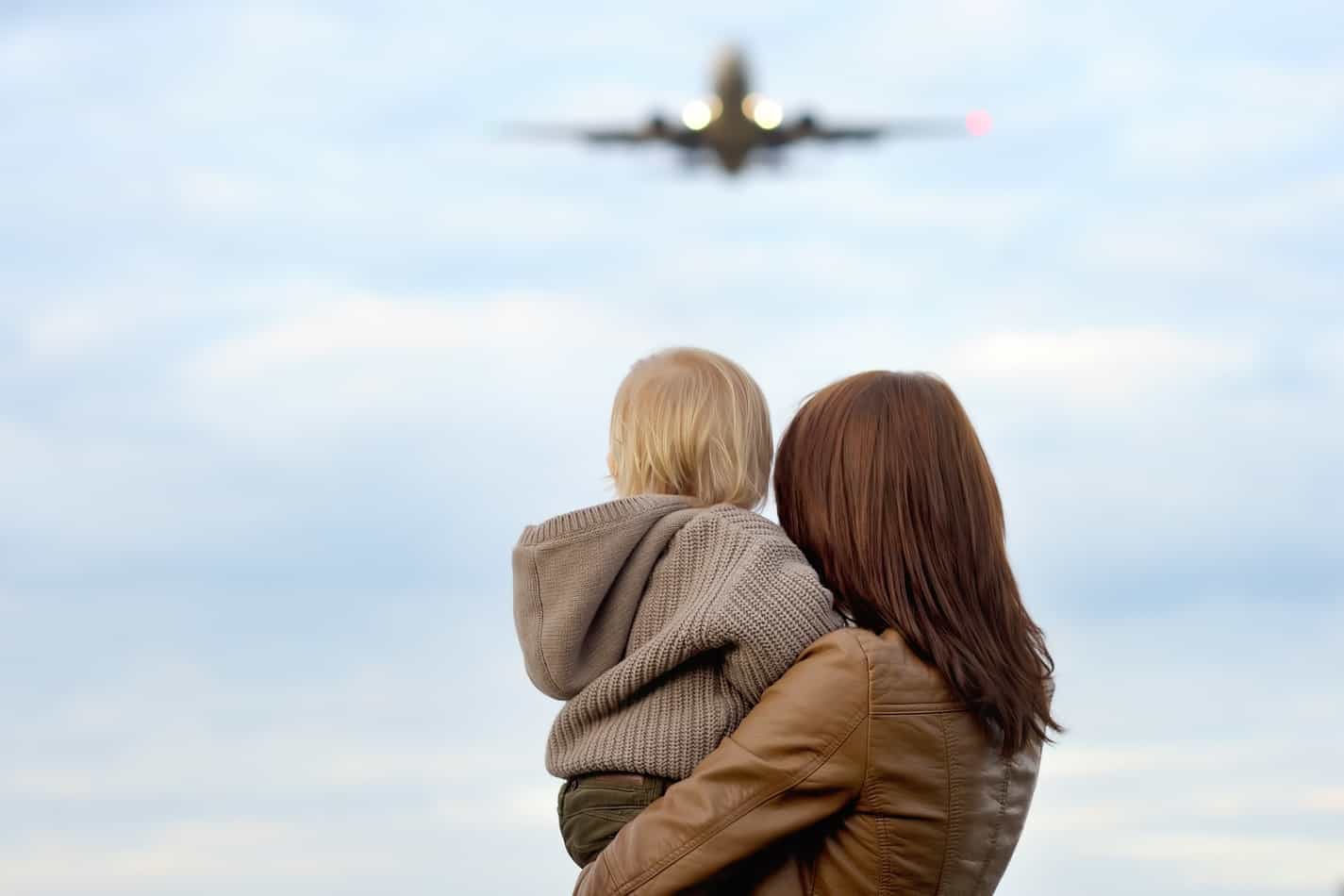 It can be difficult to figure out what a 7-year-old may need when flying on an airplane. My 7-year-old is taking their first trip on an airplane in a few months, so I decided to do some research on the regulations and need-to-know of flying with a child.
What does a 7-year-old need to fly on an airplane? Depending on the airline you are flying with, some policies can vary. Generally, domestic flights do not require identification for minors under 18 years old. Your child will only need their boarding pass to get through security and onto the airplane. When traveling internationally, all passengers including minors will need to show a valid passport in order to travel.
While the answer to your question may seem simple, there are other aspects you will need to consider when traveling with your child.
When to Know Your Child Does Not Need an ID to Fly
Flying Domestically within the USA with an adult
The Transportation Security Administration, also known as the TSA, and most airlines don't require a child under the age of 18 to have ID if they are traveling with an adult who has the necessary identification. This policy applies to family trips as well if that child flies with their parents.
Though it is safer and more accurate to contact the airline you are flying with to make sure of the policies they have in place.
Flying within the USA as a unaccompanied minor
Another time where a child will not need to show identification is when they are flying without an adult with them within the United States. It is safe to note that if an adult is accompanying a minor through the airport, they will need to bring their own identification. For example; a birth certificate that belongs to the child, a passport if they have one will work just fine.
If the child is old enough to answer for themselves security may ask them to say their name to confirm it is, in fact, them.
When Your Child Does Need ID in Order to Fly
Flying Internationally
It is very important to remember that when traveling in a group, every member will need a passport or an original birth certificate in order to travel outside of the States. Their ticket will need to be identical to the name on their passport or birth certificate
Be sure to have your child's passport handy since you may or may not have to show it during check-in or security checkpoints.
Don't have a passport or know where or how to get one? Well lucky for you, it can be relatively easy to apply for a new passport for your child. Make sure to do this application a few weeks before your trip. Once you receive it, you should make a copy and bring that along with the original just in case.
Further in the article will be a guide on how to obtain a US Passport which can permit you to travel within the United States, Canada, Mexico, the Caribbean, and Bermuda.
Flying Internationally without both parents or just one parent
The documentation to flying becomes a bit more confusing or more so complicated when only one parent or guardian is traveling outside the country alone with the minor.
You will need to bring written consent from the child's biological parents of them being able to leave the country without them, as well as the child's birth certificate.
If you have a child, that's a minor, and they are traveling alone or someone other than their guardian or parent a consent form is required. It is called "A Child Travel Consent Form", which is an important legal document which allows the child to travel on their own without either their parents or legal guardians present.
The document should include the following:
Minor's name, birth place and passport information.
Permission from the non-traveling legal guardian or parent that is not present (including their contact information).
information that is relevant about the traveling legal guardian or parent (including their name, custody information, and passport details).
TRavel information (destination and start and end dates).
Allergy and special needs information that pertains to the child traveling.
Signature of the non-traveling parent or guardian that is giving permission for the child to travel.
How to Apply for an American Passport
To begin, a passport can be required for flights or trips where you will need to leave the United States of America. Passports are required for all who are traveling internationally, and those traveling domestically will need a passport if they are over the age of 18.
(It is important to state that if you are applying for a first passport or renewing an expired one for your child, you must apply in person with both parents present. The parents must sign the application form of a minor under the age of 16, and show a certified birth certificate that shows both of the parent's name.)
(If your minor does not have a photo ID, the parents must show proof of citizenship and then vouch for the child.)
Applying for a US passport can be very simple if you have all of the needed documentation. The application process usually takes about four to five weeks but it can be longer during busier periods of the month.
If you need your passport to arrive within two months, it is advised to contact the State Department for an expedited service which will require an additional charge to your delivery. A plus to having your passport expedited is you will receive it within two to three weeks.
To help guide you through the process better here are the different ways you can apply for your passport and what you will need:
Applying for the First Time
If this is your very first time applying to receive a passport book you will need to apply in person at one of the local passport acceptance facilities near you. Which can be your local post office, public library, county clerk's office, or local town hall.
Make sure to bring the following:
DS-11 Form (This can be downloaded from the State Department website)
Your certified birth certificate or other proof of your US citizenship
Official photo ID, a driver's license or military Id
Two passport-size photos
Fees: $110 for Adult; $80 for Children 16 and under; plus $25 per person in execution fees
2. Renewing an American Passport
This aspect of obtaining a passport is a bit easier and cheaper than if you were applying for the first time. You can renew your passport by mail, as long as your expired passport is not damaged in any way, issued no more than 15 years ago, or issued with your current name and you were at least 16 when you got it.
You will need the following:
A DS-82 form (which you can download from the State Department website, fill it out and sign it).
Your most recent passport
Two passport-size photos
Fees that will apply: $110 for adults; $80 for children under the age of 16; no execution fee.
Reminder: If your passport is damaged or issued more than 15 years ago. OR if your name has changed, or you were under 16 when you got it, you must follow the process for first-time applicants!
Related Questions
What documents are required for a child to fly? There are 3 important documents required for a child when flying that is a passport, a child travel consent form, and proof of relationship form.
Do airlines check age of lap child? D
Can you board a plane without ID? If you were to lose your driver's license or ID while on vacation you may be permitted to fly back home without one. The TSA will recognize that you would have no way of obtaining another form of identification until you are home.