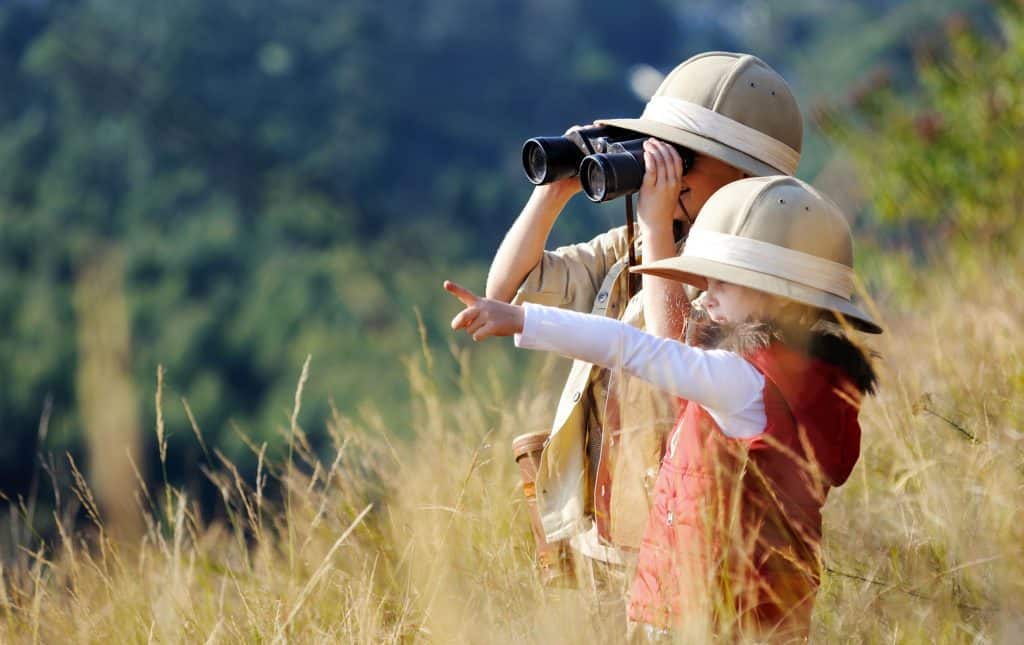 It can be difficult thinking of different, memorable adventures to take your 7-year-old on. You want your little one to remember these experience forever, but it is up to you to choose an adventure they will deem memorable. I decided to look up 17 adventure to take your 7-year-old on. 
There are so many options when it comes to choosing a trip to take your little one on, but the most important thing to remember is that these trips have to appeal to what they enjoy doing the most.
If you find that they are not a very sporty, outdoorsy child then do not take them on a trip related to that. If they are artsy, then you can take them on a trip where art is the main focus!
They will thank you for the memories down the road.
1 – Watch a Sports Game
If your 7-year-old is infatuated with sports, whether that is baseball, basketball, or even football you should take them to a sporting event!
They can experience the thrill of watching their favorite players live for the first time, and be able to gain a thrill over knowing they are in fact, real people!
Not only will their love for the sport grow, but they can also spend some quality time with you! They can come to appreciate the fact that you took them to this sporting event!
Overall, this memory will is cherished in not only your child's heart but in yours as well.
2 – Sleep Outside on the Trampoline
Sleeping outside on the trampoline has made it to at least every child's bucket list at least once in their life.
You can do this, ideally, in the summer since the weather is warmer during the day and cooler at night. Sleeping on the trampoline also means being able to experience the night sky at its fullest glory!
Your 7-year-old may even be interested in astronomy, and the science behind these stars. So taking them out on a summer night is a great way to let them experience the beauty that is the night sky.
3 – Legoland Discovery Centers
Located: There are multiple locations available for this attraction.
Price: These prices differ on the location you end up going to but they are never over $25
This attraction is similar to a children's museum! It is located in the following states:
Atlanta
Schaumburg, Illinois
Grapevine, Texas
Kansas City, Missouri
Yonkers, New York
Somerville, Massachusetts
This attraction has so many activities that create an enjoyable experience for your 7-year-old. They have building contests, short 4-D movies, soft play areas, and building workshops!
Depending on the location you are in they can have some Lego Friends area, a Duplo section for toddlers and a Star Wars exhibit.
You won't regret taking your little one to this attraction, especially if they enjoy playing with Legos, then they will absolutely love this place!
4 – Explore a Museum
While some of the experiences listed below are museums, there are plenty of other museums that can pique your child's interest as well.
If you live close to a museum you can take your child there, almost every museum has a section them towards children! Museums help encourage your children to learn and encourage them to discover new things around them!
Museums help greatly in that aspect! If you have a 7-year-old with a love for dinosaurs the then take has to a dinosaur themed thank! they can learn more about their favorite pre-historic creatures and even take that knowledge with them throughout their life.
These experience are priceless in the eyes of a parent. So make sure to give that memorable experience to your child and you won't regret it!
5 – Book a Trip to Disney World or Disneyland
Located: Orlando, Florida & Anaheim, California
Prices: Magic Kingdom Park – Ages 3 to 9 – $93
Disneyland Park – Ages 3 to 9 – $90
It is almost every child's dream to go to either Disney World or Disneyland! Especially at 7-years-old their favorite characters are likely to be from Disney itself!
You can take them on one of the most memorable adventures they will remember, and even at the age of 7, they may forget some moments but as the parent, you can remember every magical moment.
While the prices are high for this trip, the experience is worth every penny. There is no price attached to the reaction your child will have when they meet their favorite character for the first time!
6 – Take Them to The Monterey Bay Aquarium
Located: California
Prices: Ages 3 to 12 – $25
If your 7-year-old has an obvious love for the little critters that reside in the ocean then taking them to an aquarium can be a perfect experience for them!
This famous aquarium appeals to all ages, but can be most memorable for 7-year-olds since it can be the first time they have seen sea creatures of different kinds up close!
The aquarium has gained its fun reputation through its crawl-through tunnels, textured walls, and low exhibit windows that are perfect for your young ones!
There are about 45 interactive exhibits in total! Your child can find pull-out plush eels to play with next to actual living moray eels. There are touch pools with sea urchins, abalones, and other creatures, and even an area they can play dress-up where they put on a sea-horse costume next to a tank of live sea-horses.
The fun never seems to end!
Be sure to take your child to this awesome exhibit if you are sure they will enjoy it! The aquarium can create so many memories that you can cherish for a very long time!
7- Go to The Children's Museum of Indianapolis
Located: Indianapolis, Indiana
Prices: Ages 2 to 17 – $14.50
Museums are a great way to get your child out from the house. Rainy days or even just calm days can become fun. You can excite this trip to the local museum.
In this case, the Children's Museum of Indianapolis is the largest children's museum in the country. It has five stories to explore! this museum does an excellent job of intriguing children of all ages, even the ones with double digits.
The centerpiece of the museum is the Playscape, which is located on the third floor, where kids can launch balls from the reaction contraption and be able to see things fly through the Whirly Twirly Tower!
There are also some family-friendly conveniences such as hand-gel stations (to sanitize your hands from all the things you touch), family bathrooms, child-size toilets, and a nursing room!
Overall, this museum is fun for both the child and the parent!
8 – Treat them to The Polar Express Train Ride
Located: Multiple Locations
Prices: The prices and times available vary by the railroad
This attraction is inspired by the classic holiday book. If your 7-year-old loved the movie and story itself then they will be over the moon about this train ride.
The railroad travels in more than 30 cities nationwide, and that includes Durango, Colorado, Newport, Rhode Island, Williams, Arizona, and Miami!
The ride typically lasts about an hour long, and includes a feature reading of the book and a visit with Santa! (This is also perfect for those 7-year-olds that are the truest believers in this holiday tale!)
Some railroads even supply a cup of hot chocolate and cookies that are a gift from Santa himself (as well as a sleigh bell–just like the movie).
9 – Explore The Eric Carle Museum of Picture Book Art
Located: Amherst, Massachusetts
Prices: Ages 1 to 18 – $6
This museum is basically a large, colorful art studio with a ton of natural light. Which is perfect for children to make the most amazing projects. If your 7-year-old enjoys arts and crafts, then this exhibit is perfect for their enjoyment.
They can create tissue-paper collages, layered paper drawings, or even a craft that can relate to a special event! You can also take a scavenger hunt through some of the galleries.
This museum not only has those features but also includes a library with thousands of picture books!
(You can stop by there for a staff-led story time)
Outside of the library is an opportunity to take a photo op with a giant, two-sided Very Hungry Caterpillar reading cubby!
10 – Experience The Crayola Experience
Located: Easton, Pennsylvania
Prices: Ages 2 to 65 – $16
To experience the entirety of the World of Crayola, you can visit the 25 attractions located within the exhibit.
Since this attraction is mainly high-tech your child can experience something completely new from what they are used to when drawing or coloring.
Kids can create works of art in a digital form, that way they are able to project it onto the screen in a much larger manner. They can use a computer to print their very own Crayola labels and a generated image of themselves as a coloring page.
Within the attraction is an animated short of how crayons are made, and despite the exhibit being mainly digital if your child is older the 9 years of age then they will become less interested in this adventure.
Though if you have a creative, and rambunctious 7-year-old this attraction is perfect to get their creativity out in a way that does not ruin your own walls.
11 – Go to Jackson Hole
Located: Jackson, Wyoming
This trip can be a very fun and exciting experience for your 7-year-old if they have never gone skiing before! Jackson Hole is known to be home to Grand Teton National Park and it also happens to be a world-class ski resort.
Jackson Hole is notable for their outdoor activities during the day such as rafting in the scenic Snake River, or tubing down the Snow King Resort and even explore the magical ice castle in Teton Village.
All of these outdoor activities can be a valuable way to spend your time with your child, especially if you are in need of bonding time or some fun!
Children can be very active, more so 7-year-olds. So it is important to be able to let them get their energy out in a good way!
If you are interested in learning more about this amazing resort click here.
12 – Build a Giant Sandcastle
You can take your child on a trip to the beach if summer break means beach break for your family! Any beach that is near you can do the job but an ideal location is Weymouth Beach in England.
This location is perfect if you are looking forward to building your very own giant sandcastle.
This beach is known to have the purest sand around, and even better it sets as hard as stone once you compact it! As unbelievable as it seems Weymouth is home to the world-famous sand sculptures on the seafront!
Not only is this beach perfect for the experience but it is perfect for your little one to enjoy the sun and water at! They can enjoy the breathtaking view, and fulfill their heart's desire of building their own sandcastle!
13 – Stand in Three Countries at The Same Time
While your 7-year-old may not understand this concept completely, it can still be a fun experience for them!
Take some photos to help remember the experience better, and how cool is it to stand in three countries at the same time?
Drielandenpunt is the place where you can accomplish this. It is also called the tripoint where Germany, Belgium, and the Netherlands borders meet!
The traveling in itself can be a fun experience for your little one, but if they happen not to enjoy the trip to the borders all that much, thee are fun attractions available to bring some more fun!
There is a maze, picnic area to enjoy, and some skeet shooting lessons!
14 – Go Camping in the Mountains
As summer begins to roll around there are only so many times you can take driving to the local pool! You can always ditch the pool floaties and try camping or better yet camping in the mountains!
It is a perfect way to get back out into natures and if your 7-year-old has a love for nature itself and exploring than this is the perfect trip for them to experience new things!
Silver Falls State Park is known to be the ultimate camping experience and is located in Oregon. you can camp here in a tent, RV, or cabin! There are even other outdoor activities to enjoy like hiking and biking back-country trails.
There is nothing better than bonding with your family in an outdoor environment! You can even teach your little one some simple survival skills, or you can just roast marshmallows with them.
15 – Go Digging for Fossils
Children find so many things fascinating, and one of these things are animal fossils!
You can take your 7-year-old to Warfield Fossil Quarries in Wyoming where they can spend as many hours as their heart's desire, digging up fossil fish!
The best part? Every fossil they dig up can be taken home and kept as a souvenir! This can be a really rewarding moment for your child since they can feel accomplished by being able to do something on their own.
Some of the common fish they can dig up are:
Knightia
Diplomystus
Phareodus
Priscacara
There is no reservation required and all of the basic tools you'll need to dig up your discoveries are provided. This activity can be a fun way to learn how to complete hard work!
16 – Fly a Kite Together
While this activity may seem simple and a bit boorish, you child can really appreciate the small moments that are shared between their parents.
You can take a quick trip to your local store and buy a kite to take to the park. Windy days can be a bit chilly so if you decide to go to an open space to fly the kite, make sure you little one has a light hoodie, or jacket to wear over their shirt.
Teaching them how to fly a kite will create a form of trust and confidence that you, as their parent, can be relied on for difficult times. At the same time, as you teach them to fly this kite, they will become more confident in themselves to take on hard tasks!
17 – Go Floating in a Lagoon
If it happens to be a relaxing summer day out, then floating in some cool water sound about perfect for anyone!
The perfect place to go floating is Blue Lagoon.
It is located on a tiny island called Comino, and this lagoon is just about the most beautiful thin you will ever swim in.
Your little one can appreciate the clear blue water and coral below them since new things can strike their interest. You can also bring along some snorkeling gear or buy some so you can take a closer look at the coral!
You child can remember this moment for the beauty they experience and for the new creatures they were able to discover as well!
Related Questions
What is the best family vacation in the USA? According to travel news, the best family trip in the USA is Orlando's Walt Disney World. It tailors to both adults and children of all ages and can be a memorable experience for all.
What activities do kids enjoy? Kids enjoy most activities since it instills motivation and structure in them. Some fun things you can take them out to do are
encouraging them to watch for wildlife
take them on a scavenger hunt
draw a picture of a map at your local park
make art from nature
or even go on a simple walk
Recent Content
link to What's the Best Computer for a 7-Year-Old?
If your child has shown interest in playing on a computer, it can be hard to know which computer is best for them. Computers have become more advanced than ever and include many family-friendly...
link to How to Teach a 7-Year-Old to Code
Teaching a 7-year-old to code can be a tough thing. Even though it is not the most fun of topics and you may not even know how to do it, it can be beneficial for our modern day. How can you...