*This post may contain affiliate links. Please see my disclosure to learn more.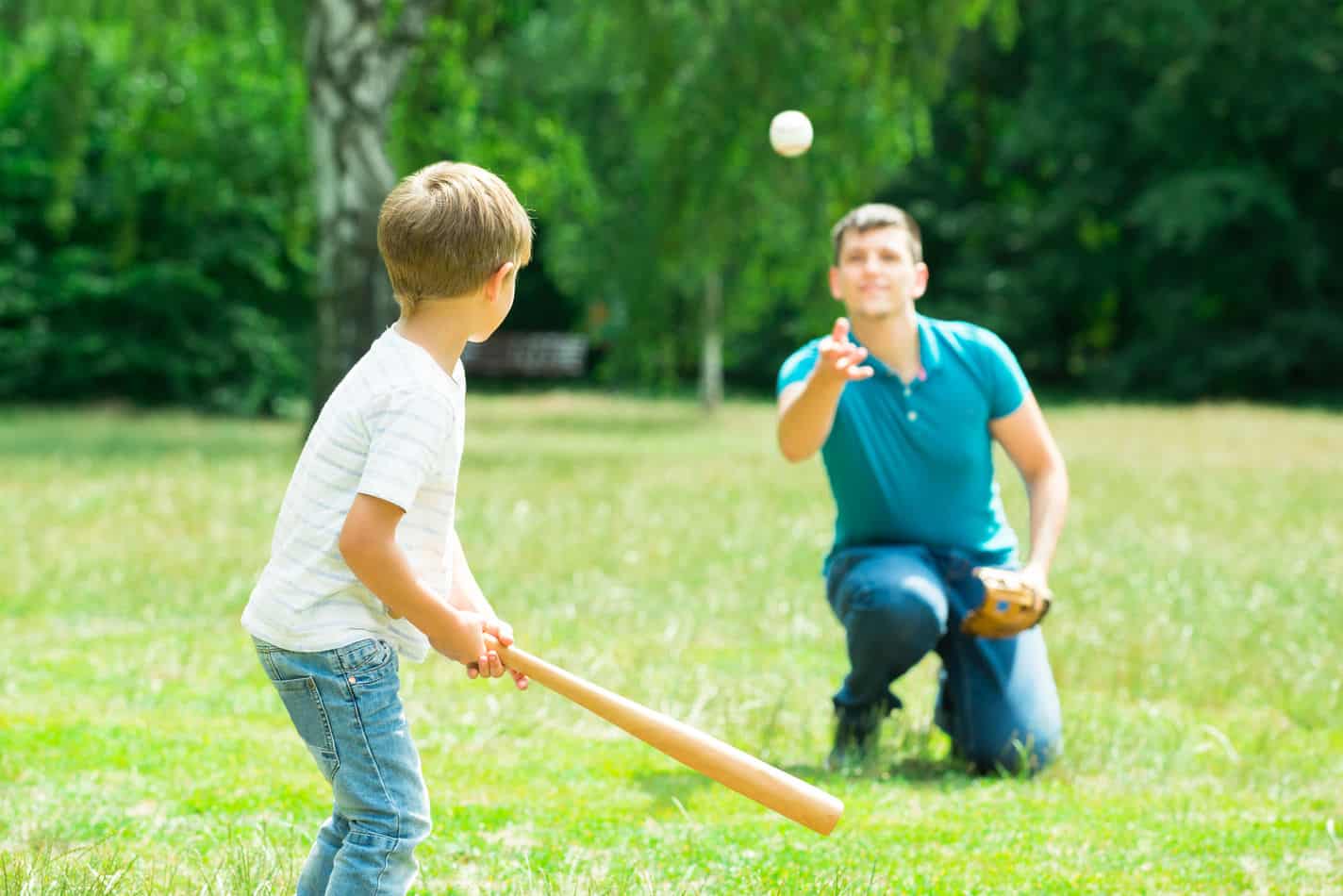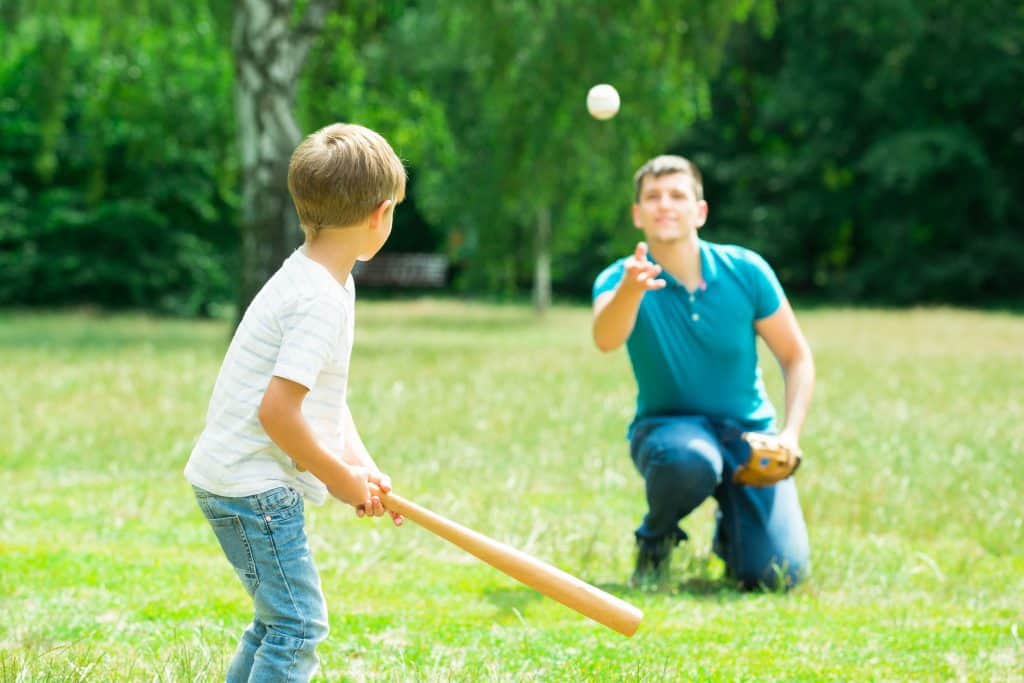 My nephew recently turned 7 years old and my brother-in-law wants to get him interested in baseball. Playing baseball requires the right equipment, especially for children who are just starting. I researched what the best bat for him to be, and this is what I found.
So, what is the best baseball bat for a 7-year-old? The best bat for a child who is seven will be a bat that has a -10 to -13 drop, so it is lightweight. It should also be 24 – 26 inches long for the average 7-year-old. With this in mind, the best bat for a 7-year-old is the Rawlings Prodigy Bat.
There is always more than one option of course, but when looking for sporting equipment there are many things that need to be kept in mind, like buying from a reliable brand, good reviews, and cost.
Buying the right bat can help your child feel better prepared and more confident as he or she learns the game of baseball.
The Best Bat
One of the best brands for bats is Rawlings. They are well-established and endorsed by professional baseball and softball players. So, it is safe to say that going with Rawlings for your 7-year-olds first baseball bat is a good option.
They have many options as well but the one that I found to be a good balance between good in performance and good for your wallet is the Rawlings Prodigy Bat. This bat is available in multiple sizes but the size to get for your 7-year-old will be the 26-inch bat that has a drop of -10.
This bat is not only well crafted, but it also has a wide barrel and good balance, so a nice, smooth swing is easy to achieve.
Another perk of this bat is that it is reasonabl priced. Falling around $100, this bat is high-quality but not priced as expensively as other high-end bats.
Now, this might seem too expensive for your budget, but it can last for a while. A bat that is -10 can fit multiple age groups, unlike bats that have a lower drop.
Rawlings Prodigy bat is also approved for use in all USSSA baseball leagues which saves you some headaches. (Not quite sure what this means? Jump down to the "What to Keep in Mind" section).
Other Great Options
If you're still not convinced that this bat is the one for your 7-year-old, here is a list of some other great bats.
Easton Ghost Hyperlite Bat – This is the 2019 edition of this bat. Easton is another great well-known baseball brand. Red and black, this fiery bat comes is a few sizes appropriate for the average 7-year-old. This one is lightweight and a good length so it's great for the beginner baseball enthusiast. However, since it is the newest edition, it is a bit pricier and does not have a lot of reviews yet.
Marucci Cat7 Jr. Big Barrel Bat – This bat is available at Dick Sporting Goods. With a bigger barrel, there is more surface area for your 7-year-old to get a good wack at the ball. It has 5-star reviews across the board. It comes in 2 lengths, 25-inches, and 26-inches. It is a higher end bat so it has a bigger price tag. It values at $180. 
DeMarini Junior Uprising Bat – This bat has 4-stars and a decent price tag. It is priced pretty evenly with the Prodigy bat. The black and blue design looks very cool and also has a USSSA baseball league stamp of approval. Another bonus is that it comes in a couple of bigger sizes if you have a 7-year-old who is taller than average. 
What to Keep in Mind Before Purchasing a Bat
Okay, so we have seen quite a few good options for baseball bats already. Before we get too carried away, there are some things that you should be aware of before you actually purchase a bat.
If you are familiar with this sport, you know why you need to be careful.
Some Bats are Not Allowed in Some Leagues
This may sound silly, but some bats are not allowed to be used in games. Umpires pay attention to the drop, length, and barrel of a bat. So, before picking a bat, check the guidelines for your league.
Something that is even trickier, is that some leagues or towns allow bats that others ban. That's why you should check before you purchase a bat.
Also, most stores and websites recommend not taking the wrapper of the bat until you double check that the bat is approved.
That's why bats that have the "USSSA" stamp of approval are such a good option. The USSSA is the United States Specialty Sports Association. This is the association that makes the rules and guidelines for leagues all across the country.
Teams get ranked and face each other (so it's an intense league). For a list of bats that are not allowed, click here.
Also, make sure that you don't buy a t-ball bat for a baseball league. The bats are weighted and balanced differently, and the barrels are shaped differently as well.
There are local recreational teams that might not adhere to the same rules as the USSSA baseball division. So, even if a bat is approved, it is still a great idea to leave the wrapper on until it has been checked by an umpire in the league your child is playing in.
You don't want to spend money on a bat that can't be used, after all.
What the "Drop" Really is
Something else to know before buying a bat is knowing what a drop of a bat is. It has to do with weight, but that is not the only factor.
The definition of weight drop in terms of bats is:
A weight drop is a figure you'll often see describing a bat's size. It refers to the difference between the length of the bat (in inches) and the weight of the bat (in ounces). It is always shown as a minus number and the higher the weight drop, the lighter the bat. For example, a baseball bat with a -10 weight drop would be lighter than a bat with a -3 weight drop.

–Sportunlimitedinc.com

The drop is determined by the length of the bat versus the weight. So a longer bat can have the same drop, but the bat itself will be heavier. 7-year-olds will often need very lightweight bats at first, especially if they haven't played before.
So, don't buy a longer bat because it has the same drop, because it will be heavier and harder to swing.
Height and Weight of the Player
Not every 7-year-old is the same size. On average, a 7-year-olds are 46 inches tall and weigh 46-56 lbs. However, some kids will grow taller earlier while some will have a growth spurt later in life. So, to say that every 7-year-old needs a bat that is 26 inches long is more of a blanket statement.
The length of the bat for a child should have should be based on both the height and weight. For an awesome resource to check what size bat should be used for your 7-year-old, click here. 
After all this, you still might feel unsure about what bat is right for your 7-year-old. Something that will help you decide is testing a bat out in person. Go to your closest sports store or warehouse if you are still unsure.
A tip that I learned as I was researching is to have your child pick up a bat with both arms held straight out in front of him or her, and hold this position for 30 seconds.
If the bat doesn't drop or wiggle too much from the weight, it's an appropriate size. 
Picking the right size bat can make a world of difference in your child's hitting. Using the wrong bat could lead to no confidence, bad form, and technique that won't get hits to go far. Starting off on the right foot is as easy as choosing a good bat.
Best Bat for 7-Year-Olds who are Small for Their Age
Now that it has been established what determines the drop and that not all 7-year-olds will need the same kind of bat, I thought it would be great to bring in some options for kids who don't fit the "average" mold.
The Easton Ghost Hyperlite Bat is going to be a great option because it is considered to be ultra-lightweight and comes in a 25-inch length.
This Louisville Slugger Omaha is a -10 drop as well and is 25-inches in length. It is just under $100.
Instead of using a baseball bat, maybe think of getting a T-ball bat. These bats are designed for beginners and they are lightweight and shorter typically.
Some T-ball bats are not allowed for in-game use, depending upon individual rules, but it is a great option to get some experience and confidence hitting.
Best Bats for T-Ball
Maybe this is just what you need to get your 7-year-old started in baseball. Getting familiar with the game and the rules is an important step for your child.
Here are some quality t-ball bats to get your child started.
Rawlings 2018 Velo Bat – This bat has a drop of -13 which makes it ultra lightweight. This is a great learning bat. It looks cool and easy to swing. It is allowed in little leagues for t-ball. It has good reviews and is around $30 (which is nice compared to some other bats) but still is from a reliable brand.
Easton Beast T-ball Bat – Not as lightweight but is still good for practice, this bat has awesome reviews and a nice price tag. It is also durable.
Franklin Venom T-Ball Bat – This bat is only for t-ball balls but it is great, cheap, and cool looking. It can be bought for less than $20! This bat comes in different lengths and drops, but there are some 24-inch bats which are great for smaller sized beginners.
T-ball is generally for kids 7 or younger, so these bats might not get a whole lot of use after they grow and age. However, players will practice on bats for a lot of their baseball training.
And, who is to say, the only reason you are teaching your child to play baseball is just that you want him or her to play in a league. Knowing this skill will come in handy in gym classes and pick-up games way down the road.
Hitting a ball off a tee is a great place to start. Once you have picked up a good bat, learning to hit will be a lot easier. For help on how to teach your 7-year-old to hit a baseball click here.
Best Bat for 7-Year-Olds who are Big for Their Age
If your son or daughter is larger for their age group, they may be ready for a heavier and/or longer bat. Picking a light bat doesn't always mean better batting. Bats that have more length and weight hit a pitch with greater power, meaning the ball can go further.
However, the bat still must be an appropriate size for your child's size. Typically speaking, the drop of the bat should still be about a -10. The bat can be longer for taller and heavier youth, about a 27-inch or 28-inch will be appropriate.
This opens up the scope of bats available, which is great. There are a lot of options now. Here are my top 5 bats that are within a decent range for a 7-year-old who is above average in height and weight.
More Cost-Effective Options
A lot of these bats I have recommended are great for players and lovers of baseball but can be a bit pricey. If you are looking for a learning bat for your child, look at t-ball bats or some of these options.
Training Bats: These bats are just to help get the sense of how to hit. They aren't usually quality metal but more for learning timing and form. This bat even comes with balls. The combo comes in at around $25. Foam bats are great practice too.
This Rawlings Raptor Alloy Bat is a cost-friendly item at only $35. Although it is 27-inches long (just a tad bit longer than the recommended length) it is lightweight and is allowed in all standard leagues who follow the USSSA rules.
Rawlings Plasma also is bit longer but can be only $30.
T-ball bats will be more cost-effective than bats that are meant for baseball, and they will be available in the correct lengths.
If you are planning to put your 7-year-old through baseball in a league, I would recommend going with higher-quality, more expensive bat. Using the right equipment will definitely pay off.
Related Questions
What size bat is good for a 7-year-old? A bat that will be best for the average sized 7-year-old will be 25-26 inches in length and have a drop of -10 to -12. Lightweight bats are better for younger players.
What baseball bat brand for bats is the best? Reliable brands for bats are Easton, Marucci, and Rawlings. There are some decent bats from other brands but the bats that overall have high reviews are these three.