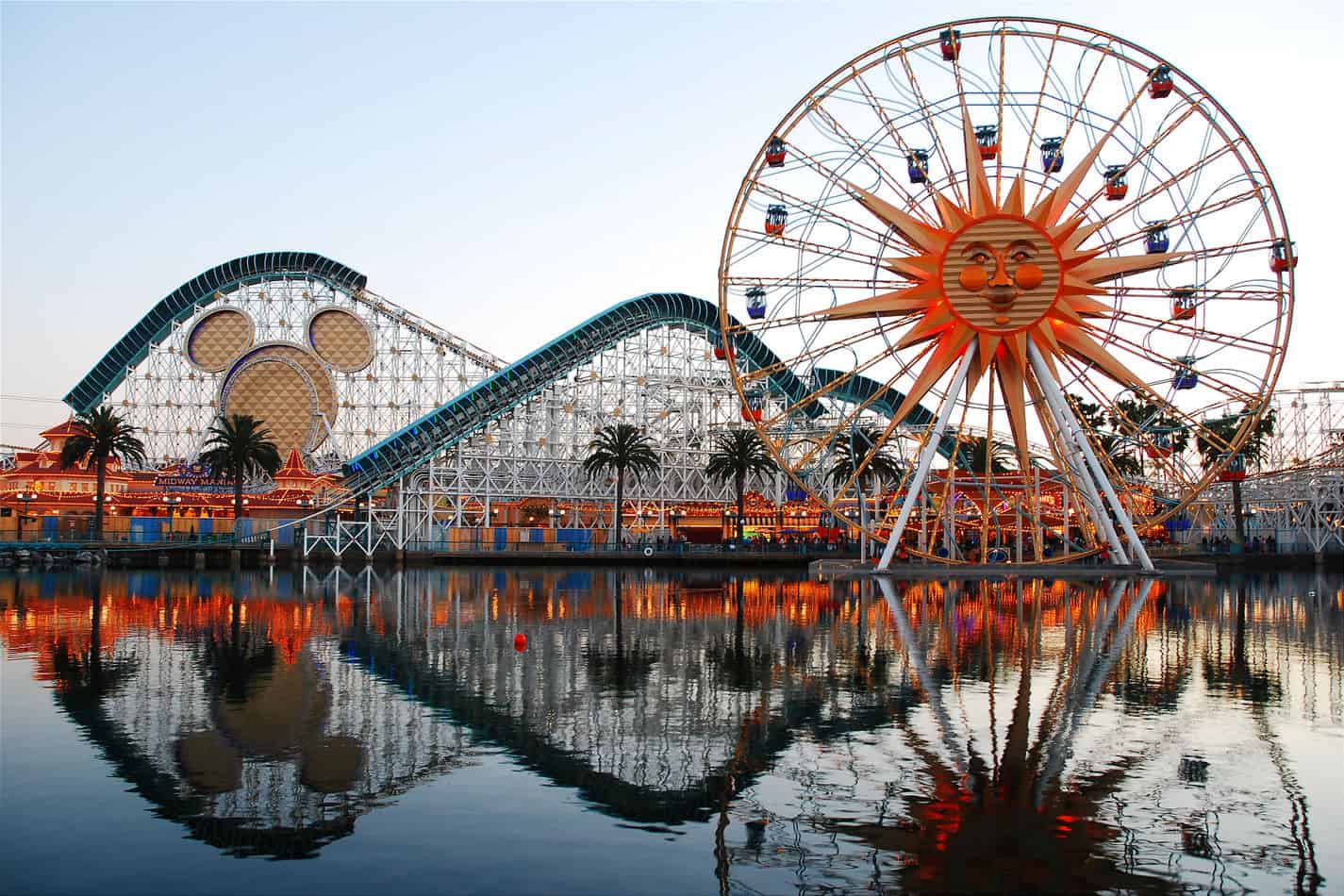 Seven-years-old is the perfect age to bring your child to Disney to ride the rides. There are some that may be more their speed than others, but it really depends on your individual child.
What are the best rides at Disney for a 7-year-old? 7-year-olds tend to like Fantasyland, Tomorrowland, and Toontown because they are geared towards their favorite characters and movies. Peter Pan's Flight, Mad Tea Party, Seven Dwarfs Mine, It's A Small World, Buzz Lightyear's Spin, Mr. Toad's Wild Ride, and Big Thunder Mountain Railroad are all very popular for that age group.
Disney is made for kids and 7-year-olds are as welcome as any! There are a wide variety of rides suitable for every age, height, and fear level. What ride your 7-year-old can go on will be different than someone else's 7-year-old.
Rides at Disney
Whether in Disneyland or Disney World, there are going to be pleanty of rides that your 7-year-old can go on. Things that may deter this option is how tall your child is and their personal preference on the scariness level of some of the rides.
Here is a list of some of the most popular rides for 7-year-olds.
Peter Pan's Flight
This imaginative ride flies you around England in a pirate ship. You get to fly to "the second star to the right" alongside Peter Pan himself! Kids love the music, colors, and story they get to be a part of.
Pirates of the Caribbean
Pirates of the Caribbean has been one of my family's favorites for a long time. It has a darker atmosphere but doesn't involve anything too scary. With a few fun waterfalls, kids will enjoy the ride along with pirate music and fun animatronics.
Buzz Lightyear's Spin
This ride allows kids to fight off the Evil Emperor Zerg by shooting targets placed throughout the ride. You rack up points and are able to compare scores once the game ends. This is definitely a crowd favorite!
The Many Adventures of Winnie the Pooh
This ride is a journey through Winnie the Pooh's nightmares about Heffalumps. My 6-year-old nephew wanted to go on that ride over and over again. You get to cruise around in a giant honey pot watching all the trouble Pooh gets himself in.
It's a Small World
It's a Small World is a Disney classic. It allows you to ride through different cultures as they sing the iconic "It's a Small World" song. Great for a relaxing show, but it always has a long line due to its popularity.
Jungle Cruise
The jungle cruise is a fun experience for kids because they get to see fun jungle animals led by an exciting tour guide. It's a fun way to laugh and see things they rarely see outside of a zoo. It's a crowd please-er for sure!
Splash Mountain
Splash Mountain is my favorite ride! Bear with me, I'm not 7, but the more adventurous 7-year-olds will love it. It starts with a fun ride around the forest following the misadventures of Br'er Fox and Br'er Bear trying to catch Br'er Rabbit.
It's a fun ride inside of a hollowed out tree truck. There are a few teaser drops throughout and then a final big drop at the end! After the ride snaps a picture of you family's surprised (and delighted) faces, it drops you down and splashes you with water. The water is the best part for a lot of adventures.
Big Thunder Mountain Railroad
Big Thunder Mountain Railroad is a classic. It's a low intensity roller coaster where you sit in rail road carts. Its a fast and fun ride that allows your 7-year-old exhiliration of a roller coaster without the actual commitment of one.
Seven Dwarfs Mine
This is a fun ride for fans of Snow White. These types of fantasy adventure rides are fun because they have such iconic characters at their center.
Mad Tea Party
The Mad Hatter's teacup ride is the one everyone knows about even if they've never been to Disney. You sit in a teacup and spin! Kids love to spin as fast as they can and laugh until they can't breathe. It's fun for the whole family, if you can keep your lunch down.
Mr. Toads Wild Ride
Mr. Toads Wild ride is fun because of all the different things you get to see. This ride is a bit darker and involves a lot of loud noises. Kids tend to enjoy the car zooming around from room to room whipping them too and fro. It's a quick paced adventure and a totally WILD ride!
Now that long list reads more like an itinerary than a ride suggestion list, but Disney is a big place no matter which one you visit! It's always good to know your options since you'll likely be spending an entire day or a few days at the park.
Height Requirements and Rules
Height is how Disney keeps people safe on their rides. If you don't meet the minimum height requirements then you can' take your kids on. The maximum height requirement that I have found is 60 inches or 152 centimeters.
If your 7-year-old reaches at least 56 inches, they can go on almost any ride (besides the ones that require 60 inches). The ones they might have trouble entering are Indiana Jones and Space Mountain. These two rides are faster and jerkier than a lot of Disney's attractions. Indiana Jones is also more theatrical which can scare some children.
Disney also has a policy about what age children are allowed to ride rides without supervision. This is for the safety of your own child.
Disney's Policy is that kids under 7 years old cannot ride any attraction by themselves. They must sit with or next to a companion that is at least 14 years old.
This isn't a big deal since many parents will want to accompany their kids on all the rides since they have to wait in lines for a long time and follow specific safety instructions.
Other Rides
If your child loves to go fast and doesn't scare easily, then they might like rides such as Indiana Jones, Space Mountain, and the Haunted Mansion. A lot of kids don't like these rides because of the speed, darkness, and general noise that surrounds those exciting rides.
These rides are generally not popular for a lot of kids because of height requirements, but if you have a taller 7-year-old that likes the scarier rides then these options are perfect! Space Mountain is always my family's favorite, but my 6-year-old nephew doesn't like the dark so he wasn't too keen on taking a second spin.
Outside of Disneyland, in Clifornia, is Disney's California Adventure. This park does not boast as many attractions for younger guests, but it does have some elements you won't want to miss!
A newer addition to the park came in the form of Car's Land. This beloved cartoon comes to life as you walk down the streets of Route 66 seeing Casa de la Tires and eating at Flo's V-8 Cafe.
Any 7-year-old will love the Radiator Springs Racers which has you sitting in a race car that goes through the story of Radiator Springs. In the end, you get to race with another group of people around the desert to the finish line! It is a great blend for kids because it revolves around a story they all love.
Events and Attractions
Sometimes you want to bring your kids to events that don't involve rides specifically. The Disney main street parades are for all age groups! They can see friends like Woody, Buzz, the Little Mermaid, Belle, and Cinderella! There is no end to the magic of Disney.
There are also many opportunities to do meet and greets with your 7-year-old's favorite characters! In Disney's California Adventure, you can meet Anna and Else and then jump next door to Belle's library where you can find out what Disney character you are.
Turtle Talk was one of the highlights of our trip where kids get the chance to meet Crush the turtle from Finding Nemo. They can ask him questions and he will tell crazy turtle stories! This gives parents a chance to sit down and relax as their child continues experiencing the magic and fun.
As you can see, there are many rides, and I have just named a few, that are appropriate for a 7-year-old. Disney's target audience is the young children of the world. Some rides are for the "big kids" but most are for the young ones.
Related Questions
How old do my kids have to be to go to Disney? There is no age requirement to enter Disney parks. Some kids can't go on rides that have height requirements, but most low impact rides will allow small toddlers to experience them.
Can 7-year-olds go on the Tower of Terror? In Disney's California Adventure the Tower of Terror has been re-themed to follow the Guardians of the Galaxy movies. Your child must be 40 inches or taller to go on this drop ride. The theme may be scary for some kids, but other may enjoy the adrenaline rush that comes along with this scary ride.