*This post may contain affiliate links. Please see my disclosure to learn more.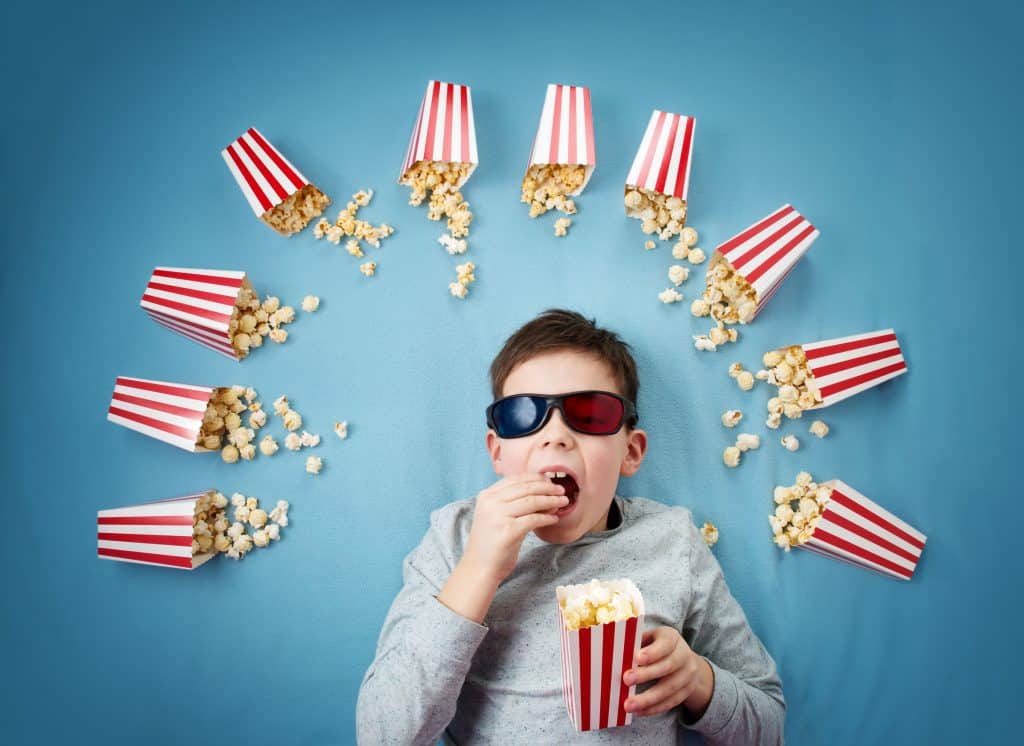 Seven-year-olds love movies, but as a parent, it can be hard to pick out movies your 7-year-old will find great. You want to make sure they aren't going to watch something that might give them nightmares or leave them bored the entire time.
So, I've put together a list of 21 movies that your 7-year-old will enjoy.
Now, these movies aren't in any particular order on the list because it would be way too hard for me to rank them since each kid's taste will be drastically different from another.
I've also included movie blurbs and the ratings for each movie so you will know a little bit about the movie before you show it to your child.
1) Zootopia
Plot Summary:
This family movie includes a fun cast of anthropomorphic animals that live in a brightly colored world. The main character, Judy Hopps, is a bunny who wants to live her dream of joining the police force.
However, Judy has trouble getting the other animals to believe in her until she meets Nick Wilde, a fox, who helps her solve her first case. The pair quickly are caught up in a crazy mystery where their new-found friendship and Judy's job are on the line.
I love this movie because it is jam-packed with laughs, a good soundtrack, and a great message about friendship and acceptance. So, if you think your 7-year-old will love this movie, give it a try!
Rating: G
2) Harry Potter and the Soccer's stone
Plot Summary:
If your child loves magic and fantasy, Harry Potter and the Soccer's Stone will be perfect for him or her. If you haven't seen this movie before, I'll give you a quick plot overview:
Harry Potter is an 11-year-old orphan who discovers on his birthday that he is a wizard. He is accepted to Hogwarts School of Whichcraft and Wizardry and must learn to navigate this exciting and magical new world.
I grew up watching the Harry Potter movies at the age of 7, and I still remember how much I loved them. This movie is rated PG for some intense action (don't worry, nothing too scary happens) and a few uses of the word hell, but overall, this is a great movie.
Rating: PG
3) The Lion King
Plot Summary:
This classic Disney movie follows the tale of a young lion named Simba who loses his father in a stampede caused by his uncle Scar. Simba runs away to the jungle where he meets Timon and Pumbaa.
Together with the help of his new friends, Simba grows up and returns home to face his uncle Scar and save his family.
I love this movie because there are a few great songs that your child will probably love singing too, and the story itself is well done (Fun Fact: it's actually based on Shakespeare's Hamlet. Only, it's way less tragic).
Rating: G
4) Frozen
Plot Summary:
Now, I picked all of these movies because I believe they are great for 7-year-old boys and girls, but if your daughter is into princess movies, this one is for her.
Frozen is the story of princesses Anna and Elsa. When Elsa finds out that she has powers, her parents decide to keep them hidden. But, on Elsa's coronation day, she loses control of her powers and runs away, accidentally trapping her kingdom in a perpetual winter.
Anna set's off to help her sister, befriending Kristoff, a funny snowman named Olaf, and a reindeer named Sven along the way.
This magical princess movie will charm your 7-year-old and provide several fun soundtracks for them to sing along with.
Rating: G
5) Despicable Me
Plot Summary:
This fun movie follows super-villain Gru on his adventure to steal the moon. After he is rejected by his bank, Gru must find a way to get the parts he needs to build a rocket and shrink ray to shrink the moon.
He adopts three orphans, Agnes, Edith, and Margo, to help him on his evil quest but quickly gets caught up in his new fatherly duties.
I personally love this movie and can't wait to watch it with my son when he gets older. There are so many funny scenes and tender moments.
Plus, if that's not convincing enough for you, it has two sequels that are equally brilliant and funny.
Rating: PG
6) Toy Story
Plot Summary:
This is another Disney classic movie featuring a great cast of characters and a fun plot. Well, in this case, the cast of characters are actual toys!
In this movie, Woody, a cowboy toy belonging to Andy, struggles to deal with Buzz, an action figure Andy received for his birthday. But, when Andy's family moves, Woody and Buzz get separated from the rest of the toys and must find their way back to Andy by working together.
If you're into wholesome movies for your kids, Toy Story is really the story of learning to accept others who are different. Ultimately, this heartwarming toy story (excuse the pun) is great for the whole family.
Rating: G
7) Coco
Plot Summary:
Coco is a movie about a young boy named Miguel who wants to play music. But his family has banned it ever since Miguel's great-great-grandfather left his family to play music.
Miguel tries to take the guitar of his idol Ernesto de la Cruze in order to play in the music contest and finds himself transported to the colorful and enchanting land of the dead.
In order to return home, Miguel needs the blessing of his great-great-grandfather, so with the help of a few new friends, Miguel goes searching for him.
This movie is rich with Mexican tradition and fun songs. I would highly recommend this movie for you and your 7-year-old.
Rating: G
8) Tangled
Plot Summary:
Tangled is a great Disney movie about Rapunzel, a princess with long magical hair who grew up in a tower after she was stolen as a baby by a witch named Mother Gothel.
Repunzal is curious about the outside world, and for her 18th birthday, all she wants is to go see the magical floating lights that she sees from her tower every year.
With the help of the charming thief Flynn Rider, Rapunzel escapes her tower and adventures across the land to see the lights.
This is a great movie full of quick humor and lovable characters. Not to mention, it has some great soundtracks that your children will enjoy listening to later.
Rating: G
9) Matilda
Plot Summary:
Based on the children's book by Roald Dahl, Matilda is the story of a little girl whose family doesn't understand her. When her family sends her to school, Matilda soon discovers that the principle, Miss Trunchbull, is a nasty lady who hates kids.
Matilda, after finding out she has psychic powers, helps her friends and teacher start fighting back.
This heartwarming movie is great for young audiences. I particularly love how the main character overcomes challenges and values reading and learning.
Rating: PG
10) How to Train Your Dragon
Plot Summary:
This Dreamwork's masterpiece tells the story of Hiccup, the misfit son of Stoick, the village chief of Berk. After an intense battle with dragons that are raiding the village, Hiccup discovers that he has captured one.
When he goes to finish it off, he discovers that dragons are actually friendly. But, his entire village hates dragons, so he must keep his new dragon friend a secret.
This brilliant movie explores the parent-child relationship and the fun fantasy world of dragons. Also, the final sequel in the trilogy is set to come out in 2019.
Rating: PG
11) The Parent Trap (1998)
Plot Summary:
This is a remastered version of the old Parent Trap movie from 1961, and it is fantastic. When Hallie and Annie wind up at the same summer camp, they quickly become enemies. They are forced to become friends and come to realize that they are twins separated at birth.
Hallie and Annie devise a plan to switch places in order to get to know their parents back together, but things do not go smoothly.
This movie is a great summer movie, in my opinion, but I can enjoy it at any time of the year. The tender moments and funny situations will make movie night at home a blast.
Rating: PG
12) The Princess and the Frog
Plot Summary:
This princess movie features the hard-working Tiana who lives in New Orleans with her mother. Tiana dreams of saving enough money to open up her own restaurant, but after she kisses an enchanted frog prince, Tiana winds up as a frog too!
The two journey through the mystical backwoods of Louisiana to break the curse before they are stuck as frogs forever.
I love this movie's charming characters and unique settings. Plus, Tiana is a great example of a hard working princess. I would highly recommend this movie if your little girl is into Disney princesses.
Rating: G
13) The Lego Movie
Plot Summary:
Everything is awesome for Emmett, a LEGO living in a big city until he accidentally becomes the Special–a LEGO who is foretold to save the world of LEGOS. With the help of his new friend Wildstyle, a LEGO with an attitude, Emmett sets off to help save the world.
If your child has grown up playing with LEGOS, or even if they haven't, they will appreciate this fun and upbeat movie. It is jam-packed with action, familiar characters, funny jokes, and a plot your child will enjoy.
Rating: PG
14) The Boss Baby
Plot Summary:
Timothy Templeton has the best life: parents who love him, spend lots of time with him and tuck him in every night. But when a strange baby in a suit shows up, his world is thrown into chaos.
Tim and his new brother eventually team up to help Baby Co. stop an evil plot against babies across the world.
Now, that was an oversimplified plot overview, but I feel like that's all I can really give you at this point. I love this movie because it deals with the struggle of sibling rivalry all while packing in a ton of humor that your child will enjoy.
Rating: PG
15) Inside Out
Plot Summary:
Inside Out is a great movie about 11-year-old Riley, who has just moved across the country to a new city. In her mind, Joy has always been her driving emotion, but after the move, Sadness starts taking over.
Riley's emotions Joy, Sadness, Disgust, Anger, and Fear are left to battle it out as Riley adjusts to the new situation.
This movie is absolutely brilliant. Pixar does a fantastic job of showcasing emotions and helping children understand them in a fun and friendly way.
Rating: PG
16) Star Wars IV
Plot Summary:
This Star Wars movie is the beginning of a blockbuster franchise about Jedi's, space adventures, and a mysterious power called the force. Luke Skywalker, a Jedi in training, rescues Princess Leia from the Imperial forces with the help of Han Solo, a space piolet.
Now, that was a really basic rundown of the first movie of this series. If your son or daughter loves movies with action and cool powers, they will more than likely love this movie, and with several squeals, there is a lot to love in this series.
Rating: PG
17) The Incredibles
Plot Summary:
The Incredible is a great family movie about…well, a family. But, the Parr's aren't your typical family. They are superheroes in hiding. When danger threatens the world, Mr. Incredible and his family come out of hiding to save the day.
This popular Pixar film has grown to be a classic family movie. If you or your child hasn't seen it yet, I would recommend it, especially with all of the awesome superhero action that goes on throughout the film.
Rating: PG
18) The Iron Giant
Plot Summary:
This movie is about a nine-year-old boy named Hogarth who finds a giant robot that has crash-landed on earth. After he befriends the robot, Hogarth tries to hide it from his mom and a crazy government agent named Kent Mansley.
This movie is a classic from my childhood, and I think that the brilliant plot will appeal to kids today.
Rating: PG
19) Big Hero 6
Plot Summary:
In Big Hero 6, a young boy named Hiro is a robotic genius living in the city of San Fransokyo with his older brother and aunt. After a tragic accident happens, Hiro wants to discover the source behind, so he and a group of friends, along with a robot named Baymax, become superheroes.
This fun, heart-warming movie is great for young kids! It's got a great blend of humor, action, and superheroes that will keep everyone happy.
Rating: PG
20) Fantastic Mr. Fox
Plot Summary:
Now, I associate this movie with Thanksgiving, but that's probably because of all of the food in it. Fantastic Mr. Fox is about a family of foxes who have to deal with three grouchy farmers.
Mr. Fox begins stealing from them, and the family ends up in a battle between the farmers and the animals.
I love this quirky movie, and I think that your child might too. So, give it a try if your looking for something goofy.
Rating: PG
21) Wreck-It Ralph
Plot Summary:
Wreck-It Ralph is the villain of the arcade game Fix-It Felix, but when he gets tired of feeling like an outcast, Ralph leaves to explore other arcade games and ends up getting lost in the world of Sugar Rush.
There he meets Vanellope, an outcast racer with a "glitch" who desperately wants to get back into racing. Ralph and Vanellope must overcome the challenges they face from the members in their games together.
This movie, who's sequel releases this month, is a great movie for kids.
Rating: PG
Related Questions
What movie ratings are appropriate for 7-year-olds? Movies that are rated G or PG are often acceptable for younger audiences. A G rating means that a movie is acceptable for general audiences while PG means Parental Guidance is suggested since some material might not be appropriate for children.
Should I let my 7-year-old watch a PG-13 movie? When a movie is rated PG-13, this means that children under the age of 13 should not see a movie unless they are with a parent or guardian. So, it is really up to the parent if they want to let their child see a PG-13 movie.