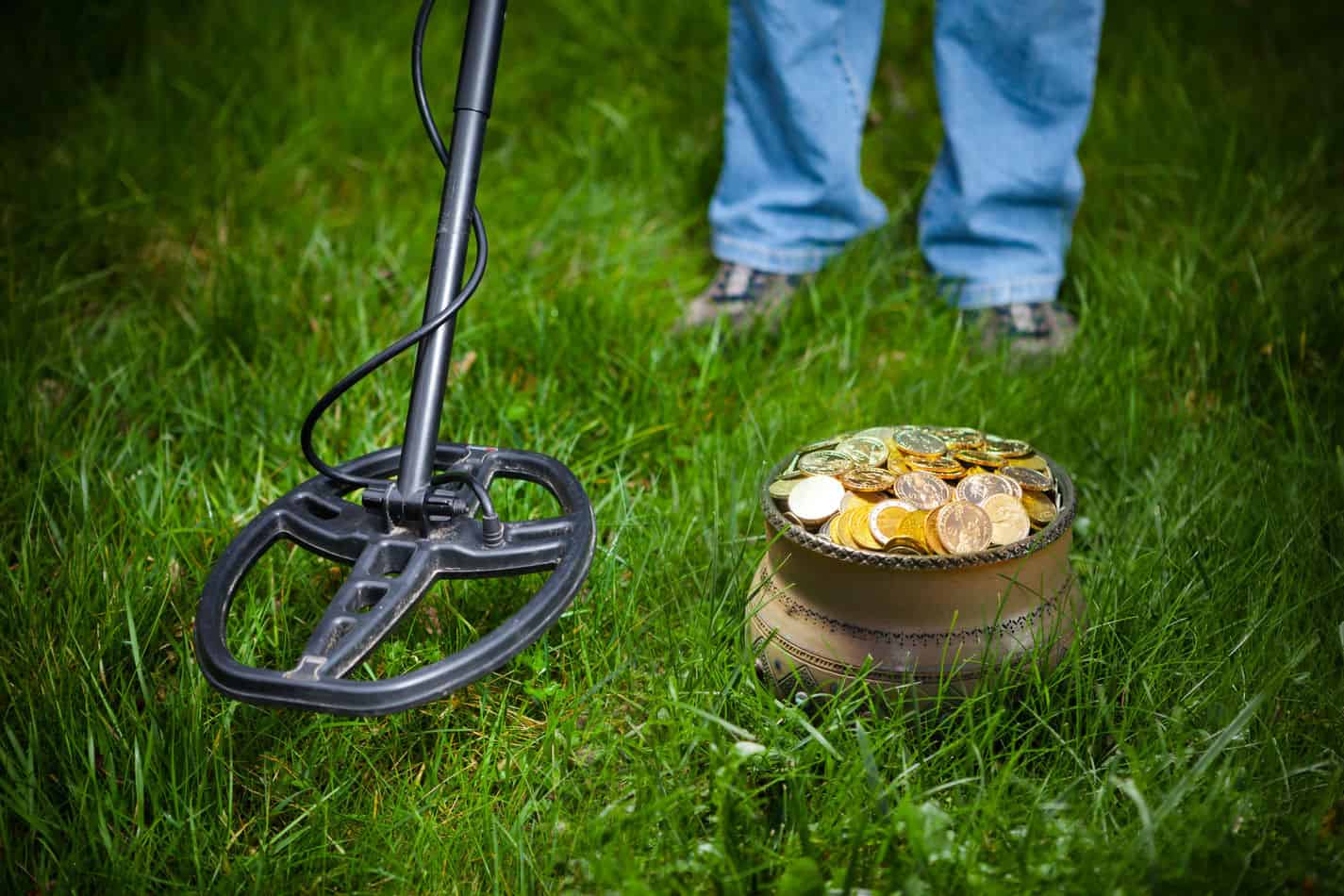 If you have a curious 7-year-old, you may be looking for something fun that they can use to entertain themselves and satisfy that curiosity. A metal detector is the perfect toy for your curious 7-year-old. It can be overwhelming to find a good one, so I've put together an article all about metal detectors you can give to your 7-year-old.
So, what are the best metal detectors for 7-year-old kids? 7-year-old kids need a metal detector that is sturdy and user-friendly. Parents don't want to buy anything too complicated or expensive, so here are the best kid-friendly metal detectors at reasonable prices:
Bounty Hunter Junior
Bounty Hunter Quicksilver
Bounty Hunter Tracker IV
Fisher F22
Now, I know you probably don't want to hunt down each metal detector individually to find out if it will be a good fit for your son or daughter, so I've put together an article that will help you navigate each of these products and learn a little more about them.
7-Year-Old Friendly Metal Detectors Overview
Bounty Hunter Junior
The Bounty Hunter Junior is a smaller metal detector that is more child-friendly. Your child will enjoy how small and lightweight this metal detector is, and you will enjoy its cheaper price.
This metal detector is budget-friendly and simple to use. You will also like that it is weather resistant (in case your child accidentally leaves it outside).
It can find small objects that are less than five inches deep and large objects up to three feet deep.
Bounty Hunter Quicksilver
This Bounty Hunter Quicksilver is a little more pricey, but your child might enjoy the visual target ID that will help them track the object in the ground. This metal detector also shows you how deep in the ground the object is so your 7-year-old can know how deep they need to dig.
Like I said above, this metal detector is more pricey than the Bounty Hunter Junior, but it is more powerful.
Bounty Hunter Tracker IV
The Bounty Hunter Tracker IV is another powerful metal detector that has lots of fun little features. Something that is different from the Bounty Hunter Quicksilver is the headphone jack.
With this metal detector, your 7-year-old will be able to put on a pair of headphones and listen for the different sounds their metal detector makes.
However, this metal detector is much more pricey and may not be a good option for your child if you are worried about him or her breaking it or losing it. If you aren't too worried about your child handeling it, then they can have a lot fun leaning all of the features with you
This metal detector is more durably and weatherproof, so it will last against any rough child use.
Fisher F22
If you are looking for a high-quality metal detector that you and your 7-year-old can share, this one is for you. The Fisher F22 is weather-proof, and has multiple different functions that can refine your searching abilities. However, it is not user-friendly for 7-year-olds.
The Fisher F22 is also much more pricey, so you might be stretching the budget a little with this one. But, it is more powerful and has a wider search radius.
Why Give Your Kid a Metal Detector?
Now, maybe I don't need to convince you to give metal detectors a try with your child, but maybe you've never used one yourself and don't know if your 7-year-old would enjoy using one.
So, I'll give you three reasons why your child and you might enjoy using one!
Metal detecting is a great learning opportunity: Now, this might not seem as exciting to your child, but if your 7-year-old is curious, he or she might be excited to learn about the things they find with their metal detector.
Metal detectors get your child outdoors: With the technology revolution sweeping the nation and hitting kids younger and younger, metal detectors are a good way to let your son or daughter have fun outdoors.
Metal detectors can help your child find "treasure": Sure, they could find actual treasure, but most likely your child will find coins and other small valuables or trinkets they find interesting. They might even build up a small savings from their findings.
If those three reasons don't convince you, then think about all of the fun you can have running around with your child and spending quality time with them as they learn to use a metal detector. You might find that you like using it too.
If you can't find much "treasure" in your back yard, you could always hide some things for your child to find. This could be a really fun game for your child.
You can start by hiding the object. Then, create a map of some kind for them to follow so they can locate the "treasure." Your child will have lots of fun running around outside looking for your hidden objects.
Fun Places to Use a Metal Detector
Before I start this section, I want to remind you that you should make sure that it is legal to take your metal detector to these locations. This is especially true for a neighbor's property or private land.
Some states even have laws stating that items found on private land belonging to the landowner while others follow the "finders-keepers" rule.
Regardless, you should always make sure you are okay to go somewhere to metal detect with your child.
So, let's get right into the best places to metal detect!
Bleachers and Stadiums: This is a place that might not come to the top of your mind when you are thinking of places to look for "treasure," but stadiums and bleachers (especially those at a public park or high school) make a great place to go metal detecting.
Woods and Walking Trails: These are great places to go to enjoy nature and look for some treasure. You never know what other people have dropped as they walked the very same path.
Your Own Backyard: This one probably doesn't surprise you, but if your house is older, you might find some amazing things in your own backyard.
Parks: Parks can be a great place for your 7-year-old to go to detect metal and have fun. Plus, with tons of people roaming around all the time, your child is bound to find something.
The Beach: Maybe you live close enough for a beach trip. If you do, a beach is a great place to take your child to with their metal detector. Plus, you can catch some sun while they are running around.
These are just a few of the many places you can go use your metal detector with your 7-year-old, and plus, these locations are all great places for your child to play if they get bored.
Related Questions
What can metal detectors find? A metal detector can detect various metals such as copper, brass, aluminum, tin, nickel, lead, gold, silver, bronze, and iron.
What are good hobbies for a 7-year-old? There are many hobbies that your 7-year-old might be interested in, but here are a few common ones you could try with your child:
Cooking
Reading
Magic
Origami
Painting
Doing science experiments
You should determine what your child might be interested in and try a variety of different hobbies that fit into his or her interests.
How can I get my 7-year-old to play outside? Encourage your 7-year-old to play outside by limiting their screen time and teaching them activities and game they can play outside. Letting your 7-year-old explore new places and learn new things will help with development and creativity as well as getting good exercise.