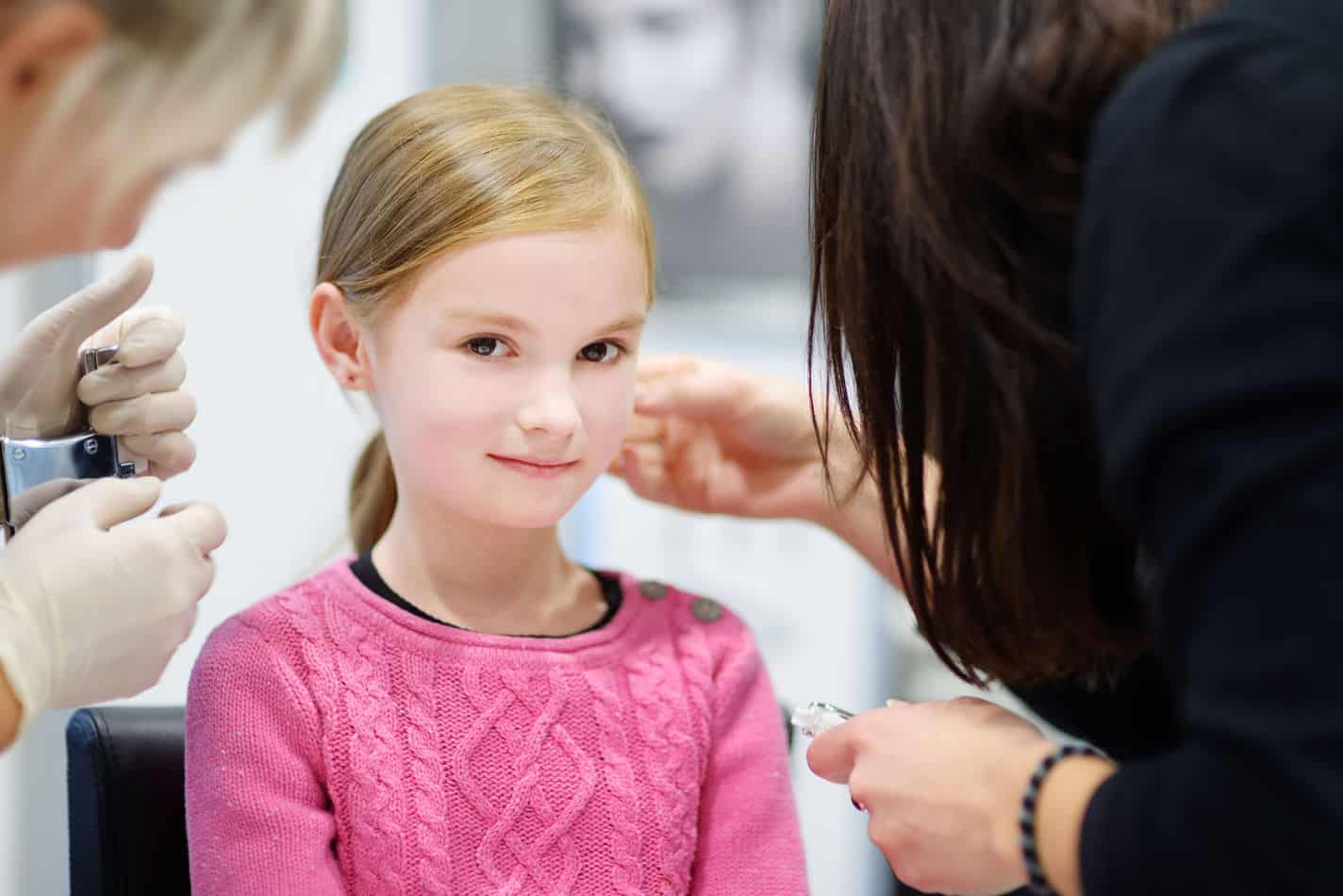 The age your little girl should get her ears pierced is a number that is up to your opinion and isn't something set in stone. Often times it depends on family tradition. Sometimes just whenever the child is ready.
Should a 7-year-old get her ears pierced? Seven years old is a good age to get your ears pierced at. I would make sure that the child knows the consequences of getting her ears pierced, however. For example, ears hurting for a little while, the waiting time before you can switch out your earrings, or the necessary care in order to keep their holes from closing or getting infected.
Getting your ears pierced when you are little is super exciting! It is awesome to know when is the best time to go and where you should go for the best experience. Keep reading to find out!
7-Year-Olds Getting Their Ears Pierced: Good or Bad?
The decision on when is the best age to get your child's ears pierced does not have a specifically right or wrong answer. This topic is ultimately up to the family to decide what is best in the end.
Some people get their child's ears pierced when they are just 6 months old and others have their child wait as late as age 10 or even 16. It is ultimately up to the family.
I got my own ears pierced when I was about 7 and have loved having earrings. They are a super fun accessory and I have worn it all. When I was little, I was totally into the trendy clay food earrings and bright colors and cute designs and flowers.
Around junior high I into the zipper earrings and feather earrings and even some jewels. Now, I love the simple metal geometric earrings or maybe a fancy design dangle set and some classy jewel studs.
They are a perfect accessory to add some color, sparkle, or flare to any outfit.
When deciding whether or not you should get your 7-year-old's ears pierced, I would consider a few questions and think about the answers to those questions.
Questions to Ask Yourself and Your Child Before Getting Their Ears Pierced:
Am I okay with them getting their ears pierced right now?
Is my child ready and responsible enough to have their ears pierced?
Does my child understand what the consequences are of getting their ears pierced are?
Does my child understand the responsibility of keeping up with the necessary care to keep her ears pierced and healthy?
Is my child willing to put in the work necessary to keep her ears pierced?
If your answer to all of these questions was "Yes" then you and your child are totally ready to take the next step and get their ears pierced!
If you and your child agree that they are responsible enough to keep up with the work, understand why the work is necessary and willing to do the work and not waste the money by letting the holes close up, then you are ready for this fun fashion adventure!
Best Places To Get Ears Pierced
I haven't listed these places in any specific order of which is best because they are all great, but these are the places I would recommend getting your ears pierced at for the best experience.
Claire's
Claire's is where I got my ears pierced at when I was around this age. The employees are trained on how to do this properly and safely. They are super good with kids and make it a great experience.
Plus, after your 7-year-old's ears are pierced, there is a great selection of age-appropriate earrings to choose from! They have good prices on their earring sets and super cute selections for any style your 7-year-old may have.
Piercings from here are free with the purchase of a starter kit, that comes with piercing earrings of your choice and Rapid After Care Cleanser piercing cleaner.
Their new Rapid After Care Cleanser can heal your piercing sites in as little as 3 weeks making your ears ready to wear and switch out your new, fun earrings even sooner than the 6 week healing period that is usually necessary after piercings.
Does your 7-year-old love cute and quirky food or animal themed jewelry? They got it! Do they like a classier, jewel look? They have that too! Is you 7-year-old have sensitive skin or allergic to certain metals?
They have special earrings that are super cute for sensitive skin too or strictly 100% sterling silver and even hypo-allergenic. They have your 7-year-old covered for any fashion need they have.
Icing
I would highly recommend Icing, as well, when it comes to getting ears pierced. This store is actually run by the same company as Claire's is and they have the same guidelines and training that Claire's employees have.
This store has the same pricing and deals that you would find at Claire's and also accommodates for the hypo-allergenic and sensitive-skin products.
Icing has the same piercing prices, deals, and specialties as Claire's does., so you don't have to worry about getting cheated out of this awesome deal by going to the older store.
The piercings come with the same Rapid After Care Cleanser that you would get from Claire's as well so you can get your fun earring switching to match your outfits sooner as well.
This store is actually almost identical to Claire's. This store has simply geared its products more towards the older girls, but has all of the same deals on their stuff.
Here you will find some more young adult-geared products, but you can find some classy, simple and fancy jewelry here too. If I have jewelry needs I usually shop here, but I used to be an avid Claire's addict.
Macy's
I don't have any personal experience with Macy's piercing services, but from extensive research and personal experience with other aspects of the store, including the jewelry department, I completely trust this store for piercing services as well.
They have a very safe, clean, and professional ear piercing service. Your piercings will be done by a trained professional from their jewelry department.
Their piercings are free with the purchase of piercing earrings and it also comes with a free 4 oz. bottle of antiseptic fluid to help take care of your piercing site for the necessary 6-weeks healing period.
Macy's also has a great selection for very high class and inexpensive jewelry that can match and spruce up any outfit. This is my other go-to place for nice jewelry for sure.
They don't just sell the fancy, expensive, cased jewelry that you think of when you think "jewelry at Macy's". They sell costume jewelry just like Icing and Claire's do which is perfect for a little girl.
Tattoo Parlor
I have not had any experience through myself or friends getting piercings done at tattoo parlors either, but I have heard this is a great place to get it done, despite what you may think.
When I first thought about "piercings at tattoo parlors" my mind immediately went to awful body piercings that you usually hear stories of infection about but, in fact, these are great places to get your ear piercings done at because they are professionally trained to do this stuff.
I can totally understand not wanting to take your child into a tattoo parlor, but if your child is mature enough to handle it, this is a great place to get piercings done with the proper care and instructions.
If you are too uncomfortable to go this route, you are not the only one. Going to Macy's, Icing, or Claire's for your piercings is just as safe as this would be.
Related Questions:
How old do you have to be to get your ears pierced? You can get your ears pierced as young as 3 months old. If you are a minor, you will need your parent or guardian to be there so consent for the procedure, but otherwise, as long as you are older than 3 months old, you are good to go.
If you have proof of being a legal adult you don't need a parent's consent.
Do ear piercings hurt? It is totally understandable to be worries about pain before getting your ears pierced. When you get your ears pierced, you often only feel a little pinch and then your ears might be a bit sore for a bit afterwards.
Otherwise, getting your ears pierced doesn't really hurt at all.