*This post may contain affiliate links. Please see my disclosure to learn more.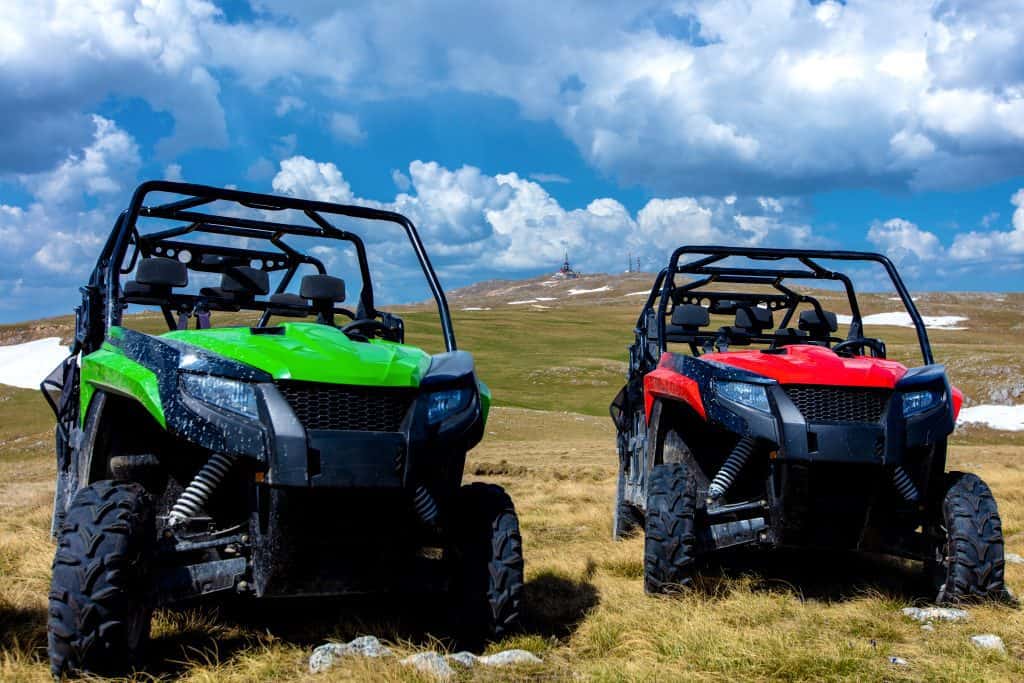 UTVs are awesome and make for some fun family time but how is a parent supposed to know which UTV is going to be the best for their 7-year-old child? I did some research and found some answers.
So, what UTV is the best for a 7-year-old kid? There are a lot of good UTVs out there but the Polaris Ranger 150 is a popular recommendation as well as the Polaris Razor (RZR) 170 and the Yamaha Rhino 660. They all have some awesome features and are perfect for 7-year-olds, although the Rhino is more of a passenger UTV for 7-year-olds.
As parents we always want to keep our kids safe and sound, so it is important to make sure our outdoor toys are safe and protected. We want our 7-year-olds to have fun and be safe. I did some research and found some really fun UTVs that are great for 7-year-old kids.
What are the Best UTVs for 7-Year-Old Kids? 
Fist things first we need to clarify what a UTV is and what it stands for. A UTV is most commonly known as a side by side and stands for either a Utility Task Vehicle or a Utility Terrain Vehicle.
They are really sweet and make summer days a huge blast. Not to mention that they are a fun way to spend time with your 7-year-old kid doing something exciting and adventurous.
UTVs are are lots of fun and are a great way to bring the family together. There are tons of different makes and models of side by sides that are fun and interactive but the best three that I found are these three listed below.
Polaris Ranger 150
The Polaris Ranger 150 is a super sweet UTV made for younger kids and are perfect for 7-year-old kids. If you love to participate in adventurous outdoor experiences with your family this can definitely add to you and your 7-year-olds lives.
The Polaris Ranger 150 is equipped with a Electronic Fuel Injection that introduces fuel into the internal combustion engine electronically. This is a great feature to have on any side by side.
It also comes with Geofencing technology which allows you to know when your child leaves a predesignated area so that you can make sure that they are safe and are within the boundaries you have set.
Not only does it have geo-fencing technology but is also comes with Password Protected Safe Start, Digital Speed Limiting, and a Seat Belt Interlocking System. Basically this side by side is way cooler and more useful than my car.
To add to all of its special characteristics this Polaris UTV has Tilt Steering and Adjustable Seats. It's great because you don't have to worry too much with its 8" Ground Clearance.
Honestly I wish I was a 7-year-old kid again so that I could drive one of these around. I grew up in the mountains and this thing would have been amazing!
Polaris Razor (RZR) 170
This Polaris UTV side by side is similar to its counterpart the Polaris Ranger 150 except that is a little less high tech. This being said it still has some awesome features.
Just like the Polaris Ranger 150 the Polaris Razor 170 has an Electronic Fuel Injection that helps to move the fuel electronically into the cumbustion engine.
It also come with an awesome feature that allows the parents to have some control over the speed that their 7-year-old can drive with the Parent Adjustable Speed Limiting.
Another form of protection that the Polaris Razor 170 has is its Seat Belt & Safety Nets. The seat belts keep the child strapped in while the safety nets are on the doors and act as a second layer of protection.
The Polaris Razor 170 has a Protective Cage to help shield your 7-year-old and keep them safe while they are off roading. It is so nice that these vehicles have such great ways to give you a peace of mind while your kids are off driving around.
The last few features that this awesome Polaris comes with are Tilt Steering and an Adjustable Seat which can make all the difference in your 7-year-olds experience while driving.
So while this Polaris Razor 170 doesn't have all of the same perks as the Polaris Ranger 150, it still has some awesome features that your 7-year-old will love as well as you.
Yamaha Rhino 660
The reason that I put this UTV on the list even though it technically shouldn't be driven by a 7-year-old is the fact that my family used to have one and they are SO much fun!
My nephew Devon who is 16 used to drive us around and my nieces and nephews who were around the age of 7 loved to go on rides and hang out with us big kids.
So although they probably would have enjoyed their own UTV that they could drive they really loved hanging out with us on the Rhino. TO make it all better my sister who doesn't really like the outdoors loved it, so that shows how awesome they are.
The Rhino was made by Yamaha and was regarded as one of the most versitle UTV's. They started producing Rhinos in 2004 and ended in 2013, although they can still be purchased on different trading cites.
Now Yamaha makes wolverines which I am sure are even greater and more fun. Full sized side by side UTVs can be just as much fun for little 7-year-old kids and they are for us adults.
Where Can I Buy A UTV?
There are a lot of avenues that people can go through to buy some awesome UTVs for them and their families. Starting with dealerships and then moving to online stores.
Polaris work with dealerships all over the country that you can go into and look for the perfect vehicle for you and your family. Or if you prefer to shop online you can shop off of their website as well.
Yamaha also has dealerships thye work with that can be visited as well as a user-friendly online website that makes it easy to find and purchase the perfect side by side for your family and yourself.
As far as other websites go where you can find UTV side by sides for sale are-
Atv trader website
Auto trader website
Craigslist
Motorsports universe website
Kijiji Classifieds website
How Much Do UTV's Normally Cost?
Each UTV side by side is going to have different costs because of their different uses, sizes, features, and availability. I did some research on our main 3 UTVs and found out their prices new and used.
The Polaris Ranger 150 if you buy a Polaris brand new at a dealership it will cost a minimum of $5,500 and may cost more depending on where you buy it and different conditions.
The Polaris Ranger 150 used usually costs around $4,500 dollars from what I have been able to find on the internet. So it comes about a thousand dollars cheaper. It is up to you to decide if you want it used or new.
The Polaris Razor 170 coasts about $5,300 dollars used and new so it seems like the better idea to go and buy it new than to try and buy it used from somebody else.
Yamaha Rhino 660 normally cost around 5,500 dollars and are bigger and meant to be driven buy older kids or adults.
Related Questions
What is the best 4 wheeler for a 7-year-old kid? There are some awesome 4 wheeler's out there for 7-year-olds, but the top 5 are-
Electric ATV 4 Wheeler
Power Wheels Kawasaki Brute Force
White Mini Quad ATV Dirt Motor Bike
Yamaha Kids Grizzly ATV
Razor Dirt Quad Electric Four-Wheeler